03 Apr 2012


Lee is wearing the sword in this famous picture. (click on each image for larger version)
The Museum of the Confederacy in Richmond is planning to re-locate a presentation sword made in Paris by Louis-Francois Devisme* as a gift to General Robert E. Lee to a new museum branch located at Appomattox, the site of Lee's surrender in April of 1865.
Future museum branches are planned for Hampden Roads and the Fredericksburg area.
Lee naturally remained in possession of his sword after the surrender at Appomattox in accordance with General Grant's generous terms which allowed Confederate officers to retain their sidearms.
The Lee family loaned the sword to the museum in 1918, and permanently bequeathed it in 1982.
—————————————-
*Louis-François Devisme, gunmaker and inventor, is recorded in Paris between 1843 and 1870, first at 12 rue de Helder and then (ca 1850) at 36 Boulevard des Italiens. He is remembered today principally for the highly decorated pieces produced for a succession of Paris Exhibitions, and for the Great Exhibition in London in 1851 at Crystal Palace, for which he was awarded numerous medals. He ranks as one of the most accomplished of the 19th-century Parisian arms makers.
—————————————-

Conservationists recently restored the hilt's gilding.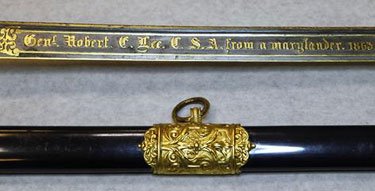 The inscription on one side reads: "Gen. Robert E. Lee. U.S.A. from a marylander, 1863." The identity of the donor is unknown.

Museum of the Confederacy curator, Cathy Wright, displays the newly restored sword.