Category Archive 'New Yorker'
19 Apr 2015

14 Feb 2015


Emily Flake cartoon.
From the New Yorker.
24 Jan 2015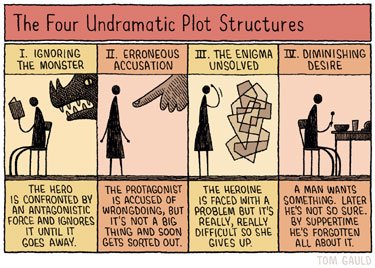 01 Jan 2015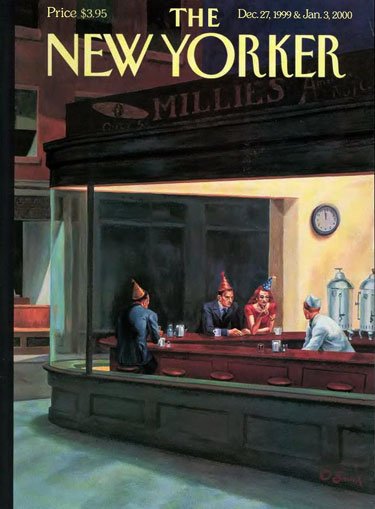 22 Dec 2014


The identification of Valerie Plame, in connection with her arranging husband Joe Wilson's trip to Niger for purposes of disputing Saddam Hussein's yellowcake uranium procurement efforts, was the crime of the century in the opinion of the Left, and her terrible fate was headlined everywhere, including AOL.
A far more important, and far more covert, CIA officer, not someone merely working as an analyst, the same female CIA officer portrayed in "Zero Dark Thirty" as directly responsible for tracking down Osama, has been gleefully targeted this week for exposure by the same Left.
Jane Mayer, in the New Yorker, piously avoids referring to the woman by name, but specifically describes her career, mentions her rank and official function, and castigates her for her counter-terrorism activities, styling her "The Unidentified Queen of Torture."
NBC's Matthew Cole discussed that agent's age, career, and congressional appearances in detail, blamed her for "deceiving Congress" and for the existence of a US "torture program," and hinted repeatedly that she ought to have been prosecuted. But NBC, too, bowed to the CIA's urgent wish to protect the anonymity of an important intelligence official and avoided publishing her name.
The establishment mainstream media is just a little too self-righteous to expose the identity of important US intelligence officials when the CIA begs them not to do so. Because, after all, they have less respectable allies, like Glenn Greenwald and Peter Maass's The Intercept, pledged "to provide a platform to report on the documents previously provided by NSA whistleblower Edward Snowden" and "to produce fearless, adversarial journalism across a wide range of issues" to do it for them.
Let's hope the Left will be just as keen to punish CIA outings this time, if the next Republican administration should happen to arrange to have Mr. Greenwald frog-marched out of the homosexual ghetto in Rio de Janiero in handcuffs for this one.
28 Nov 2014

Best New Yorker Cartoons: Roz Chast, October 25, 1993.
03 Sep 2014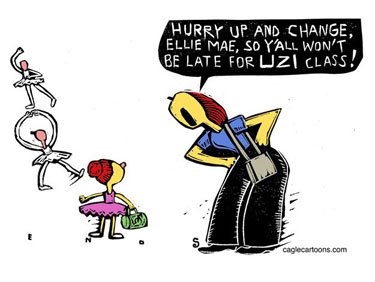 Amy Davidson, in the New Yorker, quarrels with the characterization by the local sheriff of the accidental shooting death of instructor Charles Vacca by a 9-year-old girl firing an Uzi as "an industrial accident."
The Arizona Last Stop, where a nine-year-old girl accidentally shot her instructor with an Uzi last Monday, has already reopened. It was "booked pretty solid" for the Labor Day weekend, Sam Scarmardo, the owner, told Reuters. The sheriff of Mohave County described a video of the shooting—recorded by the girl's parents, who were tourists from New Jersey—as "grisly," and has filed his report. He found that there is no cause for any criminal charges, not against whoever put together the range's Bullets and Burgers Adventure, designed to put automatic military weapons in the hands of children as young as eight, or against anyone else. Instead, the sheriff referred the case to the Arizona Department of Occupational Safety and Health, because, he said, it was "being viewed as an industrial accident."

"An industrial accident": that phrase raises the question of what industry we are talking about. …

There are many businesses that make up the gun industry, including the buying and selling of political influence. In Arizona and many other states, the realm of firearms is poorly regulated, from gun stores and fairs to tourist traps like Last Stop. As the Arizona Republic wrote, "Arizona statutes do address firing ranges, but the laws primarily deal with noise levels. No laws govern any training protocols for firearms instructors, safety guidelines or age restrictions. But even if there were, there is no regulatory authority to enforce them." A former Last Stop employee described the range, to the Republic, as a "shake and bake" operation, but, for what it's worth, its enforcement record was clean. Setting a minimum age of eight to use a gun on a range has been described, since Vacca's death, as something of an industry standard in many states. There is still an overhanging injunction that workplaces be generally safe, and maybe the Arizona authorities can do something with that, but there is not much cause for optimism.

This shouldn't be surprising; it is not accidental. The same political forces that gather around gun rights are those railing against government in any form, even the kind that involves keeping children and their gun instructors, or other teachers, safe. We are left not only with lax gun laws but shake-and-bake shooting ranges. This is part of the explanation for why talking to the gun lobby about "common-sense regulations" never seems to go well. They are drawing on, and stoking, a view that presumes the foolishness of regulations. It is sad and telling that the only department left to look into Vacca's death is the state equivalent of the Occupational Safety and Health Administration—regularly derided by Republicans—and that it's unlikely to be able to do much at all.

A possible question for a 2016 Republican Party debate is whether the candidates think that nine-year-olds should ever be permitted to fire automatic weapons.
But an industrial accident, i.e. an accident which occurred as the result of improper handling of a tool, was precisely what happened.
The 9-year-old girl was clearly too small, too weak and uncoordinated, and insufficiently instructed in the safe handling and management of that weapon in full-automatic fire. She fired too long a burst and lost control of the weapon, which climbed as the result of recoil as it proceeded to continue to fire causing the muzzle to move beyond her intended target, and finally move upward to the left, winding up pointed at one moment as it continued to discharge at the unfortunate instructor's head.
Was it unwise to put that Uzi into the hands of this 9-year-old girl? Clearly, it was. Yet, I feel perfectly sure that Mr. Vacca could have put that Uzi into the hands of entire school classes full of 9-year-olds without any such accident occurring. Most children would have kept their heads and never lost control of the Uzi. If warned in advance of the hazards of firing too long a burst, if given a magazine for full-auto fire with a more limited number of rounds, if the child were taller or if the instructor stayed lower or stood further behind the child, if the instructor were more alert, Mr. Vacca's tragic death could easily have been averted.
All over America and the world, adults, from time to time, in the natural course of life, expose children to the excitement and interest of using dangerous tools, machinery (and sometimes weapons) all of which are potentially lethal. Parents teach children how to drive a car, a tractor, a lawn mower, or an ATV. Adults show children how to use a power saw, a lathe, or other machine tools. Parents take children to the shooting range and allow them to handle and fire guns. That is precisely the way that children grow up acquainted with tools, weapons, and machinery and learn to use them safely.
Amy Davidson's philosophic approach to a tragic accident of this kind is to demand new federal laws and regulations based on the prejudices and emotional responses of people like herself, bien pensants socially and geographically remote from the kind of people who like to play with guns, and who actually in reality possess no expertise concerning guns or firearm safety themselves whatsoever.
From the liberal point of view, the combination of the administrative state and the pure intrinsic wisdom of the well-educated elite is effectively omnipotent. Just surrender more liberty and money to them, let them pass some more laws and create another federal agency, and they can successfully regulate happenstance, misfortune, and human incompetence and stupidity out of existence.
Obviously, there are a lot of us who disagree.
Instructor Vacca's death was a tragic accident, but Mr. Vacca himself had as good a chance as anyone could possibly have had of preventing it. He simply failed to foresee one extreme possibility. I expect that shooting instructors nationally are going to be a lot more careful about placing full-auto weapons in the hands of children, and are going to take extra precautions and be more alert when they do.
Davidson obviously falsely depicts shooting ranges as part of an imaginarily lucrative and conspiratorial firearms industry so rich that it can buy political immunity from regulation. Gun control has actually been successfully resisted almost entirely by the purely grass-roots efforts of individual sportsmen, hobbyists, and collectors. The firearms "industry" contributes modestly to the NRA and many of its member corporations sell out to government quite readily.
Shooting ranges are all well aware that they live in a litigious country with a predatory trial bar eager to go after them. They do not need political prodding to implement safety rules and protocols. Every shooting range has already adopted all of them that they could think of as necessary.
The accidental death of Mr. Vacca merely proves that human foresight is limited and that even experts –Mr. Vacca was undoubtedly an expert– make mistakes.
The decision about when a particular child should be permitted to shoot a gun, or drive a tractor, or even I would say, when a child should be permitted to take a drink, ought really to be left up to the child's parents. We do not need state or national policies and the last people who should be permitted to regulate access to, and usage and possession of guns or other machinery or tools should be the kind of people who write in the New Yorker and who are completely innocent of personal acquaintance and familiarity with the things they wish to regulate.
03 Oct 2013

17 Jan 2011

William Tucker responds to Harvard American History Professor Jill Lepore's prolix rant in the New Yorker, attempting to trivialize the Constitution and bury Originalism beneath an avalanche of anecdotes.
During the First Congress's debates over the Bill of Rights, one wise Congressman noted that someone better include a right of men to "wear hats, go to bed and get up when they please," because someone was sure to come along and say if it wasn't a "right" specified in the Constitution, it wasn't allowed. The Congress recognized this problem and attempted to avoid it with the Ninth and Tenth Amendments:

IX. The enumeration in the Constitution, of certain rights, shall not be construed to deny or disparage others retained by the people.

X. The powers not delegated to the United States by the Constitution, nor prohibited by it to the States, are reserved for the States respectively, or to the people.

Conservatives have rightly seized upon the Ninth and Tenth Amendment as the basic concepts underlying the Constitution. It is a document in which the people grant rights to the government, not one in which the government grants rights to the people. Liberals never stop misinterpreting this formula. Bill Moyers once asked a Supreme Court Justice, "When are you going to grant us more rights?" as if we were all beggars huddled outside some royal palace petitioning for an extra slice of bread or another holiday. But liberals like it that way because a "Living Constitution" allows them to write their own preferences into stone as "constitutional rights" rather than achieving them through legislation. Abortion is a constitutional right, the death penalty is unconstitutional, and on and on. In some states the right of public employees to collect their pensions has been written into the constitution. Now how did that ever happen?

When conservatives argue that the Constitution is silent on such issues, they are accused of "Originalism" and forcing us to live in the past. How could a bunch of 18th century white men have possibly anticipated all the problems of the 21st century? But the Founding Fathers weren't trying to solve our problems for us. They were simply giving us a set of ground rules that would allow us to solve problems ourselves. So far the system has worked magnificently. Let's hope it stays that way.
18 Aug 2010



Nora Ephron delivers a fine parody of the currently very popular Stieg Larsson mysteries.
09 Dec 2009


Sarah Palin: crazed hick or naughty child in New Yorker's caricature?
Back in September, Sam Tanenhaus published a slender book titled, in a note of hopeful optimism, The Death of Conservatism.
Alas! Barack Obama is sinking in the polls, populist critics like Glenn Beck have had a field day exposing the controversial aspects of his appointees, the progressive impetus is faltering in the halls of Congress, and prospects for the kinds of champions of "the civic sector" that Tanenhaus admires are looking dim in upcoming elections.
With characteristic even-handedness, the liberal New Yorker turned to Conservatism expert Tanenhaus for its "review" of Sarah Palin's memoir "Going Rogue."
What Tanenhaus really delivers is an in-print liberal temper tantrum, trashing Palin up, down, and sideways, sinking frequently to the level of the high school "in crowd" savaging the non-cool kid from the not-rich family who got above herself. Carried away by his indignation at the nerd Palin, from the wrong side of the nation's geography and class structure, daring to sit down at the lunch table reserved for the cultural equivalent of cheer leaders and football players, Tanenhaus openly reveals what liberals really think (in their most secret little hearts): Sarah Palin represents the erasure of any distinction between the governing and the governed.
Unlike our liberal friends, we conservatives think the American Revolution erased that distinction. In today's America, the successors to Jefferson and Madison and Jackson, the people who really believe in the equality of the individual before the law, the people who believe that people from outside the ranks of the national Establishment may be worthy and capable of holding high office, are Republicans.
Today's liberals are a strange combination of the Secret Six, the Narodnaya Volya, and every high school's ruling clique. Like the 19th century radical Abolitionists with whom they explicitly identify, Liberals believe they are morally and intellectually more enlightened than Americans generally, and perceive grave and fundamental sins (retrospectively, Slavery and segregation and other forms of inequality; contemporaneously, the absence of National Health Care and the profanation of the Natural World) blemishing America, which they feel entitled to correct regardless of what any or all of the rest of us happen to think about it. Like the 19th century underground radical conspirators, and despite the Fall of the Soviet Union, they still consider themselves a Vanguard of the Left, empowered by History to bring society as it currently exists forcibly into a Utopian future, characterized by an enormously expanded Statism benificently presided over by an elite intelligentsia (i.e. themselves).
On a more mundane level, like any high school clique, they feel entitled to rule, and they demand deference, on the basis of status. Tanenhaus refers to "distinction," which he summarizes as consisting of skill, experience, intellect but, as we saw in the 2008 campaign, in which the record of the most popular and successful governor in the nation was compared disfavorably by every liberal evaluator of "distinction" to a candidate whose only meaningful accomplishments were a (possibly ghost-written) post-Law School memoir and the campaign then still underway, that skill, experience, and intellect tend to be qualities varying greatly in the eye of the beholder. A captious critic could easily observe that the election of Barack Obama proves just how easily the top lunch-table clique can be seduced by such superficialities as glibness and a good announcer's voice.
27 Jul 2009

Lizzie Widdicombe, in this week's New Yorker, describes the beautiful people taking in the Bactrian Treasure Horde (fresh from darkest Afghanistan) at the Met, nibbling mutton at La Grenouille, and lamenting still another of Darth Cheney's enormities.
Elisabetta Valtz-Fino, the exhibit's curator, led a tour of the treasures, which included tiger, dolphin, and ram designs (the nomads loved animals). There was a jeweller in the crowd—Tim McClelland, of McTeigue & McClelland jewellers, which helped sponsor the event—and he studied the back of a collapsible gold crown. "This is the Hubble space telescope of jewelry," he said. Adrianne Dicker-Kadzinski, a former Morgan Stanley investment banker, said she had done a stint in Afghanistan, in 2004, with the U.S. Army Reserve. "Kabul itself was very sad," she said. "The whole country is like a moonscape—brown, brown, brown."

Afterward, there was a lamb dinner at La Grenouille ("I feel very Afghan eating this," the writer Ann Marlowe said) and a raffle: all the guests received little keys; one of them opened a treasure chest containing a special gold-and-lapis bracelet made by McClelland. (The winner was a J. P. Morgan asset manager named Sophie Bosch de Hood.)

As excited as people were to have seen the Bactrian jewels, a sadness wafted over the evening: because of security concerns, the hoard can't be displayed in Afghanistan. "I'm so mad at Dick Cheney," said Caroline Firestone, an eighty-year-old philanthropist, who has known the former Vice-President for a long time. "I once gave him my house in Wyoming so he could stay there at Christmas. And he never let me come and talk to him about Afghanistan."