02 Jun 2013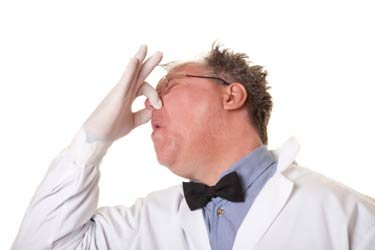 Glenn Reynolds solidified his nerd credentials by forwarding this oldie-but-goodie chem lab story.
The reaction behaved beautifully – exactly as in literature procedure – the color transitions and all, and even the product distilled pure in a good yield in the end as a highly refractive clear, thin liquid. But the smell – right at the moment when we quenched (in a hood of course) we were pushed back by the solidity of the reek. I got to know many evil chemical smells over the years but nothing comes anywhere close. With the other stinkers, at least one can imagine what sort of unwashed, putrid, fishy, skunky, human-waste object those smells are related to. But I never encountered anything as nauseating or alien like PhePHMe: The memory is stil with me – the most sickly and sweetish smell of rancid gasoline combined with rotten water melons, with undertones of stale sweat, pig carcass, a hint of garlic, moldy oranges, russian-made aftershave and a cheap household air freshener… its a whole package, and rather sweet one – like isonitriles or cyclopentadiene but magnified thousand times. A whiff of that thing and you feel that your nose just suffered a stroke and will hopefully die and peal off so that you never smell that thing again. Inconceivable – and it does not get any better when wearing off; quite opposite in fact – just like with butyric or isovaleric acid, the reek is developing a more alarming depth and complexity with the dilution.
Boy! If I had not gotten rid of my lab equipment a few years ago, I'd be (out in the yard, rather than the basement) having a go at making this stuff right now.