Category Archive 'Tea Party'
04 Jul 2014

Via Theo.
13 Jun 2014

When the vote occurs on June 19th to pick Eric Cantor's replacement as House Majority Leader, it looks like the winner is going to be Rep. Kevin McCarthy, current Republican Chief Whip, who represents California's 23rd Congressional District, centered around Bakersfield. No one else is currently running.
—————————–
The Financial Times describes McCarthy as a pro-business moderate with strong ties to the GOP establishment.
Kevin McCarthy, a senior California Republican close to the party's establishment, has emerged as the frontrunner to succeed Eric Cantor as House majority leader, damping business concerns that next week's big shake-up on Capitol Hill will bring more power to the Tea Party. …

Mr McCarthy would be elevated to the role from his current post of majority whip, bringing a measure of continuity and steadiness to the job that will be of comfort to corporate America, which counted Mr Cantor as one of its biggest allies in Washington.
"The last thing [business people] want is a conservative firebrand in the majority leader's office giving speaker Boehner headaches in maintaining order"

For instance, Mr McCarthy, along with other California Republicans, is a supporter of immigration reform – a top business priority – in defiance of the Tea Party base. Although his ties to corporate America are less tight than Mr Cantor's, he still rakes in large contributions from business. In fact, the securities and investment sector was the biggest donor to Mr McCarthy, contributing $355,989 to his campaign this election cycle, even though he does not face a challenger this year, according to the Center for Responsive Politics. The real estate sector came in second, followed by the insurance industry.

Of his top individual corporate donors, Goldman Sachs came in first, while Hewlett-Packard and Blue Cross/Blue Shield were in the top five. Bank of America and Google were in the top 10.

"[Mr McCarthy] is a known quantity to the Street," says Corey Boles, a US policy analyst at the Eurasia Group. "The last thing they want is a conservative firebrand in the majority leader's office giving speaker Boehner headaches in maintaining order," he adds.
—————————–
HuffPo took a look at him, and basically concluded that he is a bland professional pol, basically all about "empty ambition."
And, since he represents a farming district with constituents totally dependent on immigrant labor, he is softer on illegal immigration than Eric Cantor.
So much for the strategic genius of our movement's great minds, Richard Viguerie, Mark Levin, Micky Kaus, and Laura Ingraham.
—————————–
Ann Coulter (no fan of Amnesty herself) warns about investing in "Tea Party" rebellions against establishment Republicans which so frequently wind up electing democrats in the end.
In fact… the tea party had nothing to do with Brat's victory. Only the small, local tea party groups stand for anything anymore, but they're as different from the media-recognized "tea party" as lay Catholics are from the Catholic bishops.

National tea party groups did not contribute dime one to Brat. Not Freedom Works, not Club for Growth, not the Tea Party Express, not Tea Party Patriots. They were too busy denouncing Sen. Mitch McConnell — who has consistently voted against amnesty.

As I have been warning you, the big, national tea party groups are mostly shysters and con-men raising money for their own self-aggrandizement. (Today, they're blast-faxing "media availability" notices to television networks claiming credit for Brat's victory.)

The Tea Party Express, for example, "represents" the views of ordinary Americans by supporting Chamber of Commerce demands for cheap labor through amnesty.

As Eric Hoffer said, "Every great cause begins as a movement, becomes a business, and eventually degenerates into a racket."

Nonetheless, the claim that Brat's victory was a win for the tea party is everywhere — pushed with suspicious insistence by people who do not usually wish the Republican Party well. Democratic National Committee Chair Debbie Wasserman Schulz, for example, said: "Tonight's result in Virginia settles the debate once and for all — the tea party has taken control of the Republican Party. Period."
27 Oct 2013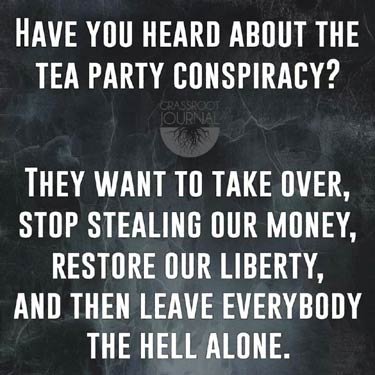 Hat tip to Vanderleun.
09 Aug 2011

20 Jul 2011

I'm not persuaded that the fantasy ending of "Scent of a Woman" (1992), in which one rip-roaring speech by a colorful old veteran suffices to cause a preparatory school dean and disciplinary committee to reverse course and do the right thing, is the best possible cinematic illustration of the point Eric Lutzuk might have chosen. I have met some deans and college disciplinary committees and I can tell you that all the eloquence of Daniel Webster or Demosthenes and all the sound reasoning and philosophy of the entire Western canon would have had precisely zero impact on any of the results of their deliberations.
Pardon the digression, but there is a pertinent scene in Joseph Heller's great novel Catch-22 . The idealistic Clevinger is incorrectly accused of some default and is scheduled to appear before a military disciplinary tribunal. The cynical Yossarian warns him that he is completely screwed. Clevinger insists that he is perfectly safe because he is innocent. (I'm paraphrasing, rather than quoting.) "You don't understand." Yossarian warns him. "Those guys hate Jews." "But I'm not Jewish. Clevinger protests. "That will make no difference." Yossarian assures him. That is what deans and disciplinary committees are like.
Anyway… Mr. Lutzuk's article makes an interesting and valuable point about the motivation of conservatives which liberals characteristically find impossible to understand.
In the climactic speech delivered by Al Pacino in Scent of a Woman, Pacino does an excellent job of articulating why Kant rejected the pursuit of self interest as an ethical position. In the speech Pacino clearly disavows the pursuit of self interest as being properly ethical. Charlie (the young student who Pacino is representing in the school court ) has forfeited entry to an ivy league university, and has potentially ruined his prospects of climbing the American social ladder by choosing to not "snitch" on his classmates who he witnessed perpetrating a prank on the Dean. The over-arching point of Pacino's fiery speech is that by punishing Charlie for his silence and rewarding Mr. Willis (Philip Seymour Hoffman) for "snitching", the school is encouraging students to adopt an ethical stance concerned with acting out of self interest. …

The American Liberal "left" can learn a lot from Pacino's speech as it might explain why they are failing to rally grassroots populist support amongst a lot of poor Americans who would directly benefit from Democrat initiatives…. [T]he American Midwest, now a hot bed for right wing Christian, tea party type republican populist support, used to be the center for radical leftist movements in the United States.

This shift can be explained as a Kantian phenomena. After all the number one criticism amongst the left of the tea party and other populist movements in the US is that they are acting against their own self interest. They are supporting a political party (the Republicans) that explicitly benefits the rich and do little to nothing to help the poor or disenfranchised. Time and time again Democrat political pundits point this out to no avail. All the statics and numbers in the world seem incapable of swaying these people from their support of a party that does nothing to improve their day to day lives or the lives of their children.

What makes the tea party a properly Kantian movement is that they justify their support for the Republican Party by appealing to freedom. This is the twisted strength of the tea party movement, it emphasizes people's freedom as the highest virtue. It's overarching message is that common people, working people, are free and capable of making their own decisions. You do not have to listen to the pejorative pandering of left liberal intellectuals from the North East, telling you what is or isn't in your best interest. You are free to make that decision yourself. That is what America is all about.

Arguments appealing to self interest are practically non-existent on the right (with the exception of the small business owners tax cut argument). Ordinary working people are appealed to based on their autonomy. They are encouraged to demonstrate their autonomy by voting for a party that they feel represents them despite it acting against their self interest. In this way they are strangely enough like Charlie: affirming their own characters against intellectuals who claim they can predict their actions based on their class, race, occupation income etc. The right in the US have tapped into the fundamental Kantian insight that people want to believe and feel they are autonomous beings.
Hat tip to Karen L. Myers.
17 Sep 2010

Gene Taylor (4-MS) this week became the first House democrat to sign the Repeal Obamacare petition.
Democrats in larger numbers are deserting Obama and calling for tax cuts for all Americans.

A.B. Stoddart, at the Hill, observes that you don't have to wait for November to tell that the tide has turned, the Tea Party has already stopped Barack Obama, Nancy Pelosi, and Harry Reid's leftist offensive. The war will continue, but the initiative has changed sides.
Even before Christine O'Donnell handily defeated Rep. Mike Castle (R-Del.) in an epic upset Tuesday night, the Tea Parties, all of them, had already won. No matter what happens in the midterm elections on Nov. 2, the Tea Party has moved the Democrats to the right and the Republicans even more so, and President Obama's agenda is dead. …

As of last week, before the House and Senate even reconvened, it was clear there were enough Senate Democrats joining Republicans seeking an extension of the Bush tax cuts for the wealthiest earners that the Democrats don't have the votes to pass President Obama's permanent extension of the middle-class tax cuts without passing cuts for the top two tax brackets as well.

When Obama introduced his latest economic proposals earlier this month, Sen. Michael Bennet (D-Colo.), an ally of the Obama White House, immediately put out a statement not only criticizing Obama's newest infrastructure plan but knocking the original stimulus as well. "I will not support additional spending in a second stimulus package. Any new transportation initiatives can be funded through the Recovery Act, which still contains unused funds," Bennet said.

Obama won't get his infrastructure plan through the Congress, and he knows it. Next year, when he is running for reelection, tax and budget reform will be the only issues he could realistically work on with a GOP majority or a razor-thin Democratic majority. In other words, the Tea Party agenda.

The Tea Party candidates themselves — like O'Donnell, whom Karl Rove called "nutty," — matter little. Only a few will actually get elected this fall. Yet the Tea Party has won without them. There are no tea leaves left to read. Democrats have been spooked and Republicans threatened, cajoled or cleansed. The results are already in.
——————————
Overseas, the center-left Süddeutsche Zeitung agrees:
"Obama has underestimated the frustration in the country and the power of the Tea Party movement, which gives the prevailing disillusionment a platform and a voice. It is by far the most vibrant political force in America. Obama's left-of-center coalition, which got young people and intellectuals involved and which appealed to a majority of women, blacks and Latinos, has evaporated into nothing. …

The new right, though, is on the rise. It sets the agenda. America is facing a shift to the right. The Republicans have already marched in this direction of their own accord, regardless how many Tea Party reactionaries get a seat and a voice in Congress in November. The Democrats and the president have been put totally on the defensive. From now on they will only be able to react, rather than act.