Category Archive 'WhateverGate'
16 Jul 2017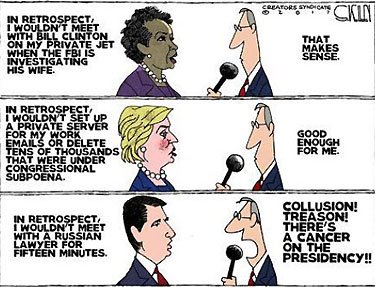 16 Jul 2017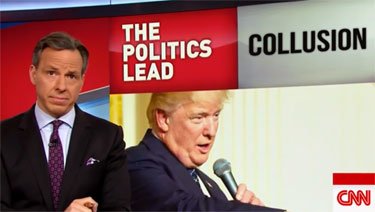 A new, exclusive CNN investigative report revealed Thursday that millions of American voters may have potentially colluded with the Trump campaign to elect Donald Trump as President of the United States.

While Russia has been accused of interfering in the election, the breaking report indicates that the collusion may have extended to a significant portion of the U.S. population—"as many as 60 million citizens, and possibly even more."

"The conspiracy goes much deeper than anyone expected," Jake Tapper said on his news segment The Politics Lead.
28 Jun 2017

27 Jun 2017

27 Jun 2017

15 Jun 2017

Thomas Lifson marvels at the conspiracy of silence on the part of Republicans which has allowed the MSM to fabricate and keep running for months coverage of a completely imaginary story involving supposititious collusion with Russia for which no evidence whatsoever has been identified.
The stunning truth is that the American political and media establishment allowed a phony story – that they knew was phony — to dominate our political discourse for months. When James Comey testified before the Senate Intelligence Committee last week, he revealed that he had informed many important Congressional leaders that there was no investigation of President Trump and the Russians underway, even as MSNBC, CNN, The New York Times, and the Washington Post daily carried stories alluding to an imaginary investigation.

None of these informed leaders spoke out! They allowed a make-believe tale intended to harm the legitimacy and therefore political power of President Trump to dominate mindshare in the nation's collective political conversation. …

The American people were played as patsies, their attention diverted to a fantasy that had — and still has — no evidence whatsoever of its existence. That fantasy was propounded for political reasons, and used to subvert the outcome of a democratic election.

And except for Senator Grassley, the entire roster of congressional establishment held its tongues.
14 Jun 2017

Victor Davis Hanson explains why the establishment media's furious efforts at ginning up public interest in the Trump Administration's alleged offenses are not working.
The Left was mostly untroubled for eight years about the often unconstitutional abuses of Barack Obama — given that they saw their shared noble aims as justifying almost any means necessary to achieve them.

There was the not uncommon Rice-Gruber-Rhodes-Holder sort of deception (on Benghazi, on the conduct of Bowe Bergdahl, on the Affordable Care Act, the Iran deal, on Fast and Furious, etc.) — a required tactic because so much of the Obama agenda was antithetical to the wishes and preferences of the American electorate and thus had to be disguised and camouflaged to become enacted.

There was the pen-and-phone mockery of established federal law (the suspension of the ACA employer mandate, the Chrysler creditor reversal, the non-enforcement of federal immigration law, the institutionalization of sanctuary-city nullification). There was the constant mythmaking (from faux red lines, deadlines, and step-over lines to the fatuity of the Cairo Speech and Iran-deal harangues).

There were the abuses of presidential power (the surveillance of journalists, the selective release of the bin Laden trove to pet journalists, the likely surveilling, unmasking, and leaking through reversed targeting of political enemies).

No one worried much when Obama promised on a hot mic to Medvedev that he would be more flexible with the Russians after his reelection, as if they were to conform to a desired sort of behavior in service to Obama that would earn them dividends from him later on — the kind of unapologetic partisan "collusion" that would have earned Trump a Comey-induced indictment. No one cared that Obama pulled all peacekeepers out of Iraq and thereby ruined what the surge had saved.

Nor did anyone fret much about the serial scandals at the GSA, the VA, the IRS, and the Secret Service, or his disastrous reset policy with Russia and the implosion of the Middle East or the strange spectacles of Obama's interview with GloZell or polarizing Oval Office guests, such as the rapper whose album cover portrayed celebrations over a dead white judge.

True, none of these were impeachable or even major offenses. But all of them recalibrated the bar of presidential behavior.

So along came the next Republican president, empowered by Obama's exemptions to do almost anything he wished, albeit without the thin exculpatory veneer of Ivy League pretension, multicultural indemnity, and studied smoothness.

In biblical "there is a season" fashion, for every sermon about not building your business, making too much money, or profiting at the wrong time, there was a Trump retort to profit as never before.

For every too-frequent gala golf outing of a metrosexual Obama decked out in spiffy attire, there is a plumper Trump swinging away, oblivious to the angry pack of reporters that Obama once so carefully courted.

For every rapper with an ankle bracelet that went off in the White House, there is now a White House photo-op with Ted Nugent.

For every executive-order suspension of federal immigration enforcement, there is an executive-order corrective. For every lecture on the crusades, sermons on Western genocidal history, apology tour, or Islamic mythmaking, there is an American Greatness pride in everything.

The progressive ironies continued.

If the media were to be believed when they insisted that Obama was a "god," or that he was the smartest man ever to achieve the presidency, or that the first lady was Jackie Kennedy incarnate, or that Obama was capable of sending electrical shocks down a reporter's leg or was sure to be a brilliant president on the basis of his pants crease or because he talked in the manner of Washington elites, then surely it could not be believed when Trump was smeared as a veritable dunce, crook, buffoon, and naïf worthy of impeachment or that his wife (fluent in several languages) was an airhead former escort girl.

By their former unhinged adoration and obsequiousness, progressives and the media undermined all future credibility in their unhinged venom and loathing of Donald Trump. Now they live with the reality that by elevating Obama into a deity, they unleashed their own worst nightmare and have reduced themselves to irrelevance. In the end, no one believes the current venom of a CNN or a New York Times precisely because no one could have believed their prior slavish adulation.
11 Jun 2017

11 Jun 2017

Mark Steyn is pretty much as fed up with James Comey as the rest of us.
Readers have demanded to know what I think of the James Comey hearing. In the words of Daffy Duck, shoot me now.

Okay, the slightly longer answer is: I don't think about it. And there isn't enough money in the world to pay me to think about it. But, if you insist, I will make a couple of points:

1) The FBI should not be in the counter-intelligence business. There are, as Democrats never tire of pointing out, "17 intelligence agencies", which is, by my count, 15 too many. We should at least get it down to 16, by eliminating what's meant to be a domestic policing agency.

2) As I've pointed out in recent weeks, someone seems to be holding the US Constitution upside down: We have courtrooms presuming to be legislatures, and the legislature pretending to be a courtroom. Both perversions are part of the systemic dysfunction that obstructs proper representative government. The allegedly Republican Congress should investigate less, and try legislating some of the President's agenda.

3) On October 19th last year I called Comey "a 6′ 8″ gummi worm". That was very much on display on Thursday, as the straight arrow writhed and agonized over what he might have done had he been a "stronger man". He is far too psychologically weird and insecure ever to have got close to being FBI Director (far weirder than Hoover, even if you believe every single story about the guy), and the fact that he did ought to be deeply unnerving to Americans.

4) As everyone more sentient than an earthworm should know by now, "the Russia investigation" is Deep State dinner-theatre. I wrote a while back that, in today's Hollywood, what Hitchcock used to call "the MacGuffin" – the pretext that sets the caper afoot, the secret papers, the microfilm – has degenerated into a MacNuffin: there's no longer even a pretense that these stories are about anything. The "Russia investigation" is the ne plus ultra of MacNuffins, so smoothly transferred from Los Angeles to Washington that one vaguely suspects some studio vice-prez who bundled for Hillary came up with the idea as a reality-show pilot that accidentally bust out of the laboratory.

How do we know there's no there there? Well, consider Marco Rubio's question to Comey:

Rubio marveled at how many leaks have occurred during the Trump-Russia investigation, saying "we've learned more from the newspapers sometimes than we do from our open hearings."

"Do you ever wonder why, of all the things in this investigation, the only thing that's never been leaked is the fact that the president was not personally under investigation, despite the fact that Democrats and Republicans and the leadership of Congress knew that and have known that for weeks?" he asked.

It seems Comey doesn't ever "wonder" about it, being too busy – like everybody else – leaking stuff himself. The leaks, as have often been pointed out, are the only actual crimes here.
21 May 2017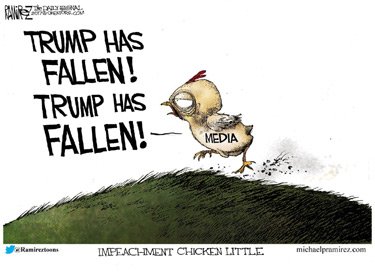 21 May 2017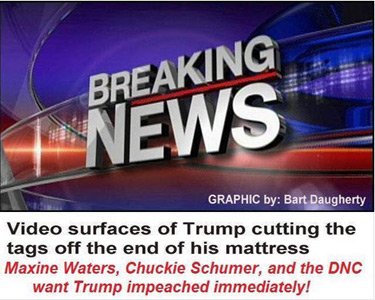 John Derbyshire has found a word for it.
One of Steve Sailer's many clever commenters has brilliantly named it WhateverGate—the frantic legalistic churning about who said what to whom in President Trump's circle, and whether the thing that was or was not said warrants impeachment. Or whatever. But impeachment. Every week, I think things can't get any crazier—the hysteria has to burn itself out, the temperature can't get any higher, the fever has to break—and every week it's worse. Boy, they really want to get this guy. That just gives us more reasons to defend him.

I don't even bother much any more to focus on the actual thing that President Trump or one of his colleagues is supposed to have said or done. Every time, when you look closely, it's basically nothing.

I've been reading news and memoirs about American presidents since the Kennedy administration. I swear that every single damn thing Trump is accused of, warranting special counsels, congressional enquiries, impeachment—every single thing has been done by other recent presidents, often to a much greater degree, with little or no comment.
Read the whole thing.