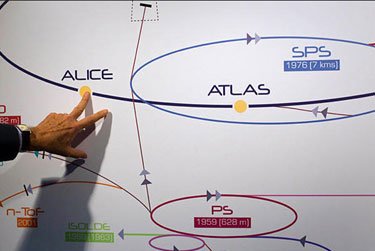 The search for the Roberts' Taxon exceeded in difficulty the search for the Higgs Boson.
Iowahawk has news of the latest breakthrough in constitutional ontology.
Jubilant scientists at the DNC's High Speed Word Collider (HSWC) announced today they have conclusively disproven the existence of Roberts' Taxon, the theoretical radioactive Facton particle that some had worried would lead to the implosion of the entire Universal Health Care System.

"I think it's time to pop the champagne corks," said HSWC Director David Plouffe. "Then blaze some choom."

The landmark experiment in Quantum Rhetoric began early this week after legal particle cosmologist John Roberts published a paper in the Quarterly Journal of Tortured Logic that solved the long-debated Pelosi's Paradox in Universal Health Care Theory.

"Pelosi's Paradox states that in order to find out what is in a health care bill, it would have to be passed," explained physicist Steven Hawking. "But in order to be a law it would have to be constitutional, which means someone would have to know what was in it, which would mean it couldn't have been a bill in the first place. Think of Schroedinger's Cat, except with a lobotomy."

To solve the paradox, Roberts proposed the existence of the Taxon – an ephemeral, mysterious facton particle that in theory would allow the Universal Health System to be constitutional, without directly observing what was in it. DNC scientists at first cheered Roberts' findings, but it soon came apparent that it opened an even deadlier dilemma.

"If Roberts' Taxon were really to exist, and was woven throughout the Health-Government-Time continuum, the merest realization of it would create a giant black hole in Gallup Space and cause free healthcare reality to collapse upon itself," said Plouffe.

In order to disprove the Taxon, scientists at the HSWC devised a test experiment in their enormous CarneyLab bullshit accelerator. This test involved speeding a small mass of Facton – theoretically containing Roberts' Taxon – and smashing it at near-light speed against a flaming super-dense ionized clod of purified bullshit.