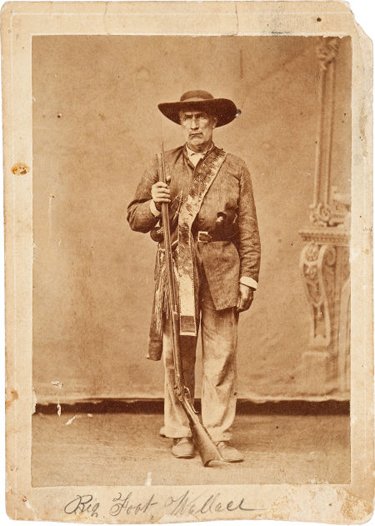 William Alexander Anderson "Bigfoot" Wallace (April 3, 1817 – January 7, 1899)
The highlight of Heritage Auctions' upcoming March 1-2 "Texana" sale seems to be an albumen photograph dating from 1872 of the famous veteran of the Texas War of Independence and the Mexican War, Indian fighter, and Texas Ranger "Bigfoot" Wallace.
Bigfoot Wallace appears in the Larry McMurtry novel Dead Man's Walk, later made into a movie in which Wallace was played by Keith Carradine.
It's interesting to note that, as late as 1872, the legendary frontiersman is found leaning on a percussion lock long rifle. No Spencer repeater or Model 1866 Winchester for him. Wallace is also packing some unidentifiable large pistol in a covered holster, facing forward on his left hip. He looks like a tough hombre.