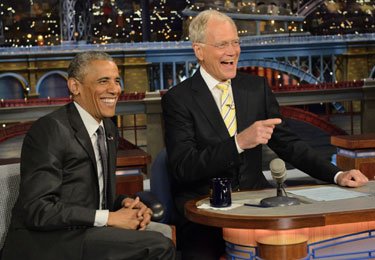 John Nolte explains how David Letterman responded to losing to Jay Leno by becoming a toady to the urban establishment.
I didn't leave David Letterman, David Letterman left me.

It was sometime around 2003 when I began to realize Letterman didn't like me anymore. His anger was no longer subversive and clever, it was bitter and mean-spirited and palpably real. He was a jerk playing to his loyal audience — urban, cynical, elite, Blue State jerks. The humble, self-deprecating Dave had become the nasty, arrogant Letterman, an unrecognizable bully who reveled in pulling the wings off those he saw as something less.

Chris Christie's weight; Rush Limbaugh's personal life; everything Bill O'Reilly; Bush, Cheney, Palin, and the last straw, a statutory rape joke about Palin's 15 year-old daughter. Suddenly you were a dangerous idiot for protecting the most Indiana of things — your gun.

The man who could make you laugh at yourself now wanted to hurt and humiliate.

Letterman's politics were never the issue. You can't share my passion for show business and movies and let politics get in the way. Carlin was probably to the left of Letterman, but Carlin was funny and thoughtful and smart. Watching Letterman berate and hector and attempt to humiliate conservative guests over guns and the climate and the brilliance of Obama was boorish. Describing Mitt Romney as a "felon" was just sad.

The American Heartland had disappointed its own Indiana son, and for more than a decade the son was out for payback.

Or maybe Letterman was just so scared and insecure about losing what little audience he had, that he sold out his genius and Midwestern decency to bitterly cling to them? He certainly never again displayed the courage to challenge them, or to make them feel in any way uncomfortable.

Night after night the man who became my hero for biting the hand was now licking the boot — and convinced while doing so that he's superior to the rest of us.

How I pity him.
Read the whole thing.