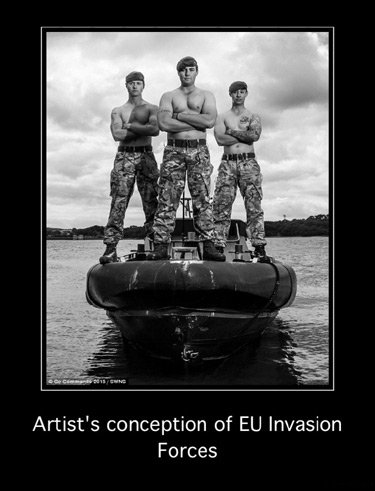 Nick Cole offers what is, I think, a fantasy mocking the Trump Derangement Syndrome of certain members of the coastal community of fashion.
Jan 24th, 2016. Silverlake, CA

A local woman, active in her vegan karate group, is surprised Europe hasn't reciprocated for liberating the continent during WW2 with an Invasion of America, or at least Trump Tower, as of the week after the Inauguration. Hours of BBC programming have convinced her that full-scale foreign invasion is the "right-side-of-history move for the U.K." at this critical moment in order to stop "Not-My-President Trump."

In the months after former President Barack Obama and Pantsuit enthusiast Hillary Clinton spectacularly led the Democrat party to a stunning loss of both legislative houses and the Presidency, to a man several of her friends assured her was Hitler, she'd had high hopes of martial law in order to prevent the rise of this obvious totalitarian dictator from the past. Various celebrities also assured her through their social media channels that Donald Trump was Hitler, a known war criminal, and that he would be impeached within hours of daring to take the oath of office despite this never happening before. She took comfort in antidepressants, Whole Foods shopping trips on her overdraft, and RE-binging every season of Girls with the knoweledge Trump/Hitler would never be her president.

After extensively researching Hitler on Wikipedia one afternoon before a Yoga for Cats Empowerment Seminar, she was shocked to find out that the former reality TV Star was in fact responsible for the genocide of six million people, the destruction of Europe, and the further deaths of another 20 million combatants and civilians. She cited these shocking statistics online at a Make-Your-Own Kombucha Facebook page as reasons why Europe should invade America immediately to take back their Hitler. Saturday afternoon she took to the streets of Downtown LA with a homemade sign other protestors found inappropriate, reading: "Dear Europe- We're up for Grabs!" to protest the inauguration of the business man/politician/ possible time-traveling genocidal maniac who was surely hours away from rounding up her gay friends for electro-shock therapy camps in the desert, according to MSNBC. A Rachel Maddow Reddit thread she admin'd reported suspicious "government-looking types" cruising West Hollywood and promising young men a "good time" if they "wanted to party."

The EU has still, as of publication, not invaded America.
Hat tip to Karen L. Myers.