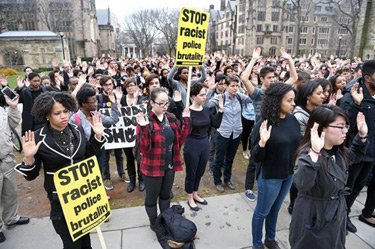 William Deresiewicz is a big squishy liberal, who thinks racism (after 50+ years of constant indoctrination, social engineering, and federal scrutiny of American hearts and minds) is still a terrible major problem, but even he is appalled at the Speech & Thought Control PC regime that has taken power at every elite college and university.
Selective private colleges have become religious schools. The religion in question is not Methodism or Catholicism but an extreme version of the belief system of the liberal elite: the liberal professional, managerial, and creative classes, which provide a large majority of students enrolled at such places and an even larger majority of faculty and administrators who work at them. To attend those institutions is to be socialized, and not infrequently, indoctrinated into that religion. ..

Elite private colleges are ideologically homogeneous because they are socially homogeneous, or close to it. Their student populations largely come from the liberal upper and upper-middle classes, multiracial but predominantly white, with an admixture of students from poor communities of color—two demographics with broadly similar political beliefs, as evidenced by the fact that they together constitute a large proportion of the Democratic Party base. As for faculty and managerial staff, they are even more homogenous than their students, both in their social origins and in their present milieu, which tends to be composed exclusively of other liberal professionals—if not, indeed, of other liberal academics. Unlike the campus protesters of the 1960s, today's student activists are not expressing countercultural views. They are expressing the exact views of the culture in which they find themselves (a reason that administrators prove so ready to accede to their demands). If you want to find the counterculture on today's elite college campuses, you need to look for the conservative students.

Which brings us to another thing that comes with dogma: heresy. Heresy means those beliefs that undermine the orthodox consensus, so it must be eradicated: by education, by reeducation—if necessary, by censorship. It makes a perfect, dreary sense that there are speech codes, or the desire for speech codes, at selective private colleges. …

[P]olitical correctness is not about justice or creating a safe environment; it is about power. And so much of what is taking place at colleges today reflects the way that relations of power have been reconfigured in contemporary higher education. Campus activists are taking advantage of the fact (and I suspect that a lot of them understand this intuitively, if not explicitly) that students have a lot more power than they used to. The change is the result not only of the rise of the customer-service mentality in academia, but also of the proletarianization of the faculty. Students have risen; instructors have fallen. Where once administrations worked in alliance with the faculty, were indeed largely composed of faculty, now they work against the faculty in alliance with students, a separate managerial stratum more interested in the satisfaction of its customers than the well-being of its employees. …

The power of political correctness is wielded not only against the faculty, however, but also against other groups within the student body, ones who don't belong to the ideologically privileged demographics or espouse the approved points of view: conservative students; religious students, particularly Christians; students who identify as Zionists, a category that includes a lot of Jewish students; "athletes," meaning white male athletes; white students from red states; heterosexual cisgendered white men from anywhere at all, who represent, depending on the school, between a fifth and a third of all students. (I say this, by the way, as an atheist, a democratic socialist, a native northeasterner, a person who believes that colleges should not have sports teams in the first place—and in case it isn't obvious by now, a card-carrying member of the liberal elite.) I haven't heard too many people talk about creating safe spaces for Christians, or preventing micro-aggressions against conservatives, or banning hate speech against athletes, or disinviting socialists.

What I have heard, frequently, for as long as I have been involved in academia, are open expressions of contempt or prejudice or hostility against those suspect groups or members of those groups. If you are a white man, you are routinely regarded as guilty until proven innocent, the worst possible construction is put upon your words, and anything you say on a sensitive issue is received with suspicion at best. I attended a workshop on micro-aggressions at the University of Missouri last year. The problem with micro-aggressions, the leader said, is that they "create a space of hostility," that they say, "you don't belong; you are different in a way that's not okay." Those formulations precisely describe the environment that the groups I just enumerated often encounter at elite private colleges, except that unlike the typical micro-aggression, the offense is not inadvertent. It is quite deliberate.
Read the whole thing.