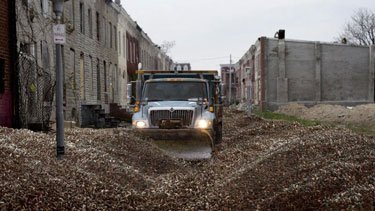 SATIRE: The Onion:
CHICAGO—Promising that every effort would be made to limit the impact on residents' day-to-day lives, Chicago officials announced Wednesday that a fleet of plows was working around the clock to clear more than 18 inches of fresh bullet casings that had blanketed the metropolitan area overnight.

Sources at the city's Department of Streets and Sanitation confirmed that over 250 ammunition-removal vehicles had been deployed to deal with the knee-deep layer of spent cartridges, which have been steadily accumulating on Chicago's streets, alleys, and pedestrian walkways since the previous evening.

"Our crews have been out there all night trying to make our roadways passable, but given how quickly the handgun and semi-automatic shells have piled up, it's going to take some time," DSS commissioner Charles L. Williams told reporters, thanking the public for its patience while crews made their way across the stricken municipality. "We're making good headway, but as you can imagine, it's not an easy job, especially with casings continuing to fall throughout the city."

"So unless you have an emergency, we're urging all citizens to stay put for the time being," he added. "Right now, it's just not safe to be out in such treacherous conditions."

Williams stated that as casing levels surpassed 12 inches, scores of extra workers from outside the city were called in to help keep pace with the buildup. In addition, numerous dump truck crews have reportedly been tasked with carting off entire trailers full of cartridges from the hardest-hit areas and depositing them in nearby landfills before circling back to pick up more.
—————————
REALITY: Sun-Times 7/24:
Six men were killed and at least 35 other people were wounded in shootings across Chicago between Friday night and Monday morning.

The most recent deaths were the latest of 364 people fatally shot in the city this year, according to data maintained by the Chicago Sun-Times. In all, more than 2,075 people have been shot since the start of the year.