03 Aug 2015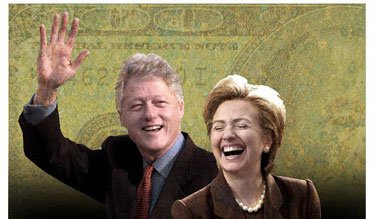 Tigerhawk has a few choice words about the leading (Rand villain) couple of America's "aristocracy of pull."
The news today had its uplifting moments. Vox choked out a spectacular story about the arresting wealth gathered in by Bill and Hillary Clinton since 2007, and graced it with a headline so snarky that Donald Trump might have written it: "Hillary Clinton has paid more in taxes than Jeb Bush has ever earned." The short version is that the Clintons have "earned" — more about the use of that word in a moment — $141 million since 2007. I don't care who you are, that's some decent coin.

The second best part about the Vox story is the searchable list of all the organizations, mostly large business corporations, that have paid the Clintons enormous sums to hear their talking points in person. Scroll down and make your list of boycott targets (I was sad to see my old law firm Latham & Watkins in that corrupt crowd, by the way). …

Is there a single person alive who believes that corporations, trade associations, NGOs, unions, and the like pay the Clintons enormous sums for speeches because they believe their members actually want to hear the Clintons say the same tedious talking points they have been spewing for years? If that were the only value received no profit-minded enterprise would pay the Clintons these vast fees because they would earn, well, a shitty rate of return.

No, the Clintons are not paid to speak. Businesses and other interest groups pay them for the favor of access at a crucial moment or a thumb on the scale in the future, perhaps when it is time to renew the Ex-Im Bank or at a thousand other occasions when a nod might divert millions of dollars from average people in to the pockets of the crony capitalists. The speaking is just a ragged fig leaf, mostly to allow their allies in the media to say they "earned" the money for "speaking," which is, after all, hard work.

We have such people as the Clintons (and the tens of thousands of smaller bore looters who have turned the counties around Washington, D.C. in to the richest in the country) because they and their ilk in both parties have transformed the federal government of the United States in to a vast favors factory, an invidious place that not only picks winners and losers and decides the economic fates of millions of people, but which has persuaded itself that this is all quite noble. Instead, the opposite is true: This entire class of people, of which the Clintons are a most ugly apotheosis, are destroying the country while claiming it is all in the "public service." It is disgusting. We need to say that, at least, out loud.

Of course, all of this was prefigured years ago in a novel some of you will know.