27 Aug 2014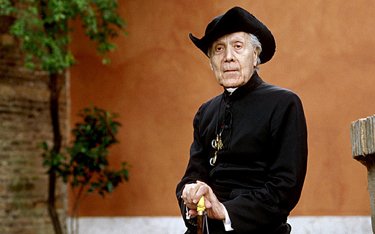 The Telegraph memorialized recently a colorful priest remarkable for the soundness of both his political and ecclesiastical views.
Father Jean-Marie Charles-Roux, who has died [August 7th] aged 99, brought the mystical aura of French royalism to London as a Roman Catholic priest of the Rosminian order; he was devoted to the divine nature of monarchy and the Tridentine liturgy.

Tall, elegant, and with a theatrically silky voice, Charles-Roux wore buckled shoes and medallions commemorating martyred sovereigns, and used an eyeglass to read a newspaper during more than 40 years at the medieval church of St Etheldreda at Ely Place, off Holborn. There he celebrated the Latin Mass every morning with his back to the congregation. Sought after as a confessor, he preached lively and eloquent sermons, flattering and shocking his listeners in equal measure.

He would emphasise the Christian duty to the poor while maintaining that the parable of the talents proved that capitalism was not only acceptable but also a moral imperative. He made clear his abhorrence of the Allied bombing of Dresden by celebrating Mass for its victims. And once, comparing the transformation of the soul to cooking, he described how it was more likely to be successful in black saucepans (meaning priests) than in grander copper ones (casting a glance at Cardinal Hume sitting nearby).

In conversation with even the humblest, Charles-Roux assumed a shared familiarity with the families of the Anjou claimant to the French throne, the King of Spain and members of other European royal families; and he championed the canonisation of Louis XVI and Marie Antoinette, Mary Queen of Scots and even Charles I of England who, he maintained, should be acknowledged as a saint by the Roman Catholic Church.

As communism tottered in Eastern Europe in 1989, the ambassadors of Poland and Hungary (possibly hedging their bets) were to be seen on their knees at a memorial service for the Empress Zita of Austria while Charles-Roux led them in prayers for the restoration of the Holy Roman Empire.

Jean-Marie Charles-Roux was born in Marseille into a French diplomatic family on December 12 1914. His first memories were of Rome, where his father was a member of the French embassy to the King of Italy.
Read the whole thing.
Hat tip to Rafal Heydel-Mankoo.
———————————-
Damian Thompson, the Spectator's religious editor:
For many years he was based at the Rosminian church of St Etheldreda's, Ely Place, where he celebrated only the Tridentine Rite.

'When the New Mass came in I tried it in English, French, Italian, even in Latin – but it was like a children's game,' he told me. 'So I wrote to Pope Paul, whom I had known when he was Cardinal Montini, and said, Holy Father, either you let me celebrate the Old Mass or I leave the priesthood and marry the first pretty girl I meet.'