Category Archive 'Religious Freedom'
09 Apr 2015

Hat tip to Vanderleun.
07 Apr 2015

02 Apr 2015

Kevin D. Williamson notes that our ruling class is determined to eliminate private freedom of thought and opinion and make everyone in America conform in every kind of expression to the belief system of the optimates.
Adlai Stevenson famously offered this definition: "A free society is a society where it is safe to be unpopular." We do not live in that society. …

When there is no private property — the great legal fiction of "public accommodation" saw to its effective abolition — then everything is subject to brute-force politics, and there can be no live-and-let-live ethic, which is why a nation facing financial ruination and the emergence of a bloodthirsty Islamic caliphate is suffering paroxysms over the question of whether we can clap confectioners into prison for declining to bake a cake for a wedding in which there is no bride. …

Gay couples contemplating nuptials are not just happening into cake shops and florists with Christian proprietors — this is an organized campaign to bring the private mind under political discipline, to render certain moral dispositions untenable. Like Antiochus and the Jews, the game here is to "oblige them to partake of the sacrifices" and "adopt the customs" of the rulers.
Read the whole thing.
24 Apr 2014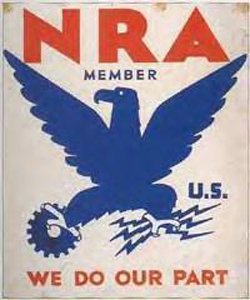 Amity Schlaes thinks the Suprene Court's decision in the upcoming Sebelius v. Hobby Lobby case could come out as a replay of Schecter Poultry Corp. v. United States, the 1935 case which killed the New Deal's legislative centerpiece, the National Industrial Recovery Act.
Some time in the coming months, the Supreme Court will hand down its opinion in Sebelius v. Hobby Lobby, the case of the retailer that claims that its religious freedom or that of its employees is violated by contraceptive coverage required as part of the Affordable Care Act. The attitude of the health-care act's supporters toward such cases is irritation. How dare a little religious case trip up the mighty Affordable Care Act and jeopardize the ACA's establishment as permanent law of the land?

Cases involving religious details, however, do have a way of stopping big social legislation, and not only because they violate the principles of the religious denominations involved. Regardless of the Court's decision, even pro-choice Jews, Unitarians, and Muslims may eventually change their views on the ACA precisely because of Hobby Lobby and cases like it.

To see how this might happen, it helps to go back to a case involving a commensurately ambitious piece of legislation, Franklin Roosevelt's 1933 National Industrial Recovery Act. …

Just as the ACA stumbled over its own website this past winter, the NRA stumbled over it own forms and names, which were long enough to provoke ridicule. The name of the code that governed a family of Brooklyn chicken butchers called Schechter, for example, was "The Code of Fair Competition for the Live Poultry Industry for the Metropolitan Area In and About New York." …

One of the many firms the NRA investigated was ALA Schechter Poultry, a Brooklyn butcher shop where authorities found numerous violations of the poultry code. After the Schechters were convicted in lower courts, the authorities grew increasingly confident that Schechter would be the case in which the Supreme Court would confirm the constitutionality of their law and the New Deal. Then as now, a kind of assumption, or at least a pretense, was at work. People pretended that the fact that the Schechters were Jewish and that the butcher shop they ran was kosher were ancillary details, a kind of coincidence, or even an annoyance.

But the fact that these particular butchers observed kashruth, the Jewish body of laws involving food, was not a coincidence of this case. It was causal. This was the early 1930s, after all. These were immigrants in an industry that had already seen convictions for racketeering. One could suggest they were the Jewish equivalent of Al Capone. The immigrants' lawyers were not likely to be a match for the government's untouchables, the legal-powerhouse solicitor general, Donald Richberg, and his talented deputy, Walter Lyman Rice (Harvard Law). A smelly business, a poultry butcher shop would be unattractive to the public. The pro-Roosevelt journalists could make a funny story out of the pathetic little immigrants with their chickens, and they did.

The distingushed columnist Drew Pearson (Phillips Exeter, Swarthmore, American Friends Service Committee) titled his book chapter on the Schechter case "Joseph and His Brethren" and wrote mockingly of the Schechters' attorney, Joe Heller (Brooklyn Law). "In his Brooklyn Hebrew accent he told the jury how he had known the Schechter boys since they were children," Pearson wrote of the lawyer. The government attorney could suggest, and did, that such a company's practices were antiquated and that poultrymen endangered public health either by ignoring Jewish law or by enforcing it imperfectly. Perhaps the Schechters were hypocrites, as it is being suggested the Hobby Lobby proprietors are. Very early on, indeed, the federal prosecutors on the Schechter case began to contend that the Jews had broken their own religious law by selling many sick chickens.

But this contempt backfired, just as contempt for Christian pro-life culture may backfire on the government in Hobby Lobby. That is because the exposure the Schechters' case got was extensive. The public, if it cared to know, learned that the butchers worked on Sundays but not Saturdays, that they allowed the customers to pick their chickens from the coop (another NRA violation), that their butchers had special Jewish titles — they were called "shochet" or "shochtim." All this was transcribed in the newspapers. And that exposure gave the public time to think about what they were observing.

What was evident was that two large bodies of law were clashing. On the one hand was the elaborate and new NRA poultry code. On the other hand there was the code of the Jewish dietary law, based on the Bible itself. In a contest between NIRA (48 stat. 195) and Deuteronomy (14:21), perhaps Deuteronomy had more authority. The government had its health inspectors, but who were they to go up against Maimonides himself, who had proclaimed that Jews were forbidden to serve "unwholesome" food? As it turned out, the Schechters had not sold much, if any, bad meat — there was no actionable "sick chicken" in the Sick Chicken Case.

In the Supreme Court arguments, the standard jurisprudential challenges involving the Commerce Clause and delegation were standard. Violation of those principles turned the justices against the NRA. But what had also become clear to the justices and the public was that the Schechters were simple businesspeople. … When the Schechters' lawyer, that same Heller, showed how ludicrous the regulations for chicken selection were, the justices and the whole room laughed. The same kind of slapstick humor that had worked against the butchers before now worked for them. Even the justices got in on the wordplay, writing in their 9–0 finding against the NRA that the Schechter case showed that not only the poultry code but also the entire NRA corpus must collapse, "bone and sinew."

The best explanation for the shift in opinion is that such conflicts give the public a chance to consider what it is the government is intruding into or impinging on — not just a vacuum, but the private sphere, the personal sphere, the business sphere, and, yes, the sphere of faith. The spectacle of that intrusion is not easily forgotten once perceived. The chicken of daily business life and ritual can, from time to time, vanquish the eagle.
27 Feb 2014

Matt K. Lewis explains that the current (losing for conservatives) attempt to defend individual business's right to decline to bake Gay wedding cakes or photograph Gay weddings is the next to last stop before the conflict between egalitarianism and religious freedom arrives inside the churches' doors.
this is a tough issue that pits things we value as a society against things we value as a society.

We have reached a point in the gay rights debate where all the low-hanging fruit has been picked. We are now entering into the zero-sum game phase of the debate, where gay rights and religious liberty must collide. (In other words, the cake is only so big. If you take a piece, you are guaranteeing the other guy has less cake.)

So who's right? My guess is one could guarantee public opinion is on either side of the issue, depending on how you frame the question. If, for example, you were to ask someone whether or not "businesses should be allowed to deny services to same-sex couples," the answer would, of course, be "no."

On the other hand, ask Americans if "government should have the right to forcefully coerce Christians to violate their convictions," and the answer would also be "no." …

This is really a surrogate battle. A much bigger one is coming.

Opponents of these bills score points when they argue that florists and bakers aren't exactly granting their imprimatur when they make a cake or put together a flower arrangement for a gay wedding. Additionally, they are correct in assuming that most Christians, whether they agree with same-sex marriage, or not, would still bake the cake. In fact, this could be seen as an example of Christian love.

But this is another example of how this schism cannot be easily brushed aside like so many wedding cake crumbs. In recent years, libertarian-leaning conservatives have largely sided with the gay rights argument. Proud members of the "leave us alone" coalition were apt to side with a group of people who just wanted to be left alone to love the person they love (and what happens in the bedroom is nobody's business).

At some point, however, "leave us alone" became "bake us a cake. Or else!"

And that's a very different thing, altogether.

The reason conservative Christians are fighting this fight today is because it's a firewall. The real danger, of course, is that Christian pastors and preachers will eventually be coerced into performing same-sex marriages. (Note: It is entirely possible for someone to believe gay marriage is fine, and to still oppose forcing people who hold strong religious convictions to participate — but I suspect that is where we are heading.)

Think of it this way. If you were a congregant in a church, wouldn't you expect the pastor to marry you? Why should you be treated different?

Any pastor — if he or she wants to maintain the church's tax status, that is — had better grapple with this now.

Whether the analogy is fair, or not, refusing to officiate a gay wedding can just as easily be called "denying service." And it will predictably also be compared to the bad old days of Jim Crow — where racist Christians opposed interracial marriage (until the courts struck down state laws prohibiting biracial marriage).

Gay rights and religious liberty are on a collision course.
Read the whole thing.
—————————–
In England, the first lawsuit against the church is already in the news.
06 Mar 2012

Cathy Ruse, Georgetown Law '89, identifies what Sandra Fluke's congressional testimony and the Georgetown contraception national brouhaha are really all about.
Last week Sandra Fluke, a student at Georgetown University Law Center, went to Congress looking for a handout. She wants free birth-control pills, and she wants the federal government to make her Catholic school give them to her.

I'm a graduate of Georgetown Law and former chief counsel of the House Subcommittee on the Constitution. Based on her testimony, I wonder how much Ms. Fluke really knows about the university or the Constitution.

As a law student 20 years ago, I wasn't confronted by crucifixes in the classroom or, in truth, by any religious imagery anywhere. In that respect the law school has a different "feel" than the university. The law school chapel was an unadorned, multipurpose room in the basement used for Mass when it wasn't used for Gilbert and Sullivan Society rehearsals and club meetings. Among the clubs while I was there, the Gay and Lesbian Alliance was particularly vigorous.

I was not Catholic when I attended Georgetown Law, but I certainly knew the university was. So did Ms. Fluke. She told the Washington Post that she chose Georgetown knowing specifically that the school did not cover drugs that run contrary to Catholic teaching in its student health plans. During her law school years she was a president of "Students for Reproductive Justice" and made it her mission to get the school to give up one of the last remnants of its Catholicism. Ms. Fluke is not the "everywoman" portrayed in the media. …

When congressional committee counsels plan hearings, they look for two kinds of witnesses: "experts" and "victims." The experts are typically lawyers or law professors who can explain the constitutional authority for the new law and its legal impact, and the victims illustrate why the law is needed.

At the hearing of the House Democratic Steering and Policy Committee chaired by Nancy Pelosi, Sandra Fluke testified as a victim. Having to buy your own contraception is a burden, she said. She testified that all around her at Georgetown she could see the faces of students who were suffering because of Georgetown's refusal to abandon its Catholic principles.

Exactly what does the face of a law student who must buy her own birth-control pills look like? Did I see them all around me and just not know it? Do male law students who must buy their own condoms have the same look? Perhaps Ms. Fluke should have brought photos to Congress to illustrate her point.

In her testimony, Ms. Fluke claimed that, "Without insurance coverage, contraception, as you know, can cost a woman over $3,000 during law school." That's $1,000 per year. But an employee at a Target pharmacy near the university told the Weekly Standard last week that one month's worth of generic oral contraceptives is $9 per month. "That's the price without insurance," the employee said. (It's also $9 per month at Wal-Mart.)

Ms. Fluke's crusade for reproductive justice is simply a demand that a Catholic institution pay for drugs that make it possible for her to have sex without getting pregnant. It's nothing grander or nobler than that. Georgetown's refusal to do so does not mean she has to have less sex, only that she has to take financial responsibility for it herself.

Should Ms. Fluke give up a cup or two of coffee at Starbucks each month to pay for her birth control, or should Georgetown give up its religion? Even a first-year law student should know where the Constitution comes down on that.
03 Mar 2012


Sandra Fluke testifying to Congress that society needs to pay for her contraceptives
The organized left has mounted a petition drive to persuade Rush Limbaugh's radio program's sponsors to drop advertising on the most popular program on AM radio. Their pretext is the claim that El Rushbo crossed a line by using words like "slut" and "prostitute" in connection with a sweet young thing like Georgetown Law student Sandra Fluke, but what all this really amounts to is the left taking the most pejorative terms in Rush Limbaugh's lengthy and profoundly sarcastic response to Ms. Fluke's Congressional testimony and attempting to personalize them in order to feign outrage and indignation.
All the "What he said!" games are just another hypocritical liberal exercise in dramaturgy, playing for the sympathy of the independent and ill-informed.
The real outrage, as Bryan Preston observed earlier this week, is the attempt by leftists like Barack Obama and Sarah Fluke to attempt to promote a personal choice into a right and an entitlement capable of trumping the barrier between state and church. Obama and Fluke proposing turning the First Amendment's protection of religious freedom into a dead letter essentially over what people used to call a French letter.
It costs a female student $3,000 to have protected sex over the course of her three-year stint in law school, according to her calculations.

"Without insurance coverage, contraception, as you know, can cost a woman over $3,000 during law school," Fluke told the hearing.

Georgetown University Law School is not cheap. It costs more than $70,000 per year without scholarships or other financial aid. Miss Fluke would have us believe that someone who can afford to attend Georgetown can not afford to pay for his or her own lifestyle.

Fluke claims they can't afford to pay to, as the president so eloquently phrased it, avoid being punished with a baby before they graduate into extremely lucrative careers, in Fluke's case most likely in a future Democratic administration.

The math derived from Fluke's $3,000 price tag suggests that Georgetown is one swingin' Catholic campus.

At a dollar a condom if she shops at CVS pharmacy's website, that $3,000 would buy her 3,000 condoms – or, 1,000 a year. (By the way, why does CVS.com list the weight of its condom products in terms of pounds?)

Assuming it's not a leap year, that's 1,000 divided by 365 – or having sex 2.74 times a day, every day, for three straight years. And, I thought Georgetown was a Catholic university where women might be prone to shun casual, unmarried sex. At least its health insurance doesn't cover contraception (that which you subsidize, you get more of, you know).

And, that's not even considering that there are Planned Parenthood clinics in her neighborhood that give condoms away and sell them at a discount, which could help make her sexual zeal more economical.

With all due respect, Miss Fluke, your evidently very active amorous life is your business and should remain that way. It isn't worth wrecking the Constitution.
Rush Limbaugh only, in his typical witty and eloquent fashion, proceeded to respond to Ms. Fluke's testimony with highly effective mockery and analysis, contemplating aloud the various moral implications of society being required to fund the where-with-all ingredients of Ms. Fluke's sex life. "If we're paying for your sex life, Ms. Fluke and other subscribers to her point of view, what does that make you?" Rush wondered out loud.
We saw this week just how much delicacy, decorum, and decency the left subscribes to, when Andrew Breitbart suddenly passed away, and lefties loudly exchanged public self-congratulations and heaped abuse on the fallen rightist blogger.
The left wanted to shut Limbaugh up long before Sandra Fluke and the current contraception-as-entitlement religious freedom issue ever came along. All the noise you hear is just more left-wing opportunism.
Sandra Fluke, btw, is not some tender ingenue, now lying in tears upon a fainting couch after being spoken of so harshly by that beast of a Rush Limbaugh. She's actually a hard-core 30-year-old reproductive rights professional activist.
Update, later the same day:
El Rushbo apologized (the wuss!).
You know what the Marine Corps says: "Never apologize; never explain."
15 Feb 2012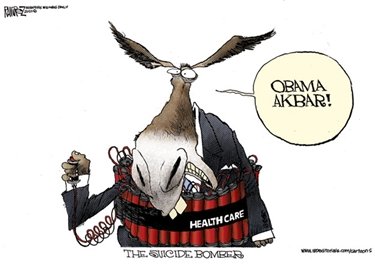 J.R. Dunn tries putting Barack Obama's initiation of war against the Catholic Church into the proper large-scale perspective.
It seems that Obama, in a classic act of hubris, has created the means of his own destruction. Through his great historical contribution, his health care bill, he has struck what was surely intended to be a lethal blow against the oldest organization on earth — an organization with something on the order of a billion members, with a cadre of hundreds of thousands of highly trained and dedicated personnel, and a history of overcoming political threats that make Obama look like a kindergartner.

I'm referring, of course, to the Catholic Church. Now, I don't mean that the Archangel Gabriel will appear out of the East to scourge the administration with a blazing sword, though I would pay to see that. What I'm saying is that Obama has at last taken the step that we all knew he had in him, the ultimate act of arrogance and contempt that will bring the forces of history down upon him.

The left has always underestimated the Catholic Church. "How many divisions has the pope?" Stalin once asked Molotov, mocking the Church's powerlessness in the modern era. He was not around to see John Paul II rend the Bolshevik kingdom in twain at the climax of the Cold War, utilizing the only forces he required: moral certainty and absolute faith in the divine mission. Most American leftists are a little different, viewing the Church as an anachronism, obsessed with medieval ideas having no place in the third millennium and populated with strange figures in outmoded clothing, if not with an endless parade of child-molesters.

What they overlook is two thousand years of history. An organization does not survive for that length of time — and no other organization has — without internalizing things not completely understood by even the deepest thinkers among us. The Church survived the fall of Rome, the barbarians, the first Muslim upsurge, several schisms, the Renaissance princes, the 20th-century totalitarians, and its own plunges into decadence, and it will also survive modernism. Which is in fact what it confronts in Obama: a man of vast though superficial sophistication and little insight who has punched all the tickets available to him in his epoch and culture and truly believes there is nothing else. And now this man, afraid of revealing his own college transcripts, thinks he can take on the Church of Peter, founded a millennium before the appearance of any nation now existing on this earth.
Read the whole thing.
Mr. Dunn is right. The Catholic Church and the general community of American Catholics represent a formidable political adversary. But I think that, in attacking the basic principle of Freedom of Religion, in striking at the authentic principle of separation of church and state, Barack Obama has additionally declared war on the Constitution and the core founding principles of the American Republic.
The left can spin and quibble and manipulate, but this particular issue, this particular test of political principle, is not, in the end, spinnable or winnable.
Obama's policy decision clearly identifies him as a radical extremist, perfectly willing to tear up the most basic tenets of the Constitution and the Bill of Rights when they come into conflict with the cultural agenda of the left. He won in 2008 by successfully posing as a moderate. He cannot compel institutions of the Catholic Church to violate that church's teachings and still pretend to moderation.
13 Feb 2012

Bill Jacobson points out that, in the light of recent events, one of the most peculiar questions asked during the GOP debates suddenly begins to make sense.
Remember when George Stephanopoulos, at the New Hampshire Republican debate on January 7, brought up and harped on whether the candidates thought states could ban contraception?

Everyone, at least on our side of the aisle, shook their heads in disbelief as to why Stephanopoulos was bringing up the issue. There was no active controversy over contraception, it wasn't in the news, and there were far more pressing political issues, yet what seemed like an eternity of debate time was devoted to the subject at the insistence of Stephanopoulos.

It was, shall we say, something out of left field. …

It's almost as if Stephanopoulos got the memo first. Unless, of course, you believe in coincidences.
Via Glenn Reynolds.
13 Feb 2012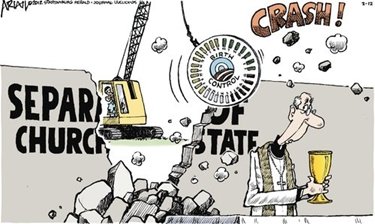 George Weigel, at National Review, predicts that the culture wars conflict over the left's determination to breach the wall of separation between church and state is actually going to replace the economy as the central focus of the 2012 election. He could be right.
[A] Senior Vatican Official [reports that at a diplomatic meeting held in preparation for the 1994 Cairo World Conference on Population and Development], a somewhat scruffy Dutch activist got up and announced to all and sundry, "Let's stop fooling around here. What we're talking about is our right to f*** whoever we want, however we want, whenever we want."

The Dutchman's formulation may have lacked elegance, but it certainly didn't lack precision. For that was precisely what was at issue 18 years ago, and it is precisely what is at issue today: Will the sexual revolution, which reduced sex to a recreational activity of no moral consequence, be protected, advanced, and indeed mandated by the coercive powers of the modern state?

There is irony in the fire here, of course. What began as a movement to liberate sexuality from the constraints of moral reason, custom, and law has become a movement determined to use the instruments of law to impose its deconstruction of human sexuality and its moral relativism on all of society. That is what drives those who urged the Obama administration to issue its "contraceptive" mandate, which is of course an abortifacient and sterilization mandate. That is what drives those who loosed the furies (including such viragos as Senator Barbara Boxer) on the Susan G. Komen for the Cure foundation, which had had the temerity to suggest that Planned Parenthood actually provide the mammograms Komen's grants were paying for. It's all about Leviathan as enforcer of the sexual revolution.

Anyone who doesn't understand that — from Catholic bishops to upper-class foundation executives with previously immaculate reputations — is going to get rolled over by Leviathan. For Leviathan cannot be met at some mythical 50-yard line of "accommodation." Leviathan can only be beaten.

This fierce determination to use Leviathan to make sure that that Dutch INGO delegate's libidinous desires are requited might be tolerable if its effects were confined to those who want to, well, you know: whoever, whenever, however. But they are not. The sexual revolution distorts everything that gets in its way; and in due course, it will persecute anything that gets in its way. …

The invention of the oral contraceptive was, with the splitting of the atom and the unraveling of the DNA double helix, one of the three world-historical scientific developments of the last century — scientific accomplishments that have within themselves the capacity to change culture and history in fundamental ways. By effectively sundering sexual expression from procreation, modern contraceptives have done something their less-effective predecessors were unable to do for millennia: They have created a contraceptive culture that identifies fertility with disease and willful infertility with "health." Those who celebrate that culture are not interested in compromise: They are interested in having everyone pay for what they want, and in levying serious penalties on those who won't truckle to their will. …

At the beginning, the 2012 election was about jobs, jobs, and jobs. The culture wars have now reshaped the race, and the stakes, as Iran may eventually do in another sphere of policy. But what the Komen/Planned Parenthood and HHS-mandate battles ought to have made clear is that 2012 is, domestically, an election about the survival of civil society. Will Leviathan continue to trample the institutions of civil society at the behest of the champions of lifestyle libertinism? Will such institutions as marriage, the family, and the Church be permitted to exist only insofar as they become wards of the state, or simulacra of the state?

That, and nothing less than that, is the question the past several weeks have put before the American people.
12 Feb 2012


Michael Pacher, Der Heilige Wolfgang und der Teufel [St. Wolfgang and the Devil], c. 1473, Alte Pinakothek, Munich
Paul Rahe explains that the American Roman Catholic hierarchy ought not to be surprised to find Barack Obama's Leviathan state now demanding the surrender of the church's conscience and soul. They made a deal with Statist Socialism decades ago and ultimately in these kinds of deals payment does come due.
The principle articulated in canon law — the only law common to all of Western Europe… was lifted from the Roman law dealing with the governance of waterways: "Quod omnes tangit," it read, "ab omnibus tractari debeat: That which touches all should be dealt with by all." In pagan antiquity, this meant that those upstream could not take all of the water and that those downstream had a say in its allocation. It was this principle that the clergymen who served as royal admnistrators insinuated into the laws of the kingdoms and petty republics of Europe. It was used to justify communal self-government. It was used to justify the calling of parliaments. And it was used to justify the provisions for self-governance contained within the corporate charters issued to cities, boroughs, and, in time, colonies. …

The quod omnes tangit principle was not the foundation of modern liberty, but it was its antecedent. And had there been no such antecedent, had kings not been hemmed in by the Church and its allies in this fashion, I very much doubt that there ever would have been a regime of limited government. In fact, had there not been a distinction both in theory and in fact between the secular and the spiritual authority, limited government would have been inconceivable.

The Reformation weakened the Church. In Protestant lands, it tended to strengthen the secular power and to promote a monarchical absolutism unknown to the Middle Ages. Lutheranism and Anglicanism were, in effect, Caesaro-Papist. In Catholic lands, it caused the spiritual power to shelter itself behind the secular power and become, in many cases, an appendage of that power. But the Reformation and the religious strife to which it gave rise also posed to the secular power an almost insuperable problem – how to secure peace and domestic tranquility in a world marked by sectarian competition. Limited government – i. e., a government limited in its scope – was the solution ultimately found, and John Locke was its proponent.

In the nascent American republic, this principle was codified in its purest form in the First Amendment to the Constitution. But it had additional ramifications as well – for the government's scope was limited also in other ways. There were other amendments that made up what we now call the Bill of Rights, and many of the states prefaced their constitutions with bills of rights or added them as appendices. These were all intended to limit the scope of the government. They were all designed to protect the right of individuals to life, liberty, the acquisition and possession of property, and the pursuit of happiness as these individuals understood happiness. Put simply, liberty of conscience was part of a larger package.
FrancesPerkins

This is what the hierarchy of the Roman Catholic Church forgot. In the 1930s, the majority of the bishops, priests, and nuns sold their souls to the devil, and they did so with the best of intentions. In their concern for the suffering of those out of work and destitute, they wholeheartedly embraced the New Deal. They gloried in the fact that Franklin Delano Roosevelt made Frances Perkins – a devout Anglo-Catholic laywoman who belonged to the Episcopalian Church but retreated on occasion to a Catholic convent – Secretary of Labor and the first member of her sex to be awarded a cabinet post. And they welcomed Social Security – which was her handiwork. They did not stop to ponder whether public provision in this regard would subvert the moral principle that children are responsible for the well-being of their parents. They did not stop to consider whether this measure would reduce the incentives for procreation and nourish the temptation to think of sexual intercourse as an indoor sport. They did not stop to think.

In the process, the leaders of the American Catholic Church fell prey to a conceit that had long before ensnared a great many mainstream Protestants in the United States – the notion that public provision is somehow akin to charity – and so they fostered state paternalism and undermined what they professed to teach: that charity is an individual responsibility and that it is appropriate that the laity join together under the leadership of the Church to alleviate the suffering of the poor. In its place, they helped establish the Machiavellian principle that underpins modern liberalism – the notion that it is our Christian duty to confiscate other people's money and redistribute it.

At every turn in American politics since that time, you will find the hierarchy assisting the Democratic Party and promoting the growth of the administrative entitlements state. At no point have its members evidenced any concern for sustaining limited government and protecting the rights of individuals. It did not cross the minds of these prelates that the liberty of conscience which they had grown to cherish is part of a larger package – that the paternalistic state, which recognizes no legitimate limits on its power and scope, that they had embraced would someday turn on the Church and seek to dictate whom it chose to teach its doctrines and how, more generally, it would conduct its affairs.

I would submit that the bishops, nuns, and priests now screaming bloody murder have gotten what they asked for. The weapon that Barack Obama has directed at the Church was fashioned to a considerable degree by Catholic churchmen. They welcomed Obamacare. They encouraged Senators and Congressmen who professed to be Catholics to vote for it.
After all, whoever heard of religious freedom surviving under Socialism?
Read the whole thing.
11 Feb 2012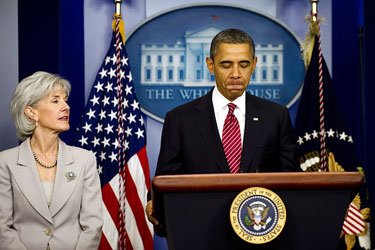 The Obama Administration wants to affirm its commitment to the secular progressive religion of Dionysius and D. H. Lawrence by mandating provision of contraception and abortion even at the cost of violating the freedom of conscience of religious institutions but, oh, me, oh, my! it encountered totally unexpected pushback and faces possible electoral consequences. Whatever to do?
As the Wall Street Journal explains, in an editorial delightfully entitled "Immaculate Contraception," Barack Obama proposes, quite characteristically, to conceptually manipulate his way out of the consequences of his policy simply by telling those insurance companies to cook their books a bit.
Here's a conundrum: The White House wants to impose its birth-control ideology on all Americans, including those for whom sponsoring or subsidizing such services violates their moral conscience. The White House also wants to avoid a political backlash from this blow to religious freedom. These goals are irreconcilable.

So you almost have to admire the absurdity of the new plan President Obama floated yesterday: The government will now write a rule that says the best things in life are "free," including contraception. Thus a political mandate will be compounded by an uneconomic one—in other words, behold the soul of ObamaCare.
——————————
Ace analyses Obama's compromise this way:
So here's how this works.

I'm an insurer. Here were your two options, before Obama's brilliant solution:

I could cover your employees for x dollars.

If you want birth control/abortifacient coverage, we'll add that rider for y dollars. So this option is x + y dollars.

Obama's genius solution is:

Hey, we'll cover your employees for x + y dollars as a baseline. But we'll toss in abortifacient coverage for 0 dollars.

Uhhh… That x+y is what it cost to have base insurance + birth control/abortifacient coverage. All that's being done here is that people are lying about the costs — now the insurer and the contracting party lie and pretend the base insurance cost is x + y (which it isn't; it's x) and also pretend the cost for the birth control coverage is 0 (which it isn't; it's y).

All Obama's doing is mandating that employers enter into a contract with insurers in which both parties pretend that the base cost of the service is higher than it is, and that abortifacient coverage now costs zero dollars.

Obama's mandate solution is now just to force the conscience-objectors to lie about it.
Barack Obama demonstrates once again two key features of his identity and outlook. He is, first of all, an absolutely intransigent representative of the progressive elite, dedicated to enacting and enforcing his class's social, political, and economic agenda without limit, mercy, or remorse. Intellectually, he is also a paradigmatic representative of the cognitive elite, trained in the best schools in the manipulation of words, concepts, and ideas. Which is to say, Barack Obama is the living model of the man professionally schooled in rhetoric that they used to call a sophist in Classical Antiquity.
He is definitely and absolutely committed to getting his ideological way, and his method for dealing with legal, moral, and theoretical objections to his agenda is simply to find a linguistic formula that redefines those obstacles out of existence.