22 Feb 2015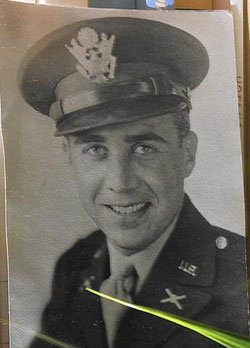 Leon Kent as a young officer during WWII.
The LA Times published a pretty impressive obituary for Leon Kent.
In the first desperate hours of the Battle of the Bulge in December 1944, a young Army lieutenant was given an order that seemed impossible: stop a fast-moving column of German tanks from advancing.

The three soldiers assigned to the lieutenant were not trained in anti-tank warfare. The only artillery piece available was designed to bring down airplanes, not tanks. And the firing position provided no cover if the tanks returned fire.

A battlefield dispatch from the Associated Press described what happened:

"Anti-aircraft gunners, who stayed behind when the infantry withdrew, played a vital role in preventing a major German breakthrough in Belgium. … One battery, commanded by Lt. Leon Kent of Los Angeles, knocked out five tanks, including one King Tiger tank, in two hours." …

Kent, who returned to a career as a lawyer and bowling-alley owner after the war, died Feb. 12 in Beverly Hills, his home for several decades. He was 99 and had pneumonia, his family said.

He always downplayed any sense that he had acted bravely during that attack. But he never dismissed the danger that his soldiers faced from German tanks.

"If they got one shot at us, we were dead," he told The Times in 2011. "I remember thinking: Do the shells go through you or do you go up in pieces?"

By stopping the German column, Allied troops who had retreated were able to regroup and begin counter-measures.

"What Capt. Kent showed was extraordinary leadership," retired Army Maj. Gen. John Crowe said before a 2011 ceremony at the December 1944 Historical Museum in La Gleize, Belgium. "He wouldn't ask his troops to do anything he wouldn't do himself. That's the kind of leadership that inspires troops."

After the war, locals erected in a plaque that, in French, reads: "Here the invader was stopped." …

About that day when he was given a suicidal-sounding order to stop the enemy, Kent was blunt: "We stopped them cold."
Read the whole thing.