Category Archive 'Cecil the Lion'
01 Jun 2016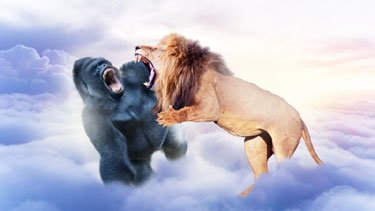 Sad News! Harambe The Gorilla Mauled By Cecil The Lion.
25 Aug 2015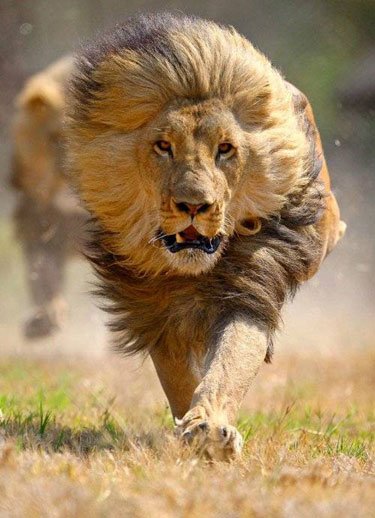 Remember all the talk about the "cowardly dentist" who killed a lion outside Hwange Park in Zimbabwe? Well, another lion just killed a professional hunter guiding a group of tourists armed with cameras in the same park. Apparently the guide, Quinn Swales, stepped between the charging lion and his tourists and did his best to stop the charge with his heavy rifle. He failed and the lion got him.
The Guardian reports:
A safari guide has been mauled to death by a lion in the same Zimbabwean national park where Cecil the lion was killed by hunters.

Quinn Swales was taking guests on a photographic walking safari in Hwange national park at dawn on Monday when he was charged by the male, according to the Camp Hwange lodge. The 40-year-old Zimbabwean saved his guests but died of his injuries.

Hwange was home to Cecil the lion before he was killed last month… by American dentist Walter Palmer, triggering a global wave of revulsion and anger.

Camp Hwange announced on its Facebook page: "It is with deep regret and great sadness that we are able to confirm the death of Quinn Swales, a Camp Hwange professional guide, who was fatally mauled by a male lion whilst out on a walking safari this morning.

"We can confirm that Quinn did everything he could to successfully protect his guests and ensure their safety, and that no guests were injured in the incident."

The safari industry paid tribute to Swales. Media reports quoted Shelley Cox, of African Bush Camps, as saying: "Quinn's actions in successfully protecting the lives of his guests is heroic and reminiscent of his outstanding guiding skills, experience and training. It is certainly a tragedy and a loss to the guiding fraternity and tourism industry."
———————
The Telegraph has a few more detail, messes up a rifle caliber designation, and gives Simba a pet name.
Mr Swales was employed by Camp Hwange, a four-year-old photographic safari company, and was registered with Zimbabwe's Professional Hunters and Guides Association.

Other guides in the area said Mr Swales would have been carrying a hunting rifle of at least .375 mm [sic, not metric -JDZ] to protect his clients and himself. …

"I understand the animal went for his shoulder and probably hit the jugular. The clients – I think they were from New Zealand – radioed the alarm back from the vehicle which was nearby. As far as I know they were all walking at the time of the attack."

He said a helicopter was sent immediately after the distress call came in, but nothing could be done. "It picked up his body. This is a highly professional company. Brilliant operation. We will find out more accurate details in the next day or two."

A source from the wildlife industry told the Telegraph he believed that the lion was a male named Naka.

"This lion had by all accounts been behaving aggressively for some time. It was even attacking safari vehicles," said another tour operator from Hwange. "As far as we know he bled to death."

A safari guide who helped to train the victim described him as "a very good guy" who started working for Camp Hwange early this year.

"Quinn was obviously going to be a great guide," he said. "I have seen him in the bush and he was very good."

A professional hunter who worked in the area said the guide's gun would also be checked to see if he managed to fire it. "We don't yet know if he managed to fire a shot at the lion, or whether he was overwhelmed before he could shoot," he said. "This is terrible, and it is quite a rare event."

Another Hwange National Park safari operator said he would not do game walks because he was "terrified of lions". "But tourists want to walk with wildlife," he added.
When stopping the charge goes right.

05 Aug 2015

It has gradually become apparent that reports claiming that "Cecil" was famous in Zimbabwe and some kind of specially beloved lion were simply a fabrication designed to manipulate the public's emotions.
In reality, Zimbabweans, when asked, reply that they had never heard of "Cecil" and are simply puzzled by all the uproar over the death of one perfectly ordinary lion.
What lion?" acting information minister Prisca Mupfumira asked in response to a request for comment about Cecil, who was at that moment topping global news bulletins and generating reams of abuse for his killer on websites in the United States and Europe. …

For most people in the southern African nation, where unemployment tops 80 percent and the economy continues to feel the after-effects of billion percent hyperinflation a decade ago, the uproar had all the hallmarks of a 'First World Problem'.

"Are you saying that all this noise is about a dead lion? Lions are killed all the time in this country," said Tryphina Kaseke, a used-clothes hawker on the streets of Harare. "What is so special about this one?"

As with many countries in Africa, in Zimbabwe big wild animals such as lions, elephants or hippos are seen either as a potential meal, or a threat to people and property that needs to be controlled or killed. …

"Why are the Americans more concerned than us?" said Joseph Mabuwa, a 33-year-old father-of-two cleaning his car in the center of the capital. "We never hear them speak out when villagers are killed by lions and elephants in Hwange."
———————————————
Goodwell Nzou explains just how ridiculous all this self-indulgent Western sentimentality about lions appears to Africans who actually have experience of living with lions.
So sorry about Cecil.

Did Cecil live near your place in Zimbabwe?

Cecil who? I wondered. When I turned on the news and discovered that the messages were about a lion killed by an American dentist, the village boy inside me instinctively cheered: One lion fewer to menace families like mine.

My excitement was doused when I realized that the lion killer was being painted as the villain. I faced the starkest cultural contradiction I'd experienced during my five years studying in the United States.

Did all those Americans signing petitions understand that lions actually kill people? …

In my village in Zimbabwe, surrounded by wildlife conservation areas, no lion has ever been beloved, or granted an affectionate nickname. They are objects of terror.

When I was 9 years old, a solitary lion prowled villages near my home. After it killed a few chickens, some goats and finally a cow, we were warned to walk to school in groups and stop playing outside. My sisters no longer went alone to the river to collect water or wash dishes; my mother waited for my father and older brothers, armed with machetes, axes and spears, to escort her into the bush to collect firewood.

A week later, my mother gathered me with nine of my siblings to explain that her uncle had been attacked but escaped with nothing more than an injured leg. The lion sucked the life out of the village: No one socialized by fires at night; no one dared stroll over to a neighbor's homestead.

When the lion was finally killed, no one cared whether its murderer was a local person or a white trophy hunter, whether it was poached or killed legally. We danced and sang about the vanquishing of the fearsome beast and our escape from serious harm.

Recently, a 14-year-old boy in a village not far from mine wasn't so lucky. Sleeping in his family's fields, as villagers do to protect crops from the hippos, buffalo and elephants that trample them, he was mauled by a lion and died.

The killing of Cecil hasn't garnered much more sympathy from urban Zimbabweans, although they live with no such danger. Few have ever seen a lion, since game drives are a luxury residents of a country with an average monthly income below $150 cannot afford. …

The American tendency to romanticize animals … and to jump onto a hashtag train has turned an ordinary situation — there were 800 lions legally killed over a decade by well-heeled foreigners who shelled out serious money to prove their prowess — into what seems to my Zimbabwean eyes an absurdist circus. …

We Zimbabweans are left shaking our heads, wondering why Americans care more about African animals than about African people.
Read the whole thing.
01 Aug 2015