25 Aug 2015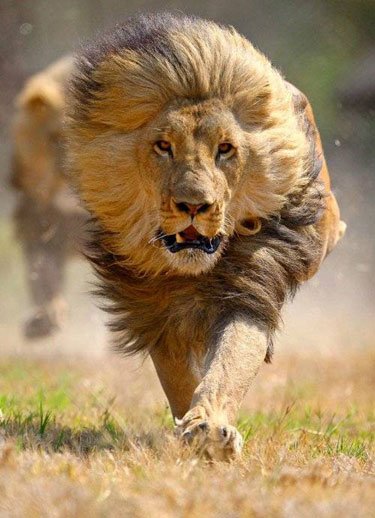 Remember all the talk about the "cowardly dentist" who killed a lion outside Hwange Park in Zimbabwe? Well, another lion just killed a professional hunter guiding a group of tourists armed with cameras in the same park. Apparently the guide, Quinn Swales, stepped between the charging lion and his tourists and did his best to stop the charge with his heavy rifle. He failed and the lion got him.
The Guardian reports:
A safari guide has been mauled to death by a lion in the same Zimbabwean national park where Cecil the lion was killed by hunters.

Quinn Swales was taking guests on a photographic walking safari in Hwange national park at dawn on Monday when he was charged by the male, according to the Camp Hwange lodge. The 40-year-old Zimbabwean saved his guests but died of his injuries.

Hwange was home to Cecil the lion before he was killed last month… by American dentist Walter Palmer, triggering a global wave of revulsion and anger.

Camp Hwange announced on its Facebook page: "It is with deep regret and great sadness that we are able to confirm the death of Quinn Swales, a Camp Hwange professional guide, who was fatally mauled by a male lion whilst out on a walking safari this morning.

"We can confirm that Quinn did everything he could to successfully protect his guests and ensure their safety, and that no guests were injured in the incident."

The safari industry paid tribute to Swales. Media reports quoted Shelley Cox, of African Bush Camps, as saying: "Quinn's actions in successfully protecting the lives of his guests is heroic and reminiscent of his outstanding guiding skills, experience and training. It is certainly a tragedy and a loss to the guiding fraternity and tourism industry."
———————
The Telegraph has a few more detail, messes up a rifle caliber designation, and gives Simba a pet name.
Mr Swales was employed by Camp Hwange, a four-year-old photographic safari company, and was registered with Zimbabwe's Professional Hunters and Guides Association.

Other guides in the area said Mr Swales would have been carrying a hunting rifle of at least .375 mm [sic, not metric -JDZ] to protect his clients and himself. …

"I understand the animal went for his shoulder and probably hit the jugular. The clients – I think they were from New Zealand – radioed the alarm back from the vehicle which was nearby. As far as I know they were all walking at the time of the attack."

He said a helicopter was sent immediately after the distress call came in, but nothing could be done. "It picked up his body. This is a highly professional company. Brilliant operation. We will find out more accurate details in the next day or two."

A source from the wildlife industry told the Telegraph he believed that the lion was a male named Naka.

"This lion had by all accounts been behaving aggressively for some time. It was even attacking safari vehicles," said another tour operator from Hwange. "As far as we know he bled to death."

A safari guide who helped to train the victim described him as "a very good guy" who started working for Camp Hwange early this year.

"Quinn was obviously going to be a great guide," he said. "I have seen him in the bush and he was very good."

A professional hunter who worked in the area said the guide's gun would also be checked to see if he managed to fire it. "We don't yet know if he managed to fire a shot at the lion, or whether he was overwhelmed before he could shoot," he said. "This is terrible, and it is quite a rare event."

Another Hwange National Park safari operator said he would not do game walks because he was "terrified of lions". "But tourists want to walk with wildlife," he added.
When stopping the charge goes right.