Category Archive 'Gadgets'
04 Jun 2016

You may soon be able to get Hodor to hold your own door. io9:
22 Apr 2014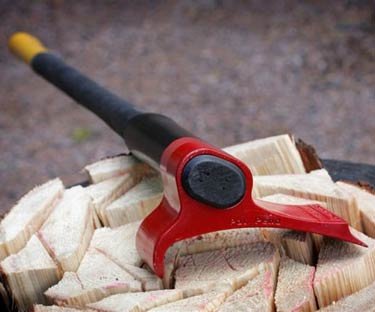 The Vipukirves Leveraxe: a radical new axe design.
This morning, I got an advertising email from AllOutdoor featuring an intriguing new gizmo:
Some crazy Finn has gone and reinvented one of mankind's oldest tools: the axe. Check out that picture — it doesn't even look like an axe, but it splits wood like nobody's business.

The Vipukirves Leveraxe is designed to flip around to the side right after impact and break off pieces of the log. So unlike with a regular axe, you're encouraged to strike near the sides of the log. It's also way safer, especially when you include a tire to catch flying pieces of wood.

You can buy them off the Vipukirves website for 193 euros, which right now is over $260.00. Yeah, I kinda want one.
———————————-
———————————-
I notice that the wood getting chopped successfully in the video looks like birch (which figures, they've got a lot of birch in Finland). But, how, I wonder, would this axe work on oak? (In Pennsylvania, we burn oak.)
06 Mar 2010

Karen forwarded from Gizmodo this expensive gadget, the Thomas Prescher Mysterious Double Axis Tourbillon (link).
This wristwatch, which its maker prefers to call "a mysterious kinetic sculpture," has its escapement beating visibly in the center located between oscillating weights and the time and calendar faces. The works are artfully concealed within the frame, and the wearer can apparently read the time from either side or position. The effects of gravity are negated by a tourbillon design causing the carriage "to rotate around itself."
The Prescher Double Axis Tourbillon costs a mere CHF 330,000.00 (a bit more than $300,000) in yellow or red gold, slightly more in white gold. What it costs in platinum, you probably don't want to know.
Somebody must still have this kind of money.
Hat tip to Watchismo.
01 Mar 2010

Want to make crème anglaise the easy way? Just get a Thermonix. What red-blooded American consumer can turn down one of these?
5:46 video.
Hat tip to Glenn Reynolds.
11 May 2008

08 Jan 2007