15 Jul 2015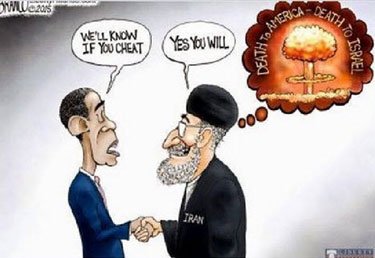 John Hinderaker explains why Obama's Nuclear Agreement is a great deal for the Iranians.
[W]hat does Iran get?

First, and most important, it gets in excess of $100 billion in currently-frozen assets. This will happen in the near future, on or about the agreement's Implementation Date. I think this prospect is what is making Iran's leaders so jubilant. With that money, they can step up their support for allies in Syria, Yemen and Iraq, and their support for terrorism everywhere. (By way of perspective, the entire United States military budget for the current fiscal year is only $560 billion.) To the extent that they spend some of it at home, it will help cement their position domestically.

Second, the agreement grants Iran international legitimacy. Since the revolution of 1979 and the seizure of America's embassy in Tehran, Iran has been treated as a rogue state. Under the agreement, that status comes to an end. Investment in Iran will be permitted and likely will flourish. Sanctions will be removed and Iran's nuclear program will not only be tolerated, it will be explicitly recognized and to some degree supported by the international community. The agreement contemplates that upon implementation, "the Iranian nuclear programme will be treated in the same manner as that of any other non-nuclear-weapon state party to the NPT [non-proliferation treaty]." It is hard to overstate how important this legitimacy is to the regime.

The third benefit to Iran's rulers is perhaps the most important, and is closely linked to the first two. The agreement guarantees that, at least for the foreseeable future, the mullahs will remain in power. Realistically, the only way Iran could be denied a nuclear arsenal in the long term is through regime change. Early in the Obama administration, that seemed like a plausible scenario, but the administration declined to aid, or even encourage, anti-regime forces when such support might have made a difference. Now, with the mullahs both flush with cash and blessed with international legitimacy, their grip on power is probably stronger than ever. Nuclear weapons will follow, sooner or later, at a time of the regime's choosing. And in the meantime, Iran's ability to make mischief in the Middle East and around the world (e.g., through its newfound alliance with Venezuela) has been greatly enhanced.