Category Archive 'Louisiana'
20 Aug 2016

——————————
17 Aug 2016

26 Mar 2015

Business Insider describes an emergency situation in which it turned out that the trucker had exactly the right equipment in the back of his cargo bed.
Sometimes, the only thing standing between you and your 18-wheeler tipping over in the Louisiana mud is a couple of elephants that you've fortunately been transporting.

That's just what happened on Tuesday when a truck became stranded by the side of a Louisiana road.

Sheriff's deputies in Natchitoches Parish on Tuesday morning received a call about a stuck truck. Upon arriving on the scene, they saw two elephants preventing the vehicle from overturning.

Leaning side-by-side against the outside of the truck, the elephants propped up the trailer that was carrying three of the beasts from Florida to a circus near Dallas, the sheriff's photos showed.

The truck had pulled over on an interstate shoulder near Powhatan, Louisiana, about an hour south of Shreveport. The ground was soft after recent rain.
23 Aug 2013

Shot two days ago by members of the Assumption Parish Office of Emergency Preparedness in Louisiana, an entire stand of trees is suddenly swallowed by an underwater sinkhole above a collapsing salt mine. The sinkhole is part of an ongoing environmental disaster in Bayou Corne, and efforts are underway to prevent it from spreading, however it has already forced the evacuation of an entire town.
11 Nov 2012

Petitions are underway on the White House web-site requesting that Louisiana and Texas each be allowed peacefully to secede.
If they succeed, I'll certainly move there.
Deo vindice.
———————
Update:
I clearly won't need to move.
As of 12:46 am, Sunday, signatures obtained by Louisiana, 7,358; Texas, 3,771; Florida, 636; Georgia, 475; Alabama, 834; North Carolina, 792; Kentucky, 467; Mississippi, 475; Indiana, 449; North Dakota, 162; Montana, 440; Colorado, 324; Oregon, 328; New Jersey, 301 and New York, 169. Many more States are expected to follow.
It was only eleven last time. Hurry up, Virginia!
17 May 2011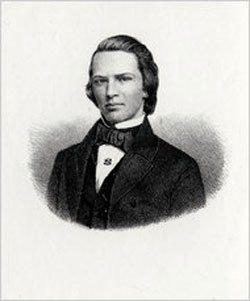 Randall Lee Gibson (above) was valedictorian of the Yale Class of 1853. He had been born a member of the planter aristocracy of Kentucky and Louisiana. He was a keen secessionist and fought for the Confederacy, serving first as an artillery captain then as colonel of the 13th Louisiana Volunteer Infantry Regiment.
Nonetheless, Randall Gibson, Class of 1853, deserves to be counted as Yale's first African-American graduate rather than Cortlandt Van Rensselaer Creed, MD 1857, or Edward Alexander Bouchet, Class of 1874.
Randall Gibson was the descendant on one Gideon Gibson, who arrived in the Colony of South Carolina in 1730 and who was "a skilled tradesman, had a white wife and … owned land and slaves in Virginia and North Carolina." Gideon Gibson obtained land grants from the governor of South Carolina and he and his descendants married into the white planter class on the Western frontier. By the 1790s, the Gibson family had forgotten its African origin and ascribed a family tendency toward a dark complexion to Gypsy or Portuguese descent.
New York Times article.
Randall Gibson fought at Shiloh. His regiment saw action with the Army of Tennessee at Chicamauga. Gibson ultimately made it all the way to the rank of Brigadier General in the Confederate Army. He fought in the Atlanta Campaign and ended the war defending the city of Mobile.
After the war and Reconstruction, Gibson was elected to Congress as a democrat from 1875 to 1883 and served as senator from 1883 to until his death in 1892. He was a trustee of Tulane and a hall at Tulane University is named for him.
Reading all this moved the Atlantic's race blogger Ta-Nehisi Coates to observe:
Race is such bullshit.
14 Apr 2010


Allee Bautsch and Joe Brown
We heard a great deal from democrats, the dinosaur media, and the punditocracy of the left recently about conservative rhetoric and all sorts of supposititious threats of violence to democrats who voted for the health care bill. No actual violence, of course, ever actually occurred.
It turns out, on the other hand, that leftwing violence these days is quite real. Last weekend, Allee Bautsch, an aide to Republican governor Bobby Jindal and her boyfriend were savagely beaten in New Orleans and both were seriously injured.
The news release issued by New Orleans police Tuesday evening… notes that the 25-year-old female victim and the 28-year-old male victim were attacked in the 600 block of St. Louis Street after leaving an event at a restaurant in the 400 block of Royal Street.

Jindal's office acknowledged on Monday that Bautsch, his chief campaign fundraiser, was recovering from a broken leg after an altercation with a group of people in the Quarter on Friday night. Bautsch was attacked after a fundraiser for the Louisiana Republican Party at Brennan's Restaurant, 417 Royal Street, the governor's office said. …

New Orleans police say that the incident began about 10:45 p.m. when a group of three to five men made "derogatory comments" to Bautsch and her boyfriend. When the man described as the male victim "turned toward" the group of men, at least one of the men struck him repeatedly. The woman "fell to the ground and screamed," the news release said.

Police released a description of one suspect, saying he was in his 20s, looked "dirty," and wore his hair in an auburn-colored ponytail. The man was 6 feet, 1 inch tall with a thin build, police said. He wore a light-colored T-shirt and dark pants.

Officers in the area responded and requested EMS assistance. The woman used her purse as a pillow while waiting for help. Once she was in the ambulance, the woman realized her purse was missing, the release said.

Kyle Plotkin, a Jindal spokesman, said Bautsch had surgery during the weekend and is facing a recovery time of two to three months. According to the NOPD news release, Bautsch's friend was treated at the hospital for a mild concussion, broken jaw and broken nose.
The attackers were probably persons involved in a radical protest against a Louisiana State Republican Party fund raising dinner taking place at a local restaurant. The Hayride, a local political blog, describes the protesters.

Michelle Malkin is discounting rumors that the couple was attacked for wearing Sarah Palin pins.
—————————————————–
UPDATE — 4/17:
Several prominent conservative blogs are reporting today that the victims were uncertain about whether their attackers had any connection to the demonstration and did not identify any specifically political insults from their attackers, including both Michelle Malkin and Ed Morrissey.

Human Events talked to the victim's mother:
Della Burning, mother of Jindal staffer Allee Bautsch, confirmed that her daughter had been savagely beaten. She refused to discuss whether or not politics were involved (although at one point in the interview she did say the report was "accurate" when New Orleans Police Information Officer said slurs hurled at her daughter during the attack were "political in nature").

Burning confirmed her daughter's leg is broken in four places and she has five surgical scars and a steel rod now running from her knee to her ankle with seven screws holding it all in place. She did not fall and break her leg as was reported in the lonely and inaccurate story done by the Associated Press.

Burning also confirmed that the attackers did not rob her daughter or her daughter's boyfriend.
On the other hand, the local blog Hayride (which covered this story in a lot of depth) is still arguing today that the attack was definitely politically motivated.
I wonder exactly how much of the full story is yet to emerge at this point.
10 May 2008

AP:
The way the warden sees it, the more than 400-pound black bear living in the middle of the sprawling Louisiana State Penitentiary is an extra layer of security.

"I love that bear being right where it is," Warden Burl Cain said Monday. "I tell you what, none of our inmates are going to try to get out after dark and wander around when they might run into a big old bear. It's like having another guard at no cost to the taxpayer."

The bear was first seen by an inmate crossing a road in the prison on Friday. It was taking a stroll near the center of the state's only maximum security prison, which is about 115 miles northwest of New Orleans. Most of the roughly 28-square-mile prison is run as a farm, but about 5 1/2 square miles is mostly untouched piney woods.

Prison workers measured the bear's footprints, which were six inches in diameter, Cain said.

"Every inch equals 75 pounds, so that would make it about 450 pounds," Cain said.