04 Dec 2014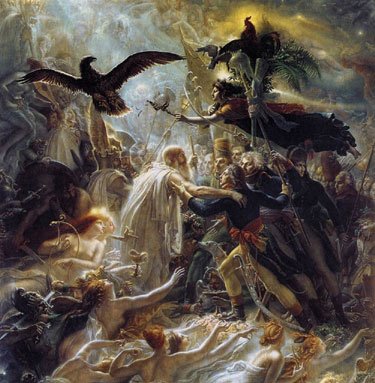 Anne-Louis Girodet de Roucy-Trioson (1767-1824), L'apothéose des héros français morts pour la patrie pendant la guerre de la Liberté [Apotheosis of the French Heroes Who Died for their Fatherland During the War for Liberty also known as "The Spirit of Ossian Welcoming Napoleon's Marshals into Valhalla"], 1802. Musée National du Chateau de Malmaison, Rueil
Reason and Huffington Post are both reporting this morning that Nathaniel Branden died yesterday in Los Angeles after a long illness.
Nathaniel Branden, the man who turned Ayn Rand's Objectivist philosophy into a popular intellectual movement, died today at age 84.

He and Rand famously broke over complications involving a long-term affair of theirs that ended badly in 1968; the tale is told at length from his perspective in his memoir—the most recent edition called My Years with Ayn Rand—and interestingly, from his ex-wife Barbara Branden's perspective in her 1986 Rand biography, The Passion of Ayn Rand.

After the break with Rand in 1968, Branden had his own highly successful career as a hugely popular writer on psychology, and he is a pioneer of the vital importance of "self-esteem" in modern culture.

Unlike the way the concept has been denatured over the decades, Branden, still Objectivist at heart, wrote with the understanding that creating a worthwhile and valuable life from the perspective of your own values was key to self-esteem, and thus to psychological health. That is, self-esteem wasn't something that should be a natural given to a human, nor our birthright, but something to be won through clear-eyed understanding of our own emotions and their sources, and our values and how to pursue them.

Branden was vital to the spread of Rand's ideas in two distinct junctures: by creating and publicizing the ideas inherent in her fiction through nonfiction and lectures via the Nathaniel Branden Institute in its lectures and magazines from 1958 to 1968 (a task Rand would almost certainly not have attempted without his prodding and aid).

Then, after Rand broke from him and all "official" Objectivists were required to revile him, Branden was a living example that intelligent admiration for and advocacy of Rand's ideas need not be tied in with thoughtless fealty to Rand as a person, or to the pronouncements of those who controlled her estate, with all the attendant flaws and occasional irrationality: that one need not be an official Randian to spread the best of Objectivism.
Read the whole thing.
———————————
Born in Brampton, Ontario, April 3 1930, as Nathan Blumenthal he received a BA in psychology from the University of California Los Angeles, an MA from New York University and a Ph.D from the California Graduate Institute.

As an undergraduate he wrote a letter to Ayn Rand regarding her novel The Fountainhead, which earned him a phone call from the novelist/philosopher. He and his girlfriend, Barbara Weidman, visited Rand's home north of Los Angeles and became close friends and associates.

After the publication of Rand's magnum opus Atlas Shrugged, Branden created the Nathanial Branden Institute and presented lectures on Rand's philosophy, Objectivism. Branden systematized Rand's philosophy, something she had not done, and presented lectures on the ideas, published as The Vision of Ayn Rand.

These lectures were attended in person, or heard on tape, by thousands across the country and around the world including by many leaders of the nascent movement of modern libertarian.

Branden also began a romantic relationship with Rand, with the knowledge and consent of his wife, Barbara, and Ayn's husband, Frank O'Connor. As is often the case in such relationships it did not end well and Rand and Branden had a stormy split in 1968.

Branden went on to promote his psychological views on self-esteem. He acknowledged his role in creating a spirit of intolerance within Rand's circles, but he never repudiated the fundamental ideas, and in fact, defended them his entire life.
Read the whole thing.
———————————
The young Nathaniel Branden was apparently an enfant terrible, notoriously arrogant, inflexible, and intolerant. He is generally supposed to have been principally responsible for the cult-like quality of Ayn Rand's private circle, and reports abound of the young Branden conducting inquisitorial trials for deviationist infractions leading to the defendant's excommunication and expulsion.
But, after the notorious break-up with Rand, he behaved with admirable dignity and restraint. While Rand hysterically denounced him and slandered him with false accusations, he avoided responding, merely relocating to the other side of the continent and building a new career as a pop psychologist counseling Californians on how to cure their neuroses by cultivating self-esteem.
It was amusing to see how thoroughly the former head of the rigid and formal Rand Jugend became Californianized. The later Branden began to speak well of pot smoking, and had himself photographed in guyabera shirts lounging beside a swimming pool.
Despite all that, he remained staunchly libertarian, and advocated essentially the same kind of politics and economics he had when he was Ayn Rand's lover and deputy fuehrer. The only real difference was in his new-found personal modesty and sense of humor, overlaid with a thick layer of California squishiness.
His memoir of his time with Ayn was tasteful, discreet, and obviously quite honest. Reading his later writings, no one was ever moved to worship him in the way true believers once had, but one could not avoid kind of liking him and according him a bit of grudging respect. Molliter ossa cubent.