Category Archive 'Nigerian Emails'
06 Jul 2017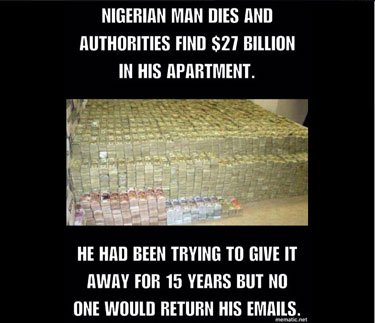 14 Jan 2014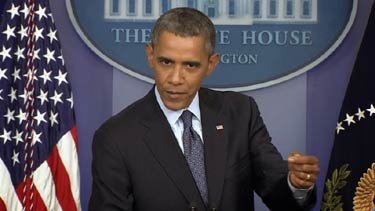 Rico reports:
What a Deal!….I got an email the other day from a Nigerian prince.

nigerian prince
He's got a MILLION DOLLARS
and he wants to give it to me for FREE!
All I have to do is give him all my bank account
numbers so he can make it happen!

I was about to do it, but then I got ANOTHER email,
this time from a KENYAN prince.
Kenyan prince
He wants to give me FREE healthcare for life!…
All I have to do is give him all my bank account
numbers so he can make it happen!

Sounds like a familiar scam….huh ??
16 Dec 2010

Back in September of 2008, when the US stock market crashed and a number of very major US banks and corporations were becoming insolvent, I quoted and linked a particular humor post from BBSpot, which read:
Nigerian philanthropic billionaire Esenam Ayele said that he would make $80 billion dollars available to US banks from his accounts in Nigeria. All he needed to transfer the funds was a trusted associate at the bank.

It couldn't come at a better time for Wall Street as the bankruptcy of Lehman Brothers, the sale of Merrill Lynch and government bailout of AIG has left markets tumbling with no bottom in site. The guaranteed funds should bring some stability back to financial institutions.

Treasury Secretary Hank Paulson said Ayele could be trusted. "I know he's had problems in the past with people believing him, but I assured the folks over at Washington Mutual that he was for real."

Ayele, who has returned to wealth with the rise in oil prices, said from his palace in Lagos, "I just need someone to fax me a copy of the transfer codes on some bank stationery, and I'll get the money right over."

He added that his widowed sister also had more funds she could transfer out of the country which she inherited from Prince Ugube of Tanzania. "She just as helpful as I am, but she's unable to come to the United States because of a visa issue. If somebody could just send her a cashier's check for $1000, she'll be able to clear everything up and transfer the funds."
Well, this post was more than two years ago, but it finally attracted a response. I received this real email the day before yesterday:
Read your post from above website. I hope to contact this guy, i am in a business of developing my community which will also help youths and children education, i need some expansion to improve the business. Please do you have the contact of this guy? Kindly send me please.
09 Jul 2010

From Brian Hughes:
After Nigeria was eliminated from the World Cup, the Nigerian goalkeeper personally offered to refund all the expenses of fans who had traveled to South Africa.
He said he just needs their bank details and PINs to complete the transaction.
09 Dec 2006

You're not dumb enough to have fallen for one of those Nigerian email frauds, are you?
But, then you're not a former democrat Congressman, married to a current democrat Congresswoman, whose son is dating Chelsea Clinton, either. I guess if you can believe that socialized healthcare will work, believing in free millions from Nigeria is no problem.
If reports are true that Chelsea Clinton and her boyfriend Marc Mezvinsky are considering marriage, the father of the groom won't be able to attend the wedding until he is released from prison in November 2008.

Ed Mezvinsky, a former Democratic Congressman from Iowa, is serving a seven-year sentence for fraud after getting caught up in a series of Nigerian e-mail scams.

Initially, Mezvinsky became the victim of "just about every different kind of African-based scam we've ever seen," federal prosecutor Bob Zauzmer told 20/20 for a report to be broadcast this evening.

But then, says Zauzmer, Mezvinsky began to steal from clients and even his own mother-in-law to raise the money to try yet another scheme.
NBC10.com:
Former U.S. Rep. Ed Mezvinsky pleaded guilty to stealing $10.4 million from his friends, family and business associates and even his mother-in-law .

Mezvinsky tearfully expressed remorse before being sentenced Thursday to six years, eight months in prison for defrauding business associates, friends and family.

Federal prosecutors called Mezvinsky, 65, a "con man" who faked mental illness to avoid punishment for bilking friends and business associates. They were seeking a nine to 11-year prison term for the disgraced lawmaker, who pleaded guilty to 31 counts of fraud in September.

Through tears, Mezvinsky told U.S. District Judge Stewart Dalzell that he still fails to completely understand his actions.

"I went into a spiral that turned into the house of cards that fell," Mezvinsky said.

Dalzell gave credit to Mezvinsky for accepting responsibility with a guilty plea, but rejected a plea for leniency over Mezvinsky's alleged mental capacity. He sentenced the former lawmaker to 80 months in prison.

"Whatever impairment Mr. Mezvinsky may have had — and I am dubious in the extreme about that — it simply did not contribute to the … crimes which took place over 12 years," Dalzell said.

Mezvinsky and his wife, Marjorie Margolies-Mezvinsky, who also served in Congress, were once high-profile Democrats who hobnobbed with Bill and Hillary Clinton and raised 11 children, some adopted, at their suburban Philadelphia mansion.

Prosecutors said Mezvinsky began soliciting cash for fraudulent schemes in the 1980s, and eventually collected millions for business ventures that never materialized, including an oil deal, a coin trading company and an effort to sell bracelets in Africa.

In the meantime, Mezvinsky fell victim to several Nigerian investment scams and lost much of his borrowed money. He blamed the losses on a bipolar disorder and a bad reaction to anti-malaria drug Lariam.

"I have been in denial for a long period, and now I'm accepting responsibility," Mezvinsky said.
Hat tip to John Brewer.