Category Archive 'Bowe Bergdahl'
25 Mar 2015

08 Jun 2014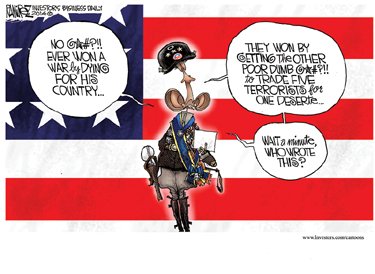 05 Jun 2014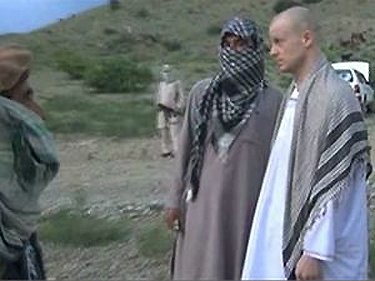 Bowe Bergdahl with Taliban members at the time of his release.
In 2009, a fellow who uses the penname Raven-Wolf tells us that he was running networks in Afghanistan, and was asked by a senior officer to take a stab at finding the missing Bowe Bergdahl.
His story seems to have the ring of truth, and if it is on the up-and-up, provides a fascinating inside story.
"I will make you a bet I can locate this kid in a week." He looked at me and said nothing. He knew how I worked and I walked out.

I began by walking into the office of an Afghan Intelligence Officer I knew. He greeted me as always; welcomed me in and offered me Chai. We had not seen each other for well over a month. We shared stories, we discussed insurgent tactics, new TTPs, his family, my travels. Then I asked him the question I had come for, "Colonel…where's our boy?" He looked at me and just stared back. Then he said, "You don't want to know."

I was taken aback and frankly irritated. I had had enough of the games over this kid's search. "What do you mean I don't want to know! We are friends; we have been friends a long time. Your answer is not good enough." The Colonel then went on to explain to me how he had offered his support to find Bergdahl. However, the American Army mentors told him they weren't interested; that they had everything under control.

I reminded him I wasn't them and that I could frankly give a shit what his Army mentors were or were not interested in. "Help me find him. You and I both know this cannot be done without Afghan intelligence. You and I know that regardless of how stupid this kid is, he needs to be brought home."

He sat down at his desk and made a call as he scribbled a few notes on a piece of white paper. He then got up from his desk, walked across the room and sat down in front of a dusty computer at the back. A few keystrokes later, he added a few more notes to the paper, walked over towards me and handed me what he had written.

"These are the names of the villages and GPS coordinates where your boy was the past three nights."

I thanked him and took the information back to my Colonel. I told him what was on the paper. He took it with a bit of suspicion, but stated that he would be sending it up to the Special Operations Task Force 373. Later that night he called me into his office.

"I don't know where you are getting your information but keep in coming. They like what you have."

Over the next few days I expanded my information gathering to include NDS, Afghan CI, and locals. The Afghans continued to provide details on location, how Bergdahl was traveling, what he was wearing, and his state of mind. The picture continued to grow and the picture was one of a kid that had willingly left his post, deserted his brothers and his commitment to the US Army and our country. Bergdahl was described as dressed in local dress. He was riding around on the back of motorcycles hugging his Afghan captors. He was not in chains or in handcuffs, but willingly moving about to avoid detection. He needed to be retrieved…not to save him, but to punish him for his betrayal.

The details around Bergdahl's decision to walk off of his FOB (Forward Operating Base) to explore the wilds of Afghanistan were locked down almost immediately. Even journalists were restricted from access; being denied interviews, field movement or access to anyone with any knowledge of Bergdahl or of his unit. Keeping the lid on the story was the number one command objective. But I dug and I found details. Though I still have this part of the story listed as "unconfirmed" this is what I put together:

Bergdahl was unstable the minute he arrived in country. He was unhappy, disconnected from the unit, and dissatisfied with the way his unit had dealt with several incidents. He had illusions of grandeur, talking about getting back to nature. He also had a romanticized ideal of himself as some sort of one man Rambo as well as a love affair with the Afghan indigenous fighter (aka Taliban). Rumors of what happened ranged from his unit running over a child to Bergdahl slowly coming unglued. He had all of the signs of being high risk. There was never any one story that was consistently told about the cause and effect. Both his unit and his command were protective and defensive… obvious signs of hiding something. What was more than clear is that Bergdahl, his unit and his command were a train wreck. As for Bergdahl specifically, his background should have been an early warning that something, anything, could easily set him off. Raised by a Northwest family that would be best described as off the grid, liberal tofu eaters, Bergdahl was homeschooled and raised to be a kind and sensitive child. He learned ballet, and enjoyed long walks in nature. He was almost a modern day young Emerson. When he turned of age he apparently felt he needed some adventure so he talked to a recruiter and fell in love with the "be all you can be" dream and joined the Army. Airborne was now his new meditation mantra and walks in the woods were replaced with forced marches and an 80-pound rucksack. To what should not have been a surprise to anyone, he did not work in well with his unit. Maybe it was the ballet, maybe it was his sensitive nature now imprisoned by his sworn duty to kill the bastards who celebrated the deaths of over 3000 Americans killed on 9-11. Whatever his reasons, when the moment arrived that he decided he was no longer interested in his obligation, his "free spirit"spoke as he grabbed his sketchbook and some water and walked off of the FOB. He was AWOL. Nothing more to it than that.

At the end of my seventh day or so of working this problem, I returned to the office of the Afghan Intelligence Colonel. Over another round of Chai and information exchange, I pressed him to leverage his network to set up a meet with the tribe that was holding Bergdahl. By this time the profile of Bergdahl's captors was becoming clear. Where Bergdahl played out a version of a spoiled brat's "walk about", his captors saw opportunity. They had grievances with the local Governor. They wanted to use Bergdahl to get what they thought they deserved. This was the Afghan way.

During this time the rumors and reports from the US side were that Berdahl had been taken by Haqqani. That was not the case. His captors had sent out word to the Haqqani network asking for a reward, however the initial interest from Haqqani was cool to tepid at best. Their concern was that Bergdahl was mentally unstable; and even though Bergdahl had voluntarily converted to Islam, the Haqqani network was not willing to bring a mentally unstable Muslim convert over the border into Pakistan. We should have paid attention to Haqqani.

I sat with the Afghan Colonel and we went over the tape that had been released of Bergdahl. We watched it a half dozen times. Other Afghan intelligence types entered the room. They dissected the images…the weave on the bread that was shown in the video was only available in one particular village; the sound of the generators demonstrated a level of wealth; the pattern on the rugs provided insight into the owner and their taste; the food and the way it was served provided understanding of tribal habits and behaviors; the interviewer, his English intonation and his camera skills could only be of a select few people; and Bergdahl himself provided a wealth of clues from his dress, to his mannerisms, to his compliant attitude. The Colonel made some notes. The Afghan cadre discussed what they had seen. He felt sure he knew what village Bergdhal was in.

"I want to meet with the tribal leader who is holding him. Just me and my interpreter. I will travel in my own vehicle. No military. No guns. You can join me if you wish," I told him.

The Colonel called a friend in Parliament. The discussion was brief. He hung up the phone and we waited. A few minutes later the phone rang; it was his Parliament friend again. The tribal leader had agreed to the meet. The location would be set the next day. The Afghan Colonel and I agreed to travel together. We parted, each of us setting about preparing our kit for the next morning.

The media blast that followed the Bergdahl video was what the RC-East Commander had hoped to avoid. The story was now out. Bergdahl who had been effectively a blip on the radar up to that point became an international star overnight. The elevation of status made him more valuable and Haqqani understood this. The following morning as I walked to the vehicle to meet up with the Afghan Colonel, he greeted me, still wearing his military dress. I knew something was off. He informed me that the meeting had been cancelled. Overnight Haqqani had dispatched a team with an undisclosed amount of cash and had taken control of Bergdahl. From that point forward the chances of getting him back were all but lost.
Read the whole thing.
05 Jun 2014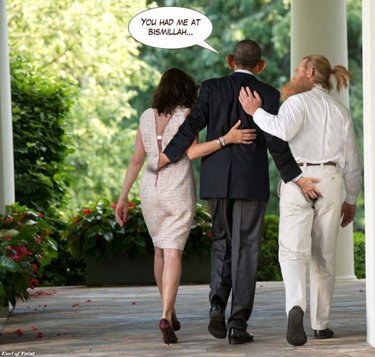 Ralph Peters, in National Review, explains how Barack Obama and his elite team of intellectual giants walked obliviously into a colossal political disaster.
Congratulations, Mr. President! And identical congrats to your sorcerer's apprentice, National Security Adviser Susan Rice. By trying to sell him as an American hero, you've turned a deserter already despised by soldiers in the know into quite possibly the most-hated individual soldier in the history of our military.

I have never witnessed such outrage from our troops.

Exhibit A: Ms. Rice. In one of the most tone-deaf statements in White House history (we're making a lot of history here), the national-security adviser, on a Sunday talk show, described Bergdahl as having served "with honor and distinction." Those serving in uniform and those of us who served previously were already stirred up, but that jaw-dropper drove us into jihad mode.

But pity Ms. Rice. Like the president she serves, she's a victim of her class. Nobody in the inner circle of Team Obama has served in uniform. It shows. That bit about serving with "honor and distinction" is the sort of perfunctory catch-phrase politicians briefly don as electoral armor. ("At this point in your speech, ma'am, devote one sentence to how much you honor the troops.") …

The president, too, appears stunned. He has so little understanding of (or interest in) the values and traditions of our troops that he and his advisers really believed that those in uniform would erupt into public joy at the news of Bergdahl's release — as D.C. frat kids did when Osama bin Laden's death was trumpeted.

Both President Obama and Ms. Rice seem to think that the crime of desertion in wartime is kind of like skipping class. They have no idea of how great a sin desertion in the face of the enemy is to those in our military. The only worse sin is to side actively with the enemy and kill your brothers in arms. This is not sleeping in on Monday morning and ducking Gender Studies 101.

But compassion, please! The president and all the president's men and women are not alone. Our media elite — where it's a rare bird who bothered to serve in uniform — instantly became experts on military justice. Of earnest mien and blithe assumption, one talking head after another announced that "we always try to rescue our troops, even deserters."

Uh, no. "Save the deserter" is a recent battle cry of the politically indoctrinated brass. For much of our history, we did make some efforts to track down deserters in wartime. Then we shot or hanged them. Or, if we were in good spirits, we merely used a branding iron to burn a large D into their cheeks or foreheads. Even as we grew more enlightened, desertion brought serious time in a military prison. At hard labor.

This is a fundamental culture clash. Team Obama and its base cannot comprehend the values still cherished by those young Americans "so dumb" they joined the Army instead of going to prep school and then to Harvard. Values such as duty, honor, country, physical courage, and loyalty to your brothers and sisters in arms have no place in Obama World. (Military people don't necessarily all like each other, but they know they can depend on each other in battle — the sacred trust Bergdahl violated.)

President Obama did this to himself (and to Bergdahl). This beautifully educated man, who never tires of letting us know how much smarter he is than the rest of us, never stopped to consider that our troops and their families might have been offended by their commander-in-chief staging a love-fest at the White House to celebrate trading five top terrorists for one deserter and featuring not the families of those soldiers (at least six of them) who died in the efforts to find and free Bergdahl, but, instead, giving a starring role on the international stage to Pa Taliban, parent of a deserter and a creature of dubious sympathies (that beard on pops ain't a tribute to ZZ Top). How do you say "outrageous insult to our vets" in Pashto?
Read the whole thing.
05 Jun 2014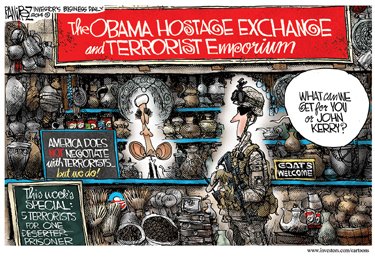 04 Jun 2014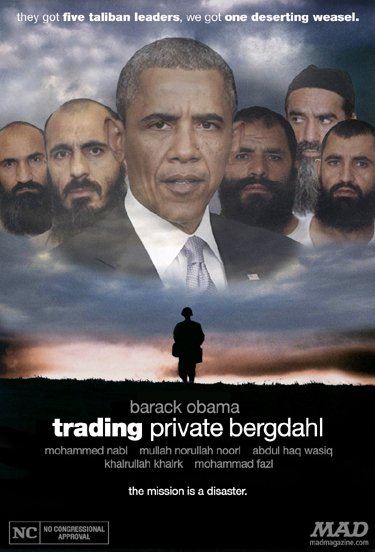 From Mad Magazine via Glenn Reynolds.
04 Jun 2014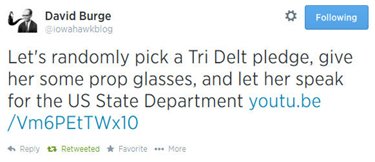 09 Aug 2009


PFC Bowe R. Bergdahl
Breitbart quotes some news agency's report indicating that a Taliban commander claims to be holding captured American PFC Bowe Bergdahl and is threatening the American prisoner and using him to make demands.
A militant commander who is holding a U.S. soldier abducted in Afghanistan said Sunday that Taliban leader Mullah Omar's council is waiting for a response to its demands before deciding the American's fate.

It was the first news of Pfc. Bowe R. Bergdahl, 23, made public since a Taliban video was released July 18.

Maulvi Sangin, an insurgent commander for eastern Afghanistan, said the Taliban's governing body was awaiting a response to demands it made to the U.S. for his return.

"The American's fate is in the hand of (leadership), which is waiting until a response from the Americans to its demands," Sangin told The Associated Press.
The correct answer to murder or abuse by the enemy of soldiers who fall into their hands is as old as warfare itself. You simply have to do as Colonel John Singleton Mosby did during the American Civil War when George Armstrong Custer proceeded to hang seven of Mosby's rangers.
A ragged line of Union soldiers stood in a field along Goose Creek in Rectortown, Virginia, on November 6, 1864. They jostled, chatted and joked with each other, pleased to be outdoors on a brisk autumn day. As prisoners of war these 27 Yankees had been confined to a brick store building in the village, waiting to be taken south to a Confederate prison camp. Little did they know that nearly a fourth of them were marked to settle a blood debt — minor characters in a major drama of reckoning between Lieutenant Colonel John Singleton Mosby and Brigadier General George Armstrong Custer.

A few minutes before noon their captors — members of the 43rd Battalion of Virginia Cavalry, better known to history as Mosby's Rangers — led the Federals from the store to a gentle slope above the creek. It was likely Ranger Sgt. Maj. Guy Broadwater who addressed the prisoners. Seven Rangers had been executed by the prisoners' Union comrades, Broadwater informed the group, and an equal number of them would share a similar fate. The words stunned and silenced the Northerners. A hat with 27 slips of paper, he explained, would be passed along the line, and each man must draw one slip. Seven of the pieces had been marked, and if a Yankee drew one of them, he was to be executed. A Ranger handed the hat to the first soldier.
If this country's leadership lacks the common sense and the intestinal fortitude to take the well-known, amply precedented steps, firmly established in the customs of war necessary to protect US military personnel unlucky enough to fall into the hands of the enemy, then, the pacifistic left is right, and we ought to try to make war no more.
It is simply wrong to ask American soldiers to expose themselves to capture, and then feel too bound by priggish postures of moral superiority to do what is necessary to protect them.