Category Archive 'Utah'
28 May 2016

26 Oct 2014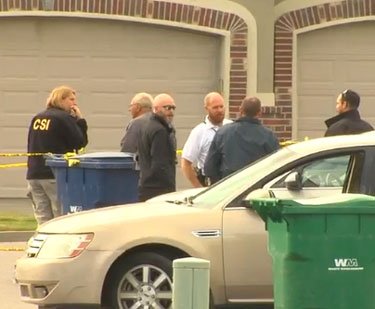 Police mill around in front of the late Jose Calzada's house in Roy, Utah last Tuesday.
Jose Calzada called a suicide hotline from his home in Roy, Utah, at about 4:00 a.m. on Tuesday morning, but by 11 a.m. he was shot dead by a SWAT team.

After Calzada called the suicide hotline, the SWAT team arrived and negotiated with him for hours (video below).

"At some point those negotiations failed and unfortunately the SWAT team was involved in a shooting, and the subject is now deceased," Officer Matt Gwynn, public information officer for the Roy Police Department, told Standard.net.

"There were people in the home at the time the [suicide] call was placed," Officer Gwynn told ABC4 News. "They left the home shortly thereafter."

There was no hostage situation, but news reports say that something happened in the home's garage that caused SWAT officers to shoot Calzada.

"It seem like there was one shot, and then a pause, and then four or five shots after that, that were very rapid," said neighbor Ron Smith. "The pause after the first shot was really brief. After that I went inside and shut the door."

The Weber County attorney's office is investigating the shooting. The officers who fired their guns at Calzada have all been placed on administrative leave during the investigation.

The Roy Police Department's advice to suicidal people struck an ironic and chilling tone.

"We encourage those having suicidal thoughts or tendencies to contact a physician or expert that can talk them through it," stated officer Gwynn. "In this particular case he attempted to do that, it's unfortunate and sad that it failed."
In numerous press reports, Police Spokesman Gwynn is simply quoted verbatim. Although he is obviously being evasive why the police thought it was necessary to fire on Mr. Calzada, the press incompetently fails to insist on that obvious question being answered.
18 Jan 2012

Mia Love is running in Utah's new 4th Congressional District.
Hat tip to Danny Lemieux via Karen L. Myers.
13 Nov 2008


Duck!
If I were to follow the examples of Joseph Smith, L. Ron Hubbard, or Barack Obama, and invent my own religion, could I demand that the nearest municipality boasting a Ten Commandments monument allow me to erect another monument listing my own teachings on the courthouse lawn? Should the city fathers fail to oblige would a federal circuit court of appeals (that isn't the 9th Circuit) rule in my favor? Is it possible to imagine that the United States Supreme Court could wind up ruling on my petition?
The Wall Street Journal reports that it has all worked out just that way for Corky Ra.
A couple of decades after a visit from "beings Extraterrestrial" inspired him to found the Church of Summum in 1975, Summum Bonum Amen Ra, born Claude Nowell and known as Corky, had another epochal encounter. He saw a monolith depicting the Ten Commandments on the courthouse grounds in Salt Lake City, says Su Menu, the Summum religion's current leader, and "felt it would be nice to have the Seven Aphorisms next to them." The monument would be inscribed with the principles that, according to Summum doctrine, Moses initially intended to deliver to the Hebrews before deciding they weren't ready to understand them.

Several Utah municipalities Mr. Ra approached declined the opportunity to display the Seven Aphorisms, provoking a legal battle that arrived at the Supreme Court Wednesday.
Daniel Henniger editorializes:
In 2007, the federal appeals court for the Tenth Circuit ruled in favor of Summum, giving the religion permission to put up its Seven Aphorisms monument in Pioneer Park. The Supreme Court will decide whether the Summums of America deserve their own patch of the public green.

Laughable though it looks, Pleasant Grove City v. Summum is a textbook example of tensions that have pulled our courts between noble readings of the Constitution — in this case, the First Amendment's speech protections — and what the average person might call the common-sense requirements of running a civil society.
Henniger is perfectly correct. Modern liberalism's abject inability to resist any appeal couched in idealistic rhetoric gives it a terminable case of philosophic round heels.
29 Apr 2008

Things are different in Utah. Out there, rather than peddling the usual leftwing sob stories about the homeless, CBS News investigative reporting investigates one of them, revealing a professional panhandler who makes good money pretending to be stranded and in need of the necessary funds to buy a bus ticket home to Seattle.
8:38 video
20 Jun 2007

A black bear (Ursus americanus) made two attacks on campers' tents in a camping area about two miles above Timpooneke campground in American Fork Canyon, Utah on Sunday.
The first incident took place before dawn when a bear swatted a tent. The DWR dispatched hunters and hounds to the scene to kill the bear, but conditions were hot and dry and the search was unsuccessful, Karpowitz said.

The second incident took place at about 11 p.m. The boy was alone in a section of the family's multi-room tent when the bear slashed the tent open and removed the boy in his sleeping bag. …

More than 30 law enforcement officers, four civilians and several bear hounds assisted in the search for the boy, checking nearby campgrounds and vehicles leaving the canyon.

At 1:35 a.m., the boy's remains were found 300-400 yards from the family's campsite.

Root said agents from the Division of Wildlife Resources and houndsmen from State Wildlife Resources shot the bear just after noon on Monday.
MSNBC 2:51 video
31 Jan 2007

$155 million. Ouch! And I thought we paid too much for our new house.
Appropriately named "The Pinnacle," it's yours for $155 million…

So what justifies the "most expensive" asking price?

To begin with, the 10-bedroom, 53,000-square-foot, yes — 53,000-square-foot — home will sit on the most coveted piece of property in the resort. The 160 acres ought to provide ample elbow room for someone who has it all.

The home, which includes four guest cottages, will be built in the center of the ski resort and commands dramatic views in all directions…

Jerry Locati, the Bozeman, Mont., architect who heads up Locati Architects, spent the last year designing the home and gave ABCNEWS.com an exclusive interview about what he calls "an incredibly unique, one-of-a-kind house."

"It's an adult, well, actually family-oriented home, a sort of Disneyland scale home for someone who is not afraid to spend money," he begins as he searches for superlatives. "It will have the usual home theater but will also include a bowling alley, an indoor-outdoor pool and an amazing wine cellar."

The house, which has a rustic exterior crafted out of stone, hand-hewn beams and ample floor-to-ceiling glass, includes a huge underground garage.

"You'll be able to park 30 or 40 cars," Locati says. "Perfect for someone with a car collection and of course the ideal service entrance for caterers."

Locati says he was encouraged to "think outside the box" by timber and real estate billionaire Tim Blixseth, who is developing the property.

Blixseth is also the developer of the Yellowstone Club resort.

One of those "outside-the-box" ideas is three elevators.

"You enter as you would a lodge. There will be lockers for ski equipment and clothing," says Locati.

"Every aspect has been incredibly well thought out," he says. "We'll have hand-carved fireplace mantles, and we have succeeded in bringing the outdoors indoors while still maintaining a warm feeling."

Perhaps one of the more unusual features is a private-covered gondola that will whisk skiers from a ski run to the home.