05 Feb 2013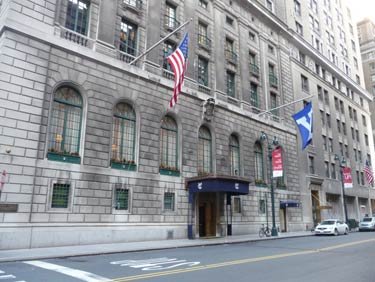 We missed this interesting New York Times item from late last year.
Mayor Michael R. Bloomberg's push to increase development in east Midtown would threaten some of the very buildings that give the neighborhood its character, preservation groups and community boards warn.

The buildings include the Barclay Hotel, the Yale Club, Brooks Brothers flagship store and the Graybar Building, which many New Yorkers may think — incorrectly — are protected as landmarks already.

The proposal is intended to provide a legacy of the Bloomberg administration by ensuring that the area around Grand Central Terminal stays on a competitive footing with business centers worldwide. It would increase the maximum allowable building density by 60 percent for some large sites near the terminal. Potential density would be increased 44 percent along an 11-block stretch of Park Avenue. Lesser increases would take effect elsewhere in the area between East 39th and East 57th Streets and between Fifth and Second Avenues, although most of the easternmost residential blocks would not be affected.

Such increases in density — meaning higher potential profits for landlords down the road — would give builders an incentive to spend the time and money needed to assemble large development parcels and then empty and demolish the buildings on them.
Hat tip to Stephen Frankel.