31 Aug 2015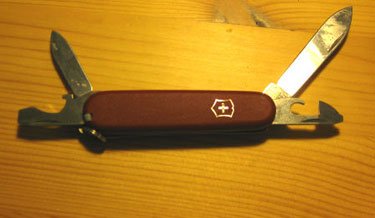 We have gotten used to reading about these little-kid-expelled-from-school-for-possession-of-a-pocket-knife happening in the suburbs of New England or California, but in Pennsylvania?
Recently a ten-year-old female violinist was expelled from the toney Valley School of Ligonier because the young musician was found to be using a Swiss Army Knife to remove broken strings from her violin bow.
Her parents consequently attempted to enroll her in the public school for their local district, but found her admission jeopardized by the report of her expulsion for "bringing weapons onto school property" from the young lady's previous school.
All this nincompoopery is connected, in Pennsylvania, to a Safe School Act (passed in 1995, and amended in 1997 and subsequently added to) which in the case of a student expelled due to a weapon or drugs being brought on to school property, obligates other schools to apply the same expulsion. The parents are suing on the basis that these zero tolerance policies have inflicted on their daughter a "defamatory stigma."
The Violin Channel