23 Sep 2017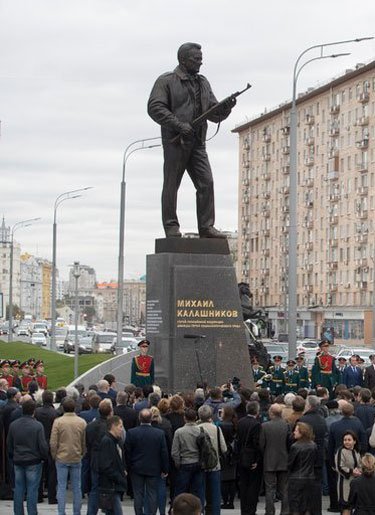 The NYT reported Tuesday:
A towering monument to Lt. Gen. Mikhail T. Kalashnikov, designer of the AK-47, the Soviet rifle that has become the world's most widespread assault weapon, was unveiled on Tuesday in the middle of one of central Moscow's busiest thoroughfares.

The ceremony took place to the sounds of Russian military folk music, the Soviet anthem, Orthodox prayers and words about how his creation had ensured Russia's safety and peace in the world.

The bronze statue depicts General Kalashnikov, who died in 2013 at age 94, looking into the distance and cradling one of his automatics in his arms "like a violin," according to Russian state television. The statue is about 16 feet tall, and on a pedestal about 13 feet tall.
Naturally, the Times bed-wetters felt compelled to add this little jibe:
"The ceremony contained no mention of the untold millions of people who have been killed or maimed by the weapon since its creation in 1947."
————————
Mikhail Kalashnikov's memorial did apparently have a glitch, however.
Workers have removed part of a new monument to Mikhail Kalashnikov, the inventor of the Soviet Union's AK-47 assault rifle, after eagle-eyed Russians noticed that it mistakenly depicted a German second world war weapon.

The monument to the creator of one of Russia's best known export brands was unveiled in central Moscow three days ago to much fanfare.

A metal bas-relief behind a statue of Kalashnikov depicts the AK-47 and other weapons all supposedly designed by the engineer, who died in 2013.

But embarrassed sculptor Salavat Shcherbakov had to admit that among them was the Sturmgewehr 44 (StG 44) assault rifle used by Nazi troops.

"We will rectify this," Shcherbakov said in comments broadcast by state-run Rossiya 24 channel. "It looks like this [mistake] sneaked in from the internet."

By Friday evening a square hole gaped where the German rifle had been depicted in the bas-relief.
——————-
The US Government ought to put up a slightly larger statue of John Moses Browning.