Category Archive 'Horseback Riding'
03 Dec 2018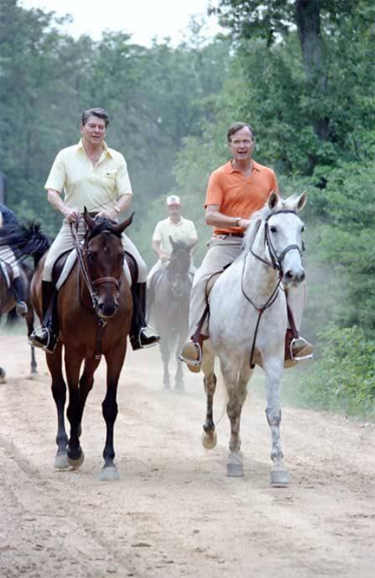 HT: John Anderson.
22 Mar 2018

26 Jan 2018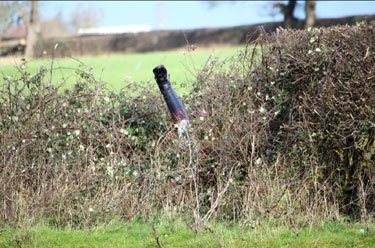 14 Apr 2017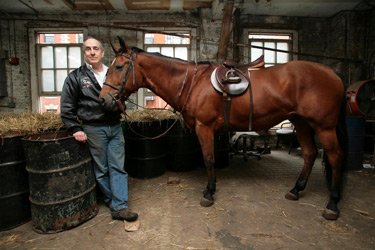 The Times reports:
Paul Novograd, whose reluctant decision to shutter his family's century-old Claremont Riding Academy in 2007 turned Manhattan into a no-horse town, died on Friday. He was 73.

His death, in Manhattan, was confirmed by his daughter Sasha Brown, who said doctors had not yet determined the cause.

Claremont's sudden closing left New Yorkers without what had been billed as the oldest continuously operating stable in New York City and Manhattan's oldest riding school and last public livery.

Claremont had been home to countless horses since it opened in 1892 on the Upper West Side, had trained generations of riders in its arena, and had supplied equine cast members to the Metropolitan Opera and other cultural institutions.

Riders boarded their mounts in stalls that rented for hundreds of dollars, or what people in other cities would pay for apartments. Horses could also be rented for upward of $55 an hour, to hoof it one block north and two blocks east from the Claremont stables, at 175 West 89th Street, to Central Park's four-and-a-quarter-mile bridle path.

Mr. Novograd saw the deterioration of that path — caused by joggers, bicyclists and others who rediscovered the park after it was rehabilitated — as one reason for the decline in ridership that led him to his painful decision to close Claremont.

"Even if the Parks Department wanted to make it horses only, it's just too inviting to pedestrians and dirt bikers and people throwing Frisbees and people pushing strollers, and it's a zoo out there," Mr. Novograd told WNYC radio in 2007. "And our horses are, thank you, just too polite for zoos."

What was more, renovations of his 19th-century stables — "what I call woefully authentic," he said — left him deep in debt.

Designed by Frank A. Rooke as a public livery, the five-floor beige brick Romanesque Revival stable was once sold to the sugar fortune heir Charles F. Havemeyer, who leased it out to West Side families as a place to board their horses and store their carriages. It became a riding school in 1927. …

Paul Novograd, who had learned to ride there as a child, went to work at Claremont only grudgingly in 1972. At the time, as a student of East Asia, he had recently returned from Japan, where he had been studying Zen gardens under a Fulbright scholarship. (He remained an avid gardener.)

Instead of pursuing his dissertation, however, he agreed to help his ailing father run the riding school as well as battle neighborhood decline and the New York City bureaucracy.

The city had in 1961 condemned the property as part of the West Side Urban Renewal Area, and for the next 37 years, the Novograds lived in the building as month-to-month tenants as it crumbled. Paul Novograd maneuvered to preserve the building by placing it on the National Register of Historic Places. Finally, in 1998, the city sold it back to the family after the urban renewal plans were abandoned. …

Paul Jonathan Novograd was born in Manhattan on Dec. 4, 1943, the son of Jewish immigrants from Eastern Europe. His mother was the former Bernice Landau. He graduated from the Horace Mann School and received a bachelor's degree from Columbia University, where he also nearly completed his doctorate in East Asian studies. He spoke eight languages.
I used to be a customer. Molliter ossa cubent.
Hat tip to Frank Dobbs.
NYM article on the rise and decline of riding in Central Park.

Edward Hopper, Bridle Path, 1939, formerly San Francisco Museum of Modern Art, now privately owned. Sold for $10,386,500 at a Sotheby's auction in 2012 to allow the SFMOMA to purchase a different Hopper.
22 Mar 2017

You can get a great deal on a fine horse of superb breeding by purchasing an OTTB. However… the horse you get will be a racehorse accustomed only to running full tilt on a track. Your new horse will require lots of training to turn him into a hunter or ordinary riding horse. Naturally, some OTTBs will not be trainable.
Years ago, my wife and I and a friend looked at a Thoroughbred being offered for sale at a Ridgefield, Connecticut stable. I had met the ladies at the train station after commuting back from Manhattan, and I was handicapped by wearing ordinary trousers and street shoes.
The horse was handsome and large and up to weight, but he had the most horrible gaits any of us ever encountered on a horse. His trot was bone-jarring and so violent that both my wife and our female friend were bounced right out of the saddle after a few strides.
I climbed uncomfortably aboard (ordinary trousers work poorly for riding), gathered up the reins and signaled my steed to move off with my heels. His walk was decidedly uncomfortable. As I prepared to put him into a trot, I noticed the seller deliberately averting her eyes from the impending disaster. His trot was what I'd describe as a unique experience. It was so violent and extreme that in a very short time it was obvious to me that I had the choice of pulling up immediately and getting off, or getting bounced right off just like the girls. I pulled up.
Everyone who rides gets run away with from time to time. I always experience the imprudent temptation to let the horse go and enjoy the gallop. Fortunately for me, I have always been able to pull the horse up, or simply arrived on his back home at the stable where his stall and his hay are waiting. One time, the runaway ignored me and ran right into a tree, but I simply stepped off when he went down. Nick Bull was much less fortunate and seems to have experienced what the Irish refer to as "a crucifying fall."
Hat tip to Jesse Swan.
02 Mar 2017


The lady who lent him the horse, Tonto Silverheels, an imported Irish Sport Horse of five colors, is a friend of mine from Virginia hunting circles.
Newly minted Secretary of the Interior Ryan Zinke rode a horse to his first day of work at the department's Washington, D.C., headquarters, Thursday morning.

Zinke wore a cowboy hat, boots and jeans for the Thursday morning ride, which preceded a welcoming event in the lobby of the building.

Photos tweeted by Zinke and by Interior's Bureau of Safety and Environmental Enforcement show the former Navy SEAL riding with U.S. Park Police officers.

"Honored to stand with the brave officers of @USParkPolice – these professionals put their lives on the line for us," Zinke tweeted.

The transportation choice aligns with Zinke's choice to brand himself as a conservative and conservationist in the mold of President Theodore Roosevelt, a strong advocate for outdoor recreation who established numerous national parks.

Zinke was Montana's sole House representative before the Senate confirmed him to the Interior post Wednesday. Vice President Pence swore him in Wednesday night.

Zinke's an ardent hunter, fisherman and outdoorsman, and pledged in the Senate to oppose any attempt at large-scale transfers of federal land — long a goal of some conservatives in the West.
Full story.
——————————-
More details:
In major news this morning, ex- fieldhunter TONTO, formerly owned by Jessie Swan of Markham VA, carried new Department of Interior Secretary Ryan Zinke to his first day of work Thursday morning in downtown Washington, DC. Tonto, an Irish gelding was imported and hunted with the Blue Ridge Hunt by owner Clay Smith prior to his purchase by Jessie for hunting with the Casanova Hunt. Upon his retirement from the hunt field, she lent the roan gelding to the police unit of the Washington Park Service. Normally only ridden by Maria Sabate, Tonto made a bit of history today when he was selected for the hack to work, probably due to his unbeatable disposition. Tonto is certainly continuing his winning ways as a tried and true Virginia fieldhunter."
26 Jan 2015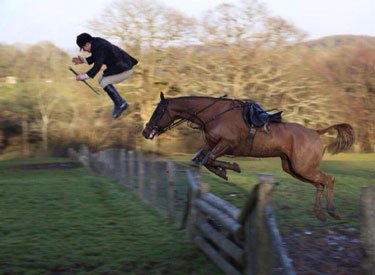 Photo: Ginni Beard, forwarded by Niall Hannity.
21 Oct 2014


Edward Hopper, Bridle Path, 1939, formerly San Francisco Museum of Modern Art, now privately owned. Sold for $10,386,500 at a Sotheby's auction in 2012 to allow the SFMOMA to purchase a different Hopper.
SFMOMA evidently preferred a more characteristic Hopper painting, presenting a gritty image of Mid-20th Century Everyman's loneliness and alienation to this glimpse of Pre-WWII, American Upper-Crust ecstasy.
The New York Times in 1994 described the rise and decline of riding in Central Park.
The 1856 plan for Central Park by Frederick Law Olmsted and Calvert Vaux did not provide for horseback riding, although the planners did not expressly oppose it. William Alex, president of the Frederick Law Olmsted Association, said the bridle paths were among 17 suggested changes in the Central Park plan made by Robert J. Dillon, one of the original Central Park Commissioners, a Democratic politician and two-term Corporation Counsel.

Dillon's proposals included waiting to lay out pathways until pedestrians established them by habit, and extending the Mall over the lake and up to Belvedere Castle with a large suspension bridge.

Olmsted & Vaux were able to fend off most meddling, but Dillon's suggestion for bridle paths survived. By 1863 six miles of gravel- and sand-surfaced paths extended from 59th Street and Fifth Avenue to the west side of the park and around the reservoir. The rules of the park for 1873 specifically allowed horseback riding "with a free hand and a rapid rate of speed," something not allowed anywhere else in the city.

The 1886 Appletons' Dictionary of New York City said that renting a horse cost $3 for an afternoon. The Sun's Guide to New York of 1892 noted that the stables' business fell off markedly in the summer, when their patrons "go to the seashore or to the mountains."

The soft surfaces of the bridle paths required intensive maintenance; the 1908 report notes that they were harrowed and leveled every evening and watered in the summer.

A 1929 editorial in The New York Times recalled the days when there were several hundred horses available from stables and riders frequently rode to the north end of the park, then up Seventh Avenue and along the Harlem River, and back down a bridle trail in Riverside Park.

In 1964, Hart's Guide to New York City reported that there were only 50 horses for rent, out of Claremont Stables at 175 West 89th.

By the 1970's the bridle paths were a shambles.
Claremont Riding Academy (where I used to rent horses to ride in early mornings in the Park) was located on West 89th Street. It closed forever in 2007. Wikipedia:
The location of the stable made for an unusual experience in the equestrian world: riding in heavy traffic. The stable was not in Central Park itself, but a block and a half away. Getting to the park required riding a horse on Manhattan streets, mixed in with the regular traffic, and crossing Central Park West.

The Academy was dependent on the structural condition of the bridle paths in nearby Central Park, as this was the primary designated area for horseback riding in Manhattan. At some point, the city allowed the bridle paths to be used by pedestrians, joggers, bicyclists and others, and discontinued structural maintenance of the paths. With the overuse of the paths in combination with the city's discontinuance of maintenance, riders were no longer able to canter on the pathways, ending one of the pleasures of horseback riding which deterred new ridership. Due to declining patronage and increasing cost from renovations and taxes, Claremont closed forever at 5 p.m. April 29, 2007.
When I rented my first horse from Claremont, I was surprised to find that I'd been presented with a double bridle. (I was accustomed to riding only with a snaffle.) But, when the time came to ride through city traffic and the need to stop at a traffic light before crossing Central Park West arose, I was very happy indeed that I also had a curb bit at my disposal.
Some rather preposterous and pretentious interpretations of the painting, in French, (by a non-rider) are here.
John R. Shipp interprets the painting (in English). I'm afraid that I do not agree with his supposed connections myself. I think Hopper just chose to paint an image of three people riding at a gallop at a particular piece of Central Park architecture.
From Ratak Monodosico.
21 Mar 2014

Beth Mantel sent this photo of herself to Horse & Hound:
"Just thought you may like this photo of my horse Dora (Caoimhes Delight) out with the Berks and Bucks on Sunday 16 March at West Wycombe jumping this awesome hedge. Think I'm now ready for Bechers Brook!"