Category Archive 'Queen Elizabeth II'
06 Apr 2020

15 Jan 2020

28 Aug 2019

Boris has blocked Parliamentary interference with Brexit by asking to Queen to prorogue Parliament. Smart move.
H.M. the Queen's Order-in-Council prorouging Parliament.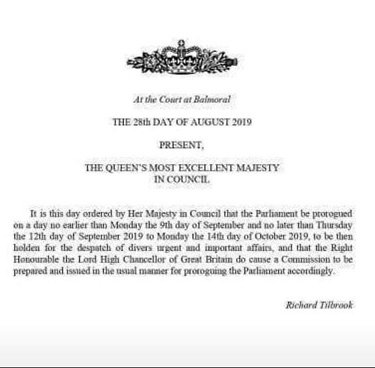 Hale Collum explains:
Unlike a dissolution, which is governed by the Fixed-term Parliaments Act, proroguing Parliament is a Royal Prerogative power exercisable by the Queen, (who, by convention, follows the PM's advice). This doesn't require the consent of the Members.
This effectively makes "Brexit" unstoppable. As David Jaroslav explains:
"Parliament is scheduled to return from recess on September 9. Now they will be prorogued from the . . .12th until two weeks before the exit date set in the Withdrawal Act. This formally ends the parliamentary session so all pending business dies unless there is a vote in the old session to carry it over to the new session. On October 14th there will be a new Queen's Speech opening a new session and little to no parliamentary time for the Remainers to play games.
"Even if no confidence were tabled AND voted on the first day of the session (highly unlikely), the 14-day period for a new government to receive the confidence of the House would end right around the exit date, during which the current government would remain in office. If no confidence passed and no new government formed, there would then have to be a general election, but it wouldn't happen until after Brexit, and again the old government would remain in office until the election concluded."
05 Jun 2012

31 May 2012

24 May 2012

As a compliment to Canada, repeating a gesture made in 1897 at the time of Queen Victoria's Diamond Jubilee, the Royal Canadian Mounted Police ("Royal" only since 1904) is being given the honor of replacing the Queen's Life Guard for twenty-four hours.
(The Telegraph has it wrong.)
The 15 Mounties will be wearing blue uniforms and will be armed with lances.
Hat tip to Rafal Heydel-Mankoo.