Category Archive 'Queen Elizabeth II'
15 Sep 2022

12 Sep 2022

The Daily Mail reports:
The royal beekeeper – in an arcane tradition thought to date back centuries – has informed the hives kept in the grounds of Buckingham Palace and Clarence House of the Queen's death.

And the bees have also been told, in hushed tones, that their new master is now King Charles III.

The official Palace beekeeper, John Chapple, 79, told MailOnline how he travelled to Buckingham Palace and Clarence House on Friday following news of The Queen's death to carry out the superstitious ritual.

He placed black ribbons tied into bows on the hives, home to tens of thousands of bees, before informing them that their mistress had died and that a new master would be in charge from now on.

He then urged the bees to be good to their new master – himself once famed for talking to plants.

The strange ritual is underpinned by an old superstition that not to tell them of a change of owner would lead to the bees not producing honey, leaving the hive or even dying.
Telling the Bees, Wikipedia entry.
11 Sep 2022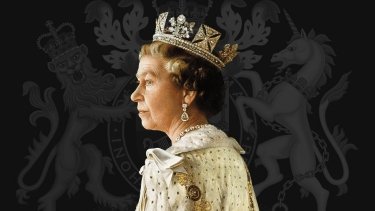 Apart from the gratuitous (and blindly partisan) dumping on Trump, Andrew was in his best form, doing a fine job of eulogizing Queen Elizabeth that even we rebellious colonials can appreciate.
Elizabeth Windsor was tasked as a twenty-something with a job that required her to say or do nothing that could be misconstrued, controversial, or even interestingly human — for the rest of her life.

The immense difficulty of this is proven by the failure of almost every other member of her family — including her husband — to pull it off. We know her son King Charles III's views on a host of different subjects, many admirable, some cringe-inducing. We know so much of the psychological struggles of Diana; the reactionary outbursts of Philip; the trauma of Harry; the depravity of Andrew; the agonies of Margaret. We still know nothing like that about the Queen. Because whatever else her life was about, it was not about her.

Part of the hard-to-explain grief I feel today is related to how staggeringly rare that level of self-restraint is today. Narcissism is everywhere. Every feeling we have is bound to be expressed. Self-revelation, transparency, authenticity — these are our values. The idea that we are firstly humans with duties to others that will require and demand the suppression of our own needs and feelings seems archaic. Elizabeth kept it alive simply by example.

With her death, it's hard not to fear that so much she exemplified — restraint, duty, grace, reticence, persistence — are disappearing from the world. As long as she was there, they were at the center of an idea of Britishness that helped define the culture at its best. Perhaps the most famous woman in the world, she remained a sphinx, hard to decipher, impossible to label. She was not particularly beautiful or dashing or inspiring. She said nothing surprising. She was simply the Queen. She showed up. She got on with it. She was there. She was always there.

Whatever else happened to the other royals, she stayed the same. And whatever else happened in Britain — from the end of Empire to Brexit — she stayed the same. This is an achievement of nearly inhuman proportions, requiring discipline beyond most mortals. Think of a year, 1992, in which one son, Andrew, divorced, a daughter-in-law, Sarah Ferguson was seen cavorting nude in the tabloids, a daughter, Anne, separated, another son's famously failed marriage, Charles', dominated the headlines, and your house burns down. Here is how Her Majesty "vented":

1992 is not a year on which I shall look back with undiluted pleasure. In the words of one of my more sympathetic correspondents, it has turned out to be an 'Annus Horribilis.'

Dry, understated, with the only vivid phrase ascribed to a correspondent. Flawless.

She was an icon, but not an idol. An idol requires the vivid expression of virtues, personality, style. Diana was an idol — fusing a compelling and vulnerable temperament with Hollywood glamor. And Diana, of course, was in her time loved far more intensely than her mother-in-law; connected emotionally with ordinary people like a rockstar; only eventually to face the longterm consequences of that exposure and crumble under the murderous spotlight of it all.

Elizabeth never rode those tides of acclaim or celebrity. She never pressed the easy buttons of conventional popularity. She didn't even become known for her caustic wit like the Queen Mother, or her compulsively social sorties like Margaret. The gays of Britain could turn both of these queens into camp divas. But not her. In private as in public, she had the kind of integrity no one can mock successfully.

You can make all sorts of solid arguments against a constitutional monarchy — but the point of monarchy is precisely that it is not the fruit of an argument. It is emphatically not an Enlightenment institution. It's a primordial institution smuggled into a democratic system. It has nothing to do with merit and logic and everything to do with authority and mystery — two deeply human needs our modern world has trouble satisfying without danger.
05 Jun 2022

When Paddington Bear takes tea with the Queen. Exquisite. One to watch on repeat (and finally after 70 years we find what the Queen keeps in her handbag…)
❤️💙🤍#PlatinumJubilee pic.twitter.com/jbXB69WFc5

— Beth Rigby (@BethRigby) June 4, 2022
Her Majesty Queen Elizabeth II has a sense of humor and made another little video to amuse her subjects on the occasion of her Platinum Jubilee.
It's not as big a smash as her 2012 Olympics James Bond video, but it's pretty good for someone aged 96.
06 Apr 2020

15 Jan 2020

28 Aug 2019

Boris has blocked Parliamentary interference with Brexit by asking to Queen to prorogue Parliament. Smart move.
H.M. the Queen's Order-in-Council prorouging Parliament.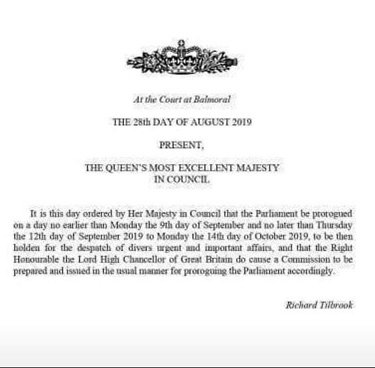 Hale Collum explains:
Unlike a dissolution, which is governed by the Fixed-term Parliaments Act, proroguing Parliament is a Royal Prerogative power exercisable by the Queen, (who, by convention, follows the PM's advice). This doesn't require the consent of the Members.
This effectively makes "Brexit" unstoppable. As David Jaroslav explains:
"Parliament is scheduled to return from recess on September 9. Now they will be prorogued from the . . .12th until two weeks before the exit date set in the Withdrawal Act. This formally ends the parliamentary session so all pending business dies unless there is a vote in the old session to carry it over to the new session. On October 14th there will be a new Queen's Speech opening a new session and little to no parliamentary time for the Remainers to play games.
"Even if no confidence were tabled AND voted on the first day of the session (highly unlikely), the 14-day period for a new government to receive the confidence of the House would end right around the exit date, during which the current government would remain in office. If no confidence passed and no new government formed, there would then have to be a general election, but it wouldn't happen until after Brexit, and again the old government would remain in office until the election concluded."
05 Jun 2012

31 May 2012

24 May 2012

As a compliment to Canada, repeating a gesture made in 1897 at the time of Queen Victoria's Diamond Jubilee, the Royal Canadian Mounted Police ("Royal" only since 1904) is being given the honor of replacing the Queen's Life Guard for twenty-four hours.
(The Telegraph has it wrong.)
The 15 Mounties will be wearing blue uniforms and will be armed with lances.
Hat tip to Rafal Heydel-Mankoo.