Category Archive 'Irony'
21 Sep 2016

20 Aug 2016

An excellent collection from the Daily Mail.
Hat tip to Roger de Hauteville.
28 Dec 2015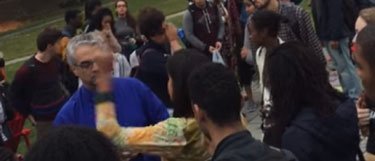 Yale students confront Silliman College Master Nicholas Christakis
Victor Davis Hanson tends to chuckle when he sees the Revolution devouring its own.
The West is ablaze with protests not just because of the failure of the Left in the cities, on campuses, and across Europe to offer a workable paradigm, but also because of the Left's canonic assurances that it could and would.

Deans and mayors promised utopia. When it did not arrive, the only concession they had left was more failed efforts to achieve the unachievable. People turn on their own more violently than they turn on others, as if a liberal, paternal dean should be able to snap his fingers and make liberal students happy. When he so promises, his ensuing failure only makes things worse.

All the banned micro-aggressions, all the safe spaces, all the trigger warnings, and all the fired deans will not make today's postmodern students happy, much less appreciative, any more than would mandating authentic ethnic cooks and more year-round hot-tubs. Like addicts, they believe one more cheap fix from a compliant supplier will finally do the trick. Don't expect the addict to show gratitude to his dealer.

Leftist revolutionaries cannot be satisfied, because they have long ago been given all they asked for, and are now rebelling for the idea of rebelling against something, even if it is reduced to a micro-aggression or founded on a myth like "Hands up, don't shoot." Millions of inner-city youths are as furious as are elite students. They got the liberal city and the liberal university they wanted — only to rage that human nature is not liberal and that contentment cannot be found through mirror-image government, but only within themselves. How can you rebel against that age-old truth?
Read the whole thing.
19 Jun 2015

Obama Secretary of the Treasury Jack Lew announced on Tuesday that in order "to honor our past and express our values" in 2020 in the course of celebrating the 19th Amendment (which gave women the right to vote) the Treasury Department is planning to demote Alexander Hamilton to a bit part on the ten dollar bill he has occupied for many years, replacing his central portrait with the image of some woman.
————————-
Well, if Jack Lew really wants to know exactly which values Americans really desire to express, Twitter makes it perfectly clear that Irony and Sarcasm come at the top of the list. The winner is none other than Caitlyn Jenner.
21 Apr 2013

17 Jun 2012

The German Savings Bank (Sparkasse) of Chemnitz in Saxony held a contest allowing customers to vote for an image to be used on its Mastercard.
Chemnitz used to be in the German Democratic Republic (aka East Germany), and the Communist regime renamed the city Karl-Marx-Stadt in 1953. The original name was restored when Communism fell in 1990.
Nostalgic Ostis evidently cast their votes for Karl Marx, proving ironically once again that Capitalism offers choices, even to those who don't appreciate it.
NPR story
13 Mar 2012

Bill Ayers, co-founder of the terrorist Weather Underground, husband of terrorist Bernadine Dorhn, refers to Andrew Breitbart as "a grinning bomb-thrower of the radical right."
I think we could have done without the heavy-handed music though.
05 Feb 2010


People used to think he was a Lightworker.
Fellow Yale conservative John Brewer writes to a private email list:
How many of you remember the wacky column from '08 that said inter alia:

"Many spiritually advanced people I know (not coweringly religious, mind you, but deeply spiritual) identify Obama as a Lightworker, that rare kind of attuned being who has the ability to lead us not merely to new foreign policies or health care plans or whatnot, but who can actually help usher in a new way of being on the planet, of relating and connecting and engaging with this bizarre earthly experiment."

Do I see some hands? It was pretty notorious at the time.

Well, in any event the very same columnist (Mark Morford, San Francisco Chronicle or at least its website) has now put out a column bitching and whining about totally unproductive ungrateful and unrealistic liberals who don't understand how the world really works and ask annoying questions like "Why the hell can't he step up and fix the entire planet in under 400 days like he promised he would, in my dreams and fantasies and impossible liberal grass-fed organic tofu greengasms?"
03 Feb 2009

Just a bit ironic.
0:31 video
Hat tip to Daniel Lowenstein.