Category Archive '#ClintonBodyCount'
17 Oct 2020

18 Jun 2020

26 Feb 2020

15 Jan 2020

13 Aug 2019

The staff at the Babylon Bee clearly wants to live.
Above all, we want to make sure Hillary does not question our loyalty to her and the whole Clinton family. We have nothing bad to say about her. Also, just to be clear, we have no dirt or inside information on her whatsoever and nothing would be gained by our untimely deaths.

So, Hillary, we love you! Please do not hurt us.
11 Aug 2019

11 Aug 2019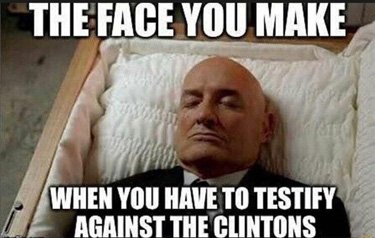 Jim Hoft has for us the complete list of Clinton associates who died mysteriously or committed suicide before testifying, and he just added Jeffrey Epstein.
The documents described how Bill Clinton held a private party on Jeffrey Epstein's pedophile island.

Clinton made at least 27 times trips on Jeffrey Epstein's private plane. Most of those flights were with underage girls.

Despite a previous attempt on his life just three weeks ago the prison guards skipped the 30 minute required checks on Epstein's cell last night.

Early [yesterday] morning they found him dead.

Jeffrey Epstein is the latest in a long list of Clinton family associates and acquaintances who died mysteriously or committed suicide before their public testimony.
10 Aug 2019