Category Archive 'Snowflakes'
26 Mar 2023

26 Nov 2019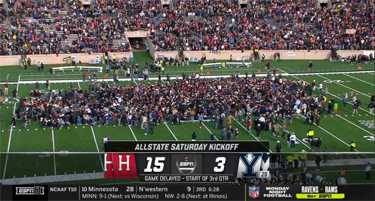 John Ziegler, at Mediate, argues that the bad behavior of those left-wing millennial snowflakes at last Saturday's Harvard-Yale Game is exactly the kind of thing producing the opposite results from those the perpetrators desire.
[T]he annual Harvard-Yale football game, known as "The Game" as one of the most storied rivalries in all of college sports, was delayed for about an hour because of students protesting "Climate Change" on the field at the end of halftime. No big deal, right?

To most observers this seemingly minor development was viewed as somewhere between a source of mild amusement and trivial nuisance. But to me, it was a total outrage, and symbolic of how liberals losing their damn minds is paving a path, via extreme political correctness, for President Donald Trump to somehow win reelection.

First, let's lay out the situation. These protesters, who had apparently been planning this stunt for months, took the field at the very end of the halftime intermission (as opposed to the beginning of it) for the expressed purpose of causing a delay to the game and therefore getting more media attention.

It appears that the authorities at Yale, where the contest was played at the venerable and historic Yale Bowl, were well aware of what was going down. They treated the students, who were clearly trespassing, with the kind of kid gloves which this generation, one that has spent their childhood receiving trophies they never earned and being constantly protected from having their feelings hurt, has come to fully expect.

These spoiled-brat demonstrators apparently thought nothing of selfishly disrupting the most important game of the year for their fellow students, many of whom were playing the final football games of their lives, and all of whom had worked their asses off to prepare for it (Yale was playing for at a least a share of the Ivy League championship). In response to their terroristic tactics, the administrators of each super-liberal super school were clearly terrified of disrupting their political statement, which was completely irrelevant to anything having to do with football, or really even Harvard and Yale.

After taking quite a bit of time to allow for the changing of the diapers of the student protesters (apparently many other woke students, never wanting to be left out of an attention-seeking act of virtue-signaling, joined in from the stands as the demonstration dragged on), the authorities then decided to grant the request of many of the activists to be arrested. All of this caused the teams to go back into their locker rooms, thus creating further delay because they had to warm up all over again once the field was finally cleared of all the remaining wokeness.

It should be noted that there seems to be zero doubt that, because being against climate change is considered by liberal elites to be inherently good, the protesters were treated vastly differently than if they had somehow decided to champion a conservative cause. Does anyone serious believe that if a group of "Pro-life" students had done the same exact thing to protest abortion (an issue over which a college has a heck of a lot more control than climate change) that they would not have been immediately kicked off the field and probably suspended, or worse, from each school?!

On ESPN, which was broadcasting the game, the coverage of what was going on was about as liberally biased as it would have been if MSNBC had been doing the commentary. Led by former network political analyst and anchor Jack Ford, the whole fiasco was treated as if was simply a weather delay without even a hint of condemnation of the students for the significant chaos they had caused to the game (by the way, the weather for the game was absolutely perfect for football, so perhaps climate change isn't really so horrible).

As it turned out, the anarchy provoked by the protesters had even more impact than would be initially understood because of a perfect storm of circumstances. You see, the Yale Bowl, built in 1914, has no lights, and New Haven, Connecticut is one of the very first cites on the East Coast to lose sunlight this time of year.

Consequently, when Yale made a furious comeback to send the game into overtime, the most critical plays of the game ended up being played in near total darkness. Had Harvard pulled off just one more good play, the lack of light would have forced the game to be declared a tie, thus costing Yale the share of their league title that they would eventually win.

I get mocked on Twitter all the time whenever I mention a crazy episode like this helping Trump's re-election efforts. Obviously, no one is going into the voting booth next November with this debacle on their minds (though, now that this horrible precedent has been set, I can see stuff like this happening more frequently and becoming a prominent news topic).

Instead, what I mean by this is that there is a whole group of key voters, particularly in critical states, who are more than willing to ditch Trump as long as that doesn't mean giving liberals the power to completely mess with their lives in a radical way. Seeing a major college football game almost destroyed because of this kind of liberal nonsense and overt hypocrisy is the exact type of story which makes those voters very nervous about handing everything over to a bunch of lunatics.

As I have said many times before, Trump's political rocket-ship is fueled by the extremely negative reaction Middle America has to political correctness. What the kids at Yale did was just add a bit more gas to his tank (which is ironic given their protest of fossil fuels).

The funny part here is that I am quite sure that these children are all quite proud of themselves today. But in reality they did more to help a man they hate than they did to combat climate change.
18 Jun 2018

HT: Vanderleun.
15 May 2017


June Chu, Dean of Pierson College, Yale University.
Little Bryn Mawr girl June Chu doubtless regarded herself as a winner in the meritocrat rat race and safely embedded in the very heart of the elite establishment, deaning the day away down in Yale's Pierson Residential College, but life in Politically Correct America is perilous, even sometimes for Identity Group two-fers.
As one might expect, a couple of little reptiles from America's Oldest College Daily were shouting "Burn the witch!" in the forefront of the mob.
Over the last year, Pierson College Dean June Chu published controversial reviews of local businesses on her personal Yelp account, on one occasion referring to clientele of a restaurant as "white trash" and "low class folks," and on another praising a movie theater for its lack of "sketchy crowds" despite being located in New Haven.

Screenshots of the reviews, obtained by the News Saturday afternoon and accessible here, began circulating among Pierson students in recent months. Her account has since been deleted.

Chu sent an email to the residential college community on Saturday apologizing for her reviews, which have been been met with anger and disappointment by students.

Over the last year, Pierson College Dean June Chu published controversial reviews of local businesses on her personal Yelp account, on one occasion referring to clientele of a restaurant as "white trash" and "low class folks," and on another praising a movie theater for its lack of "sketchy crowds" despite being located in New Haven.

Screenshots of the reviews, obtained by the News Saturday afternoon and accessible here, began circulating among Pierson students in recent months. Her account has since been deleted.

Chu sent an email to the residential college community on Saturday apologizing for her reviews, which have been been met with anger and disappointment by students. …

Another student in Pierson who asked to remain anonymous said he and some friends searched Chu's Yelp account after receiving a college-wide email on Jan. 30 in which she announced that she had become "Yelp Elite," meaning she had been recognized by the website for active participation.

The student said he discussed the reviews with friends in Pierson and other residential colleges, and they agreed that Chu's use of "demeaning and offensive" language was inappropriate for someone in her position.

"These reviews make it clear how Dean Chu thinks about people who are different from her, and how she feels about New Haven, the city all of us call home for a few years," the student said.

[An] anonymous student in Pierson said he and his friends found her reviews inappropriate, particularly one of The Mochi Store in New Haven, in which Chu wrote that the establishment would be acceptable only to a "white person who has no clue what mochi is."

"I will never be able to look at her in the same way. She needs to formally apologize in person to the college," the student said. "Dean Chu is trained in human development and psychology so should clearly understand the gravity of her actions, yet the fact that she would put such things on the Internet shows that she really should not be in a position of advising students."

In February, Chu removed her reviews of Koto Japanese Steakhouse and Criterion Cinemas after [Pierson Head Stephen] Davis informed her that they had offended students, she wrote in her email. …

One Pierson student, who requested anonymity, said Chu's comments convey a bias against certain groups of students who call Pierson college home. He added that the remarks jeopardize Chu's capacity to properly execute her job as a steward of the college community.

"If I had heard these comments upon arriving to Yale as a freshman, the first thing I would have done is walked to Pierson College and demanded a residential college transfer form," the student said.
Her offending reviews are collected here. I thought they demonstrated her to be entitled, full of herself, and a bit overly censorious, but what would one expect?
25 Mar 2017

15 Nov 2016

The Cavalier Daily reports that faculty and students at the University of Virginia signed a letter to that university's president admonishing her for quoting Thomas Jefferson, who founded that university.
Several professors on Grounds collaborated to write a letter to University President Teresa Sullivan against the inclusion of a Thomas Jefferson quote in her post-election email Nov. 9.

In the email, Sullivan encouraged students to unite in the wake of contentious results, arguing that University students have the responsibility of creating the future they want for themselves.

"Thomas Jefferson wrote to a friend that University of Virginia students 'are not of ordinary significance only: they are exactly the persons who are to succeed to the government of our country, and to rule its future enmities, its friendships and fortunes,'" Sullivan said in the email. "I encourage today's U.Va. students to embrace that responsibility."

Some professors from the Psychology Department — and other academic departments — did not agree with the use of this quote. Their letter to Sullivan argued that in light of Jefferson's owning of slaves and other racist beliefs, she should refrain from quoting Jefferson in email communications.

"We would like for our administration to understand that although some members of this community may have come to this university because of Thomas Jefferson's legacy, others of us came here in spite of it," the letter read. "For many of us, the inclusion of Jefferson quotations in these e-mails undermines the message of unity, equality and civility that you are attempting to convey."

The letter garnered 469 signatures — from both students and professors — before being sent out via email Nov. 11. Signees included Politics Prof. Nicholas Winter, Psychology Prof. Chad Dodson, Women, Gender and Sexuality Prof. Corinne Field, College Assistant Dean Shilpa Davé, Politics Prof. Lynn Sanders and many more. Asst. Psychology Prof. Noelle Hurd drafted the letter. …

Politics Prof. Lawrie Balfour said she believes everyone who signed the letter, including herself, was grateful that Sullivan responded to anxiety following the election — however, many felt it was the wrong moment to turn to Jefferson, following incidents of identity-related hate speech.

"I've been here 15 years," Balfour said. "Again and again, I have found that at moments when the community needs reassurance and Jefferson appears, it undoes I think the really important work that administrators and others are trying to do."

Not all signees believe the University should move away from quoting Jefferson in all email correspondence, including Balfour.

"I think we have an opportunity to think about the contradictions that Jefferson embodied," Balfour said. "The point is not that he is never appropriate, but the point is that the move that says, he owned slaves, but he was a great man, is deeply problematic, and I think it will continue to prevent us from being the kind of inclusive, respectful community that President Sullivan and the rest of us envision."
I'm a Jeffersonian Libertarian, but this one is too much for me. I would fire every one of those faculty members and expel every insolent and ungrateful student.
14 Nov 2016

Glenn Reynolds lists some of the infantilizing responses of universities across the nation to Donald Trump's untoward election, and it is an amazing list. This large-scale attempt at playing-the-victim is, of course, one more example of the standard leftist technique in which moral jiu jitsu is used to marginalize and intimidate the majority.
Trump's substantial victory, when most progressives expected a Hillary landslide, came as a shock to many. That shock seems to have been multiplied in academe, where few people seem to know any Trump supporters — or, at least, any Trump supporters who'll admit to it.

The response to the shock has been to turn campuses into kindergarten. The University of Michigan Law School announced a "post-election self-care" event with "food and play," including "coloring sheets, play dough [sic], positive card-making, Legos and bubbles with your fellow law students." (Embarrassed by the attention, UM Law scrubbed the announcement from its website, perhaps concerned that people would wonder if its graduates would require Legos and bubbles in the event of stressful litigation.)

Stanford emailed its students and faculty that psychological counseling was available for those experiencing "uncertainty, anger, anxiety and/or fear" following the election. So did the University of Michigan's Flint campus.

Meanwhile, even the Ivy League wasn't immune, with Penn (Trump's alma mater) creating a post-election safe space with puppies and coloring books:

Student Daniel Tancredi reported that the people who attended were "fearful" about the results of the election.

"For the most part, students just hung out and ate snacks and made small talk," Tancredi told The College Fix. "Of course, that was in addition to coloring and playing with the animals."

At Cornell, meanwhile, students held a "Cry-in."

As the event took place, students — roughly 20 or so, according to the Sun's video — wrote their reactions and emotions on poster boards with colored markers, or with chalk on the ground. A chilly day on the Ithaca campus, at one point the demonstrators huddled together as what appeared to be a barista brought them warm drinks. Several adults, most likely professors, stood around the group. The event appeared to take on the atmosphere of a funeral wake.

Yale had a "group scream."

At Tufts, the university offered arts and crafts, while the University of Kansas reminded students that there were plenty of "therapy dogs" available. At other schools, exams were cancelled and professors expressed their sympathy to traumatized students.

It's easy to mock this as juvenile silliness — because, well, it is juvenile silliness of the sort documented in Frank Furedi's What Happened To The University? But that's not all it is. It's also exactly what these schools purport to abhor: An effort to marginalize and silence part of the university community.

In an email to students, the University of Michigan's President, Mark Schlissel, wrote: "Our responsibility is to remain committed to education, discovery and intellectual honesty — and to diversity, equity and inclusion. We are at our best when we come together to engage respectfully across our ideological differences; to support ALL who feel marginalized, threatened or unwelcome; and to pursue knowledge and understanding."

But when you treat an election in which the "wrong" candidate wins as a traumatic event on a par with the 9/11 attacks, calling for counseling and safe spaces, you're implicitly saying that everyone who supported that "wrong" candidate is, well, unsafe. Despite the talk about diversity and inclusion, this is really sending the signal that people who supported Trump — and Trump carried the state of Michigan, so there are probably quite a few on campus — aren't really included in acceptable campus culture. It's not promoting diversity, it's enforcing uniformity. It's not promoting inclusion, it's practicing exclusion. And, though it pretends to be about nurturing, it's actually about being mean to those who don't fall in the nurtured class. Schlissel says he wants the University of Michigan to be "a welcoming place for all members of society," but how welcome can students who backed Trump feel in the wake of this performance?
Read the whole thing.
13 Nov 2016

18 May 2016

Katherine Timpf, at National Review, reports on a new record in something-or-other set by students at Cal State-LA.
Students at California State University–Los Angeles have set up a "healing" space to deal with pain they were caused by having Ben Shapiro speak on campus — even though that speech was three months ago and most of them didn't even go.

"On February 25th, our campus experienced immense hurt and trauma," states the description for the event, which will take place on Tuesday night.

"Almost two months later, students are still feeling the emotional, mental, and physical effects that this event posed, and nothing has been done to facilitate our healing," it continues. "How can we help each other heal and move forward? How were you affected emotionally, physically, psychologically?"

Here's the real kicker: According to Young Americans for Freedom program officer Amy Lutz, who attended the event, most — maybe even all — of the kids involved in this event didn't even go to the damn speech.