09 Mar 2019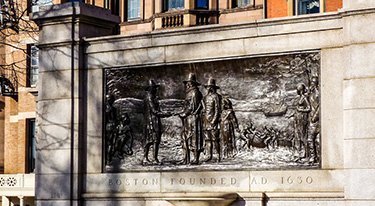 Daniel Flynn, in the American Spectator, says: Yes, you can blame Massachusetts.
William Blaxton, the city's first settler who dwelled alone on Boston Common, invited the Puritans to settle on the Shawmut. They soon encouraged him to leave. "I have come from England because I did not like the Lord Bishops," the first Bostonian lamented. "I cannot join you because I would not be under the lord brethren."

In the next generation, the Puritans, who depicted themselves as paragons of religious freedom (a bit of propaganda so effective that most fall for it today), executed four on Boston Common for the crime of Quakerism.

Beacon Hill, overlooking the Boston Common, served as the epicenter of the Know Nothing Party during its brief, 1850s heyday. The Know Nothings won every congressional seat, every seat in the state senate, every state constitutional office, and all but 3 of 379 seats in the state house of representatives in the 1854 elections in Massachusetts.

H.L. Mencken traveled from Baltimore to Boston in 1926 to sell a copy of The American Mercury, which contained a story about — gasp — a prostitute, to the Reverend J. Franklin Chase. The Watch and Ward Society head handed a half-dollar to Mencken, who hilariously bit the silver coin to affirm the honesty of the minister magazine buyer. He then handed over a copy of The American Mercury, which resulted in his immediate arrest — and the cigar-chomping Mencken throwing his remaining magazines in the air to the crowd gathered at Brimstone Corner at the edge of Boston Common where the entrance to the Park Street station stands.

Boston imagines itself as the Hub of the Universe and the Athens of America. Massachusetts executed more witches than the rest of the colonies combined, "banned in" regularly prefaces the name of its capital city, and Chik-fil-A, plastic bags, leaf blowers, and other annoyances of the enlightened today regularly face official opprobrium.

How to reconcile the former self-perception with the latter reality?

Today's Proper Bostonians deny their ancestry. But a thread runs through the Puritans to the Know Nothings to the Watch and Ward Society to today's do-gooders. Just as the Puritans, the Know Nothings, and the Watch and Ward Society regarded themselves as enlightened, progressive, and cultured, local parochial cosmopolitans imagine themselves as the vanguard of tolerance. Intolerant people remain most intolerant to the idea of their own intolerance.

"As politics have become more about identity than policy, partisan leanings have become more about how we grew up and where we feel like we belong," the Atlantic, which commissioned the survey, points out. "Politics are acting more like religion, in other words."
HT: Bird Dog.