Category Archive 'Removal of Confederate Monuments'
20 Aug 2017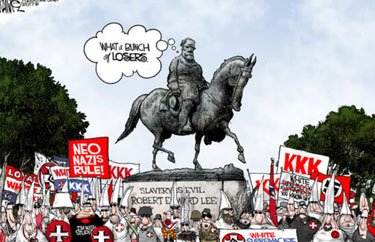 19 Aug 2017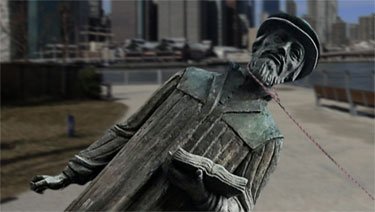 PITTSBURGH, PA—A rowdy gang of angry, riled-up Arminian believers gathered to pull down a statue of Reformer John Calvin standing in front of Calvin Reformed Bible College & Seminary, authorities confirmed Friday.

The band of Wesleyan troublemakers brought a rope, lassoed it around the neck of the stone likeness of Calvin, and yanked it down while yelling rallying cries like "Down with limited atonement!" "You'll never take our free will!" and "For Servetus!"

Mob members then stomped on the statue and spray-painted crude Arminian slogans on the downed Reformer, according to police reports.
16 Aug 2017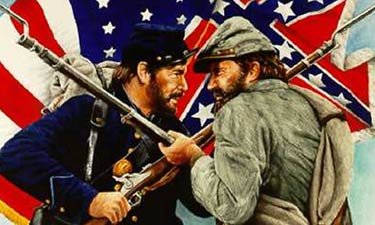 Dan Greenfield has it right.
When the left insists that everyone with white skin is part of white supremacy, that Shakespeare, Beethoven and all of Western civilization embody white supremacy, it's echoing the actual talking points of white supremacy.

If you tell all Obama critics and Trump supporters that they're racists often enough, some will decide that maybe they are racists.

If you tell a student who objects to racially segregated areas on campus that she is a white supremacist, she will be more likely to become one.

When you marginalize everyone to the right of you, some of the marginalized will accept the definition.

And when that happens, the left wins, the extremists win, and it becomes harder to maintain any kind of functioning civil society in which we settle conflicts through compromises rather than street violence.

Compromises are uncomfortable.

After the Civil War, the Union was preserved, but Southerners were allowed to honor their cause. It was an uncomfortable compromise, but it helped limit the violence from a conflict that had claimed the lives of 2% of the population. The Taliban campaign by black nationalists to tear down Confederate memorials was a deliberate effort at shattering a compromise that kept civil society working.

And that too led to Charlottesville.

Uncomfortable compromises are how we learn to live with each other. It means that there can be memorials of Robert E. Lee and streets named after Malcolm X. Tolerating people whose views we don't like is one of the best ways to marginalize domestic extremists. When one set of extremists is empowered to wipe out the other, we end up with a civil war. Just ask Edmund Ruffin and John Brown.

Democrats claim a mandate from the "Right Side of History" to eliminate all the compromises. Catholic nuns must pay for abortions and birth control, Christian bakers and florists must participate in gay weddings, every white person must confess their racism, and every left-wing extremist must get their way.

That's how you tear a society apart.

The Bill of Rights is an uncomfortable compromise. It says that we have to put up with people we don't like. The Democrats, under the influence of the left, are rejecting that idea. But that goes both ways too.

You can have a liberal society or an illiberal one. But you can't have a society that is selectively liberal when it comes to your bigotry, but illiberal of the bigotry of others, that believes you have the right to say anything you please without consequences, but that no one else does, that you can punch, but not be punched. That's a totalitarian state. And the only way to realize it is through violence.

Democrats need to take an honest look at the street violence in Seattle, in Portland, in Berkeley and Charlottesville, and decide if this is what they really want. If they don't, it's time for them to stop normalizing left-wing extremism. If they do, then they are to blame for the next Dallas or Charlottesville.
16 Aug 2017

To Removers of Monuments
Those impassive, silent guardians – will their gaze no longer shame you?
Have they been forever banished? Are you sure?
Can you finally stroll in comfort streets bereft of all reminders?
Is their valor gone, as if it never were?
Spiteful children! Did it gall you that someone so loved, respected these,
Enough to raise their monuments on high—
And you know you've never earned any respect, and never will,
And your blog will be deleted when you die?
"Ingrate, vandal, ignoramus,
Meddler, coward, bully, fool"—
Those are titles your pedestal might bear,
Were your legacy preserved, beyond the web and your own minds –
But I doubt it will last too long even there.
— Joe Long
15 Aug 2017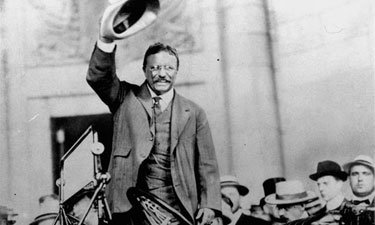 The Guardian reported last Fall that they were already protesting in New York to get rid of Teddy Roosevelt (and to rename Columbus Day).
Hundreds of activists gathered at the American Museum of Natural History on Monday to take down the "racist" statue of Theodore Roosevelt and an urgent call to rename Columbus Day.

More than 200 people cheered outside the museum as activists covered the statue of Roosevelt on horseback flanked by an African American and Native American on either side and demanded it be ultimately removed.

"A stark embodiment of the white supremacy that Roosevelt himself espoused and promoted," the group explained in a statement. "The statue is seen as an affront to all who pass it on entering the museum, but especially to African and Native Americans."

Activists from the groups NYC Stands with Standing Rock and Decolonize This Place organized the protest to draw attention to the museum's encouragement of racist tropes, and implored New York City to rename Columbus Day to Indigenous People's Day.
14 Aug 2017

Why would anyone want to attack the political choices and public careers of people who lived a century and a half ago? The Civil War is over. The cause of Southern Independence was defeated. Slavery was extinguished. The actual Northern soldiers who fought the Confederates on the field met with them amicably at reunions years later and shook hands. There is a video of a Gettysburg Reunion that shows elderly Yankees atop Cemetery Ridge cheering old white-haired Confederate veterans re-enacting Pickett's Charge. A national consensus emerged after the war, that recognized that Southerners had their own honestly-held, honorable point of view in the conflict, and that their bravery and sacrifices deserved the respect of their opponents. Recently, the rancid radical Left has decided to try to overturn that consensus, as a grand masturbatory exercise in historical self-righteousness and to flatter the amour propre and fan the grievances of its dependent black clientele. This is a shoddy and divisive game, dishonorable and violative of our shared American history.
14 Aug 2017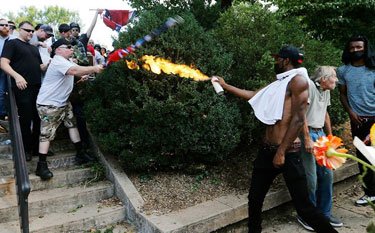 No police intervention occurred even when black ANTIFA counter-demonstrators used aerosol flame-throwers.
My various left-wing correspondents are all energized by the violence in Charlottesville, and are demanding that those of us on the Right take the blame, apologize, and get busy denouncing all those racists and White Supremacists.
It's sad to see left-right violence, including pepper spray and baseball bats, on American streets, reminding us all a bit of Weimar Germany. But it was obviously not the Conservative Movement, not even the Alt-Right, that brought about these kinds of poisonous national divisions, that fostered all the chauvinistic identity politics, and that provoked the violence.
Our friends on the Left are demanding that we denounce all the demonstrators protesting the removal of the Lee Statue and that we agree to identify all of them as "White Supremacists" and dismiss their motivations as "racism." There were clearly some fringe group crazies participating in the demonstrations and some unsavory people were present, but that doesn't make everyone who demonstrated a Nazi, a Klan member, or a White Supremacist.
I don't recall any time I have ever heard our friends on the Left denouncing the most extreme communist radicals responsible for violence. Actually, they offer excuses, blame the anger of their radical extremists on America and the rest of us, and when their bomb-building murderers get out of jail, they give them teaching positions at universities.
So, sorry, I have no intention of identifying the generality of demonstrators as White Supremacists. I think they were mostly normal people defending their regional and cultural identity, who had been at last pushed too far, who were finally fed up with being insulted and marginalized.
I don't think most people there had any connection at all to the crazy person from Ohio who drove his car into the counter-demonstrators or to the zanies carrying Swastika flags. And it seems obvious to me that left-wing local and state government took a partisan role, instructing state and city police to stand aside and let ANTIFA thugs intimidate and rough up the demonstrators trying to defend the monument.
The Left, today, is playing its usual propaganda games, trying to stigmatize and shame the opposition, but I think they fail to understand that they've been using the same tactics and techniques too long. The Alt-Right is reading Saul Alinsky, too. Their pet media has lost credibility with much of the country, and a lot of us are just completely tired of having the Left play the Race Card.
13 Aug 2017


Erection of Lee Monument in Charlottesville, Virginia, 1924
VDare claims the police were on ANTIFA's side.
[T]he police did not protect demonstrators from Antifa and did little to prevent confrontations. Attendees of the demonstration, rather than walking a clear path to the park, were instead forced to walk through a line of screaming protesters. Liberal clergyman and elderly women held signs about "peace" and "love" and smiled benevolently—as violent Leftist protesters attacked from the crowd. They are as culpable as the Antifa themselves for the violence unleashed.

But that was not close to the worst. Demonstrators did not need protection from Antifa. All the police would have had to do to ensure a safe demonstration was simply go home—which is what happened in Berkeley. Patriots equipped with shields, inured to Antifa tactics of throwing bricks and spraying mace, had secured Lee Park (excuse me, "Emancipation Park") and may indeed have outnumbered both Antifa and counter-demonstrators in terms of pure numbers. Several were armed, and the city fathers should be offering Unite The Right activists tearful tributes for the latter's saint-like restraint in not opening fire despite more than justified provocation.

If police had done nothing, the public would have been safer. Instead, unforgivably, the police attacked (not dispersed—attacked) the legal demonstration, threatening attendees with arrest if they stayed in Lee Park.

Then activists, totally unprotected by police, were deliberately funneled into a gauntlet of attacking Communists, in a kind of Kill Zone. Injuries on both sides were predictable. (Of course, much like cuckservatives who bow and scrape to the Main Stream Media, the police were then insulted by the Communists for their trouble.

This could have been a relatively stable situation: a patriot demonstration protected by its own shield wall (and ideally, by police who actually did their job) along with a separate group of Leftist protesters, with both groups enjoying the right to free speech supposedly guaranteed them by the Constitution.

Instead, the police precipitated a running battle which engulfed all of Charlottesville. The result: Antifa running wild and chasing down isolated pockets of Unite The Right attendees as the latter defended themselves as best they could, with bystanders were caught in the melee. Police showed no interest in doing anything other than threatening patriots with arrests for "unlawful assembly."

In contrast, of course, Leftists were free to disobey the laws and marched merrily down the streets, many chanting "Black Lives Matter!", causing chaos as they went. As Rebel Media's Faith Goldy reported, this was an absurd "double standard." Anarcho-Tyranny was the order of the day in C-Ville.
I don't look upon VDare as an unimpeachable source, but we are not going to find a lot of descriptions of yesterday's violence sympathetic to the demonstrators trying to defend the statue. It does make sense that the police would be on counter-demonstrators' side, they are working for the same City Council that renamed the park and that voted to remove the statue of General Lee.
18 May 2017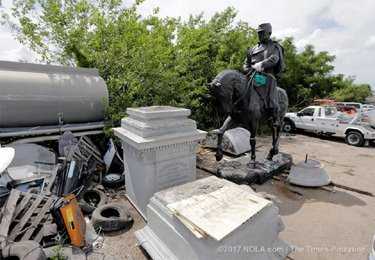 MacAoidh notes that the revolutionary Left is reveling in its power to tear down monuments in New Orleans because that city, like so many others in this country, has become a one-party state ruled by a democrat party kleptocracy with a guaranteed grip on office.
Intelligent adults can see a Beauregard or a Robert E. Lee or a Jefferson Davis for the complex humans they were, and learn the lessons their lives can teach. Intelligent adults can also mark their contributions to what is good in our society while acknowledging their failings and those of the time in which they lived.

But it's clear we have a shortage of intelligent adults. We particularly have that shortage in New Orleans, and have for some time.

It has worsened in recent years, but the exodus of intelligent adults – it's been called "white flight," but this is a lie; the middle class and the productive class is made up of people of all races, whether they share similar politics or not – from New Orleans is half a century old. As such, the city is made up of a new class of post-Katrina carpetbaggers, college students who hail mostly from far away, a giant underclass living on poor wages and government assistance, an outsized criminal class in and out of the penal system, small pockets of put-upon middle class homeowners and a declining monied elite. Most of the people who make the New Orleans metro area work have moved out of the city limits, and most of those moved away a generation or two ago.

And it's mostly those people who have taken up the cause of those monuments. Not because they're "white supremacists;" that is an ugly slur thrown around by the same social justice warriors who throw around racism as a towel into the ring in admission they lack a better argument. They wish to preserve the history, and a connection to the culture they and their families were raised in.

But they don't live in New Orleans anymore.

That feeling of powerlessness, of knowing there is nothing they can do to stop the bowdlerization of the city's history and that of the region, carries with it pain, to be sure. But that powerlessness is a choice; these people left. That's not an indictment of them; they left for a better life in the suburbs or in another city. But the choice carries a consequence – when you leave, it's those you leave behind who make the decisions in New Orleans. And when what's left is a city of fools who make stupid decisions, last night is the natural result.

The question is what to do about it. Should the productive class, the protectors of the history and tradition of the region, the put-upon and the assailed simply move on? If so, don't be surprised when the Beauregard takedown begets the Lee takedown and the Lee takedown begets the takedown of the Andrew Jackson statue in the famous square which bears his name.

Perhaps this can't be stopped. Perhaps all that can be done is to inflict one's own set of consequences on those left in the city.

After all, the productive classes in the suburbs still contribute an enormous economic impact to New Orleans. Maybe that should be rethought. Maybe the restaurateurs who live in Metairie should move their businesses closer to their homes. Maybe the lawyers and stockbrokers with offices in Orleans Parish should decamp for the 'burbs and eschew the commute.

And maybe the captains of the Mardi Gras krewes who contribute such a massive amount to the city's economy each year ought to rethink what they're doing. After all, those krewes were all formed by the same people who contributed to the erection of the Lee, Davis and Beauregard statues. Their heritage is bound up in the same package as those monuments Mitch Landrieu and his bowdlerizing fan club have been howling to destroy.

And most of those krewe members don't live in New Orleans anymore, either.

There are lots of parade routes in Metairie and Kenner, and lots of them in St. Tammany Parish. Those routes might not have the tradition of a St. Charles Avenue or Canal Boulevard, but they also don't have the elevated risk of paradegoers being shot or the dysfunctional police department incapable of arresting the bad guys.

And these judgments can now be made, because of this corrosive, stupid modern mentality which is taking down the monuments. If the culture which gave us Beauregard is to be scrubbed, then the fruits of that culture shouldn't be enjoyed – and those wonderful Mardi Gras parades are some of those fruits. Let the good follow the bad out of the city, and let Bacchus and Endymion and the others roll down Veterans Boulevard or Metairie Road for a time.

Landrieu has cast his marker down. New Orleans' traditions and cultural patrimony is no longer welcome. So be it. Let the full consequences of that decision fall. And if "we don't live there anymore," then let the economic and other effects of that be felt.
Thought experiment: how much longer would democrat party machines control US cities, how long would it be before working middle class Americans and families returned to them, if we somehow arranged to tear down all welfare housing and deported from those cities everybody on welfare?