28 Feb 2023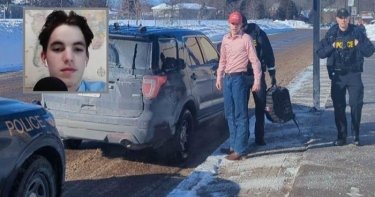 Josh Alexander, a 16-year-old student in the 11th grade at St. Joseph's Catholic High School in Canada, was suspended this month for expressing his religious and moral objections to the school's transgender bathroom policy.

St. Joseph's Catholic High School in Renfrew, Ontario, allows males identifying as transgender girls to use bathrooms designated for females.

Alexander was first suspended for protesting the school's transgender policy in November, on the grounds he was "bullying."

When he tried attending class on Feb. 6, he was subsequently suspended again and arrested for trespassing.
———————————-
[I]n case you were wondering just how bad things have gotten in Canada, on to today's main story.

Catholic student arrested at Canadian Catholic school—for saying that there are only two genders

Defend Josh Alexander, Student arrested after opposing Gender Ideology

In November of 2021, Josh Alexander was suspended from St. Joseph's Catholic High School in Renfrew, Ontario. Alexander is in the 11th grade, and he had stated the fact that there are only two genders. He didn't bring up the subject randomly. The class was discussing gender.

"It was about male students using female washrooms, gender dysphoria and male breastfeeding," Alexander said. "Everyone was sharing their opinions on it, any student who wanted to was participating, including the teacher. I said there were only two genders, and you were born either a male or a female, and that got me into trouble. And then I said that gender doesn't trump biology."

Josh Alexander was kicked out and told that he couldn't return until he changed his mind. St. Joseph's stated that he couldn't attend classes until he affirmed that he would not "use the 'dead name' of any transgender student and agree to exclude himself from his two afternoon classes because those classes are attended by two transgender students who disapprove of Josh's religious beliefs." A "dead name" is transgender lingo for the name given to students at birth; Alexander says this has never come up.

On February 6, Alexander arrived at school to attend classes anyways. The school called the police, and the 11th grader was arrested—for saying that there are two genders at a Catholic school. "They definitely quote Scripture," Alexander noted. "But at the same time, for every crucifix on the wall, there's also a Pride flag. And there's a lot of gender ideology and encouragement of gender dysphoria."