Category Archive 'IRS'
15 Apr 2015

06 Jun 2013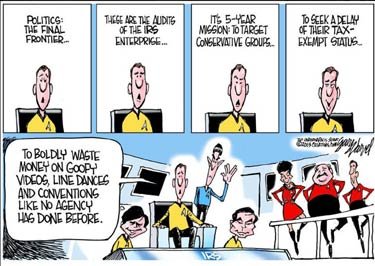 22 May 2013

Embattled IRS official Lois Lerner will invoke her Fifth Amendment right not to incriminate herself when she appears before the House Oversight Committee on Wednesday.

In a letter to Oversight Chairman Darrell Issa (R-Calif.), Lerner's attorney William W. Taylor III cites the Justice Department's criminal investigation into the issue of whether the IRS singled out tea party and other conservative groups for extra scrutiny.

Lerner, who oversaw the IRS nonprofit department, will be the first person involved with the IRS scandal to publicly invoke the Fifth Amendment.

"Just when you think things can't get any stranger around here, they take a twist," Sen. John Cornyn (R-Texas) told POLITICO, adding, "this is a very serious matter."

Taylor's letter requests that Lerner be excused from testifying, but Issa has issued a subpoena to compel her appearance.

"Requiring her to appear at the hearing merely to assert her Fifth Amendment privilege would have no purpose other than to embarrass or burden her," Taylor wrote.
20 May 2013

Jonah Goldberg points out that nobody needs to find a specific order in Barack Obama's handwriting. He has made it very clear, time again, that anyone daring to oppose his policies or himself is beyond the pale.
Obama's culpability in all of this isn't restricted merely to his sins of omission. Throughout his presidency, Obama has set a very clear tone.

He's made it clear that people who disagree with him are fevered, illegitimate, weird, creepy, dangerous, stupid, confused, ignorant, or some other adjective you might assign to a revamped version of the Seven Dwarfs. He's explained that he doesn't mind "cleaning up after" Republicans but he doesn't want to hear "a lot of talking" from them. The time for democratic debate is always behind us with an administration that began with the mission not to let a crisis go to waste, for as Obama said in his second inaugural address, "Progress does not compel us to settle centuries-long debates about the role of government for all time, but it does require us to act in our time."

Moreover, President Obama often insists we live in a country where the "government is us," where there's no need to fear tyranny "around the corner" because we could never be tyrannical against ourselves.
20 May 2013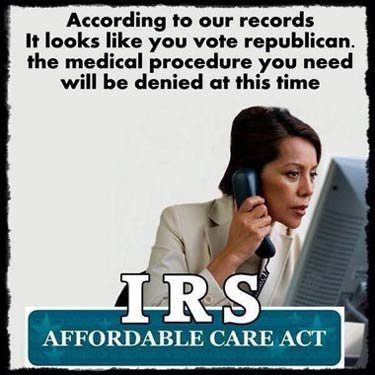 Via Vanderleun.
18 May 2013

Mike Kelly (R- PA 3rd ), at hearings this week. reams acting IRS commissioner Steven Miller and receives a standing ovation.
25 May 2011

Michael Barone cites 1,372 waivers from Obamacare, the NLRB's intervention to prevent Boeing building an assembly plant in South Carolina, and an innovative attempt by the IRS to apply gift taxes to certain 501(c)(4) organizations guilty of supporting Republican candidates.
Punishing enemies and rewarding friends — politics Chicago style — seems to be the unifying principle that helps explain the Obamacare waivers, the NLRB action against Boeing and the IRS' gift-tax assault on 501(c)(4) donors.

They look like examples of crony capitalism, bailout favoritism and gangster government.

One thing they don't look like is the rule of law.
—————————————
Warner Todd Huston finds the same "Chicago Way" of doing things applies also to White House press pool access.
The Boston Herald recently found itself excluded from the press pool covering presidential visits. The Herald angrily reported finding out the reason for the ban.
The White House Press Office yesterday refused to address its policy on choosing local reporters for pool coverage, after the Herald was denied full access to the president's Boston visit this week in part because the administration didn't like the newspaper's coverage. A press staffer's e-mails cited a Mitt Romney op-ed that ran March 8 on the front page, challenging Obama's policies the same day the president came to town for a fund-raiser.
06 Apr 2010

If you don't buy the health insurance policy the so-called Health Care Reform Bill mandates, Big Brother has ways of dealing with you, the Daily Caller reports.
Individuals who don't purchase health insurance may lose their tax refunds according to IRS Commissioner Doug Shulman. After acknowledging the recently passed health-care bill limits the agency's options for enforcing the individual mandate, Shulman told reporters that the most likely way to penalize individuals that don't comply is by reducing or confiscating their tax refunds.
15 Apr 2009