Category Archive 'Swiss Army Knife'
27 Feb 2021

07 Jun 2019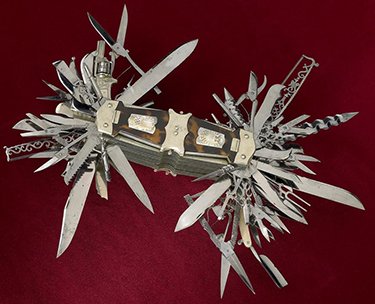 This crazy and incredibly complicated multi-tool was made in Solingen, Germany, around the early 1880's for J. S. Holler & Co.'s cutlery store in New York City.

And when I mean multiple blades, I mean 100 blades, and that's not even the craziest part.

According to the National Museum Of American History, "It includes pocket knife blades of every style imaginable, a serrated blade, two dagger blades, several different types of shears and scissors, an auger, a corkscrew, two saws, a lancet, button hook, cigar cutter, tuning fork, pens and mechanical pencils, mirror, straight razor, and a functional .22-caliber five-shot pinfire revolver.
24 Jun 2014

29 May 2014

30 Jan 2010

How old is the Swiss Army Knife? Conventional wisdom would hold that the multi-tool pocket knife was invented by Karl Elsener in Ibach Schwyz in 1896.
But as this Daily Mail feature article proves, the idea of a folding knife incorporating additional tools is much, much older.
The world's first Swiss Army knife' has been revealed – made 1,800 years before its modern counterpart.

An intricately designed Roman implement, which dates back to 200AD, it is made from silver but has an iron blade.

It features a spoon, fork as well as a retractable spike, spatula and small tooth-pick.

Experts believe the spike may have been used by the Romans to extract meat from snails.

It is thought the spatula would have offered a means of poking cooking sauce out of narrow-necked bottles.

The 3in x 6in (8cm x 15cm) knife was excavated from the Mediterranean area more than 20 years ago and was obtained by the museum in 1991.

The unique item is among dozens of artefacts exhibited in a newly refurbished Greek and Roman antiquities gallery at the Fitzwilliam Museum, in Cambridge.

Experts believe it may have been carried by a wealthy traveller, who will have had the item custom made.

A spokesman said: 'This was probably made between AD 200 and AD 300, when the Roman empire was a great imperial power. …

'While many less elaborate folding knives survive in bronze, this one's complexity and the fact that it is made of silver suggest it is a luxury item.

'Perhaps a useful gadget for a wealthy traveller.'
24 Aug 2006

Outdoor Life reports Wenger is offering the ultimate pocket knife: a nine inch, two pound, Swiss Army Knife including every single blade and tool, all 85 of them.
Who doesn't need a cigar cutter next to a bicycle chain rivet setter next to a golf divot repair tool? Wenger is on to something with this everyman's gadget. It wouldn't be a knife, though, without a blade, so Wenger put seven in the line-up. And it wouldn't be Swiss Army unless it came with tweezers and a toothpick. (They're included, too.)