07 Jun 2019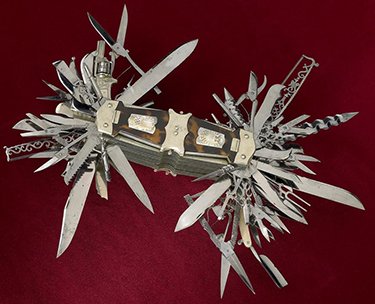 This crazy and incredibly complicated multi-tool was made in Solingen, Germany, around the early 1880's for J. S. Holler & Co.'s cutlery store in New York City.

And when I mean multiple blades, I mean 100 blades, and that's not even the craziest part.

According to the National Museum Of American History, "It includes pocket knife blades of every style imaginable, a serrated blade, two dagger blades, several different types of shears and scissors, an auger, a corkscrew, two saws, a lancet, button hook, cigar cutter, tuning fork, pens and mechanical pencils, mirror, straight razor, and a functional .22-caliber five-shot pinfire revolver.