Category Archive 'The Elites'
30 Jun 2016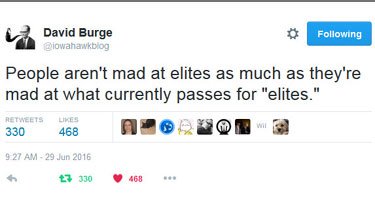 27 Jun 2016

Megan McArdle tries to explain to the elites why Brexit won.
When asked "Where are you from?" almost no one would answer "Europe," because after 50 years of assiduous labor by the eurocrats, Europe remains a continent, not an identity. As Matthew Yglesias points out, an EU-wide soccer team would be invincible — but who would root for it? These sorts of tribal affiliations cause problems, obviously, which is why elites were so eager to tamp them down. Unfortunately, they are also what glues polities together, and makes people willing to sacrifice for them. Trying to build the state without the nation has led to the mess that is the current EU. And to Thursday's election results.

Elites missed this because they're the exception — the one group that has a transnational identity. And in fact the arguments for the EU look a lot like the old arguments for national states: a project that will empower people like us against the scary people who aren't.

Unhappily for the elites, there is no "Transnationalprofessionalistan" to which they can move. (And who would trim the hedges, make the widgets, and staff the nursing homes if there were?) They have to live in physical places, filled with other people whose loyalties are to a particular place and way of life, not an abstract ideal, or the joys of rootless cosmopolitanism.

Even simple self-interest suggests that it may be time for the elites in Britain and beyond to sue for peace, rather than letting their newborn transnational identity drive them into a war they can't win.
Read the whole thing.
12 Feb 2016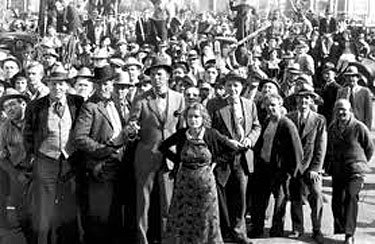 Justin Raimondo is cheering as the mob bearing pitchforks and torches advances on the castle.
The results of the New Hampshire primary are in, and the big winner is the new populism: that mysterious pro-"outsider" phenomenon that has the political class in a panic, and which no one has adequately defined – including its current practitioners. …

Ideologically, what New Hampshire tells us is that the "centrist" anti-"extremist" political paradigm that has restricted our political perceptions – and choices – for lo these many years is obsolete. For months, voters have been told that someone who defines himself as a "democratic socialist" could never mount a credible challenge to Queen Hillary, and that the victory of the Clinton Restorationists is inevitable. Now, however, nothing seems inevitable, as voters ignore the media and its version of the conventional wisdom, and the "political revolution" led by Sanders seems fully capable of upending the Democratic party.

On the Republican side of the equation, it's much the same story – only more so. While the Sanderistas are a movement of the "left," Trumpism is less easily categorized as a rightist phenomenon. On domestic economic issues, Trump is all over the place: he wants to lower the tax rate, but penalize the financial speculators: he opposes Obamacare, and wants to allow competition between insurance companies over state lines, but he also wants to take care of the indigent. He is protectionist on trade, tough on crime, and even tougher on immigration – all stances one would normally associate with the paleo-conservatives. And yet when it comes to defense spending and foreign policy, on close inspection he is remarkably "left": he opposes a new cold war with Russia, doesn't' want us in Syria, highlights his opposition to the Iraq war, and has recently declared that he opposes hiking the military budget. He wonders aloud why we are pledged to defend both South Korea and Japan while they "screw us over' on trade.

Indeed, when it comes to foreign policy he is a lot closer to Sanders than to any of his Republican rivals. And on trade policy, too, the Sanderistas and the Trumpists sound eerily alike: both movements are protests against the hollowing out of America's industrial capacity and the rise of paper-pushing financiers as the robber barons of a New Gilded Age. The divide between them is not so much ideological as demographic: Sanders holds the loyalty of the under-30 crowd, while Trump garners the allegiance of their parents and grandparents. What unites them is their rebellion against the political class and a system built on cronyism and perpetual warfare.

What the twin victories of these two protest movements prefigure is the rise of a new nationalism in America. Not the outward-looking aggressive militaristic nationalism of pre-World War II Europe, but the introspective insulating "return to normalcy" nationalism of prewar America: wary of foreign adventurism, almost exclusively concerned with bread-and-butter issues, resentful of a "meritocracy" that rewards anything but genuine merit, and in search of a lost greatness they may never have experienced but only heard about. …

The political and corporate elites that have ruled, unchallenged, since the end of World War II, and whose perspective is globalist, imperialist, and mercantilist, is facing a serious insurrection: the peasants with pitchforks are gathering in the shadow of the high castle, their torches illuminating the twilight of the West. Whether they succeed in penetrating the fortress and violating the inner sanctum matters less than the destructive effects of the battle itself. Does our ruling class have the will to fight and win? We'll have the answer shortly.
Yes, it's all lots of fun, and a revolt against the American pseudo-intellectual, urban community of fashion establishment is long overdue, but neither a geriatric hippie communist nor an egomanaical vulgarian is a leader fit to be entrusted with power. If you don't like the current frozen economy, just go elect Comrade Bernie or Smoot-and-Hawley Donald and see what you get.
Hat tip to Bird Dog.
12 Sep 2015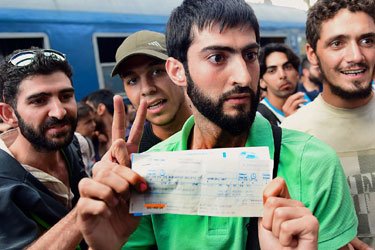 Peggy Noonan argues that the European Refugee crisis features a major disconnect between the influential elites making the decisions and the ordinary citizens who have to live with the consequences.
Rules on immigration and refugees are made by safe people. These are the people who help run countries, who have nice homes in nice neighborhoods and are protected by their status. Those who live with the effects of immigration and asylum law are those who are less safe, who see a less beautiful face in it because they are daily confronted with a less beautiful reality—normal human roughness, human tensions. Decision-makers fear things like harsh words from the writers of editorials; normal human beings fear things like street crime. Decision-makers have the luxury of seeing life in the abstract. Normal people feel the implications of their decisions in the particular.

The decision-makers feel disdain for the anxieties of normal people, and ascribe them to small-minded bigotries, often religious and racial, and ignorant antagonisms. But normal people prize order because they can't buy their way out of disorder.

People in gated communities of the mind, who glide by in Ubers, have bought their way out and are safe. Not to mention those in government-maintained mansions who glide by in SUVs followed by security details. Rulers can afford to see national-security threats as an abstraction—yes, yes, we must better integrate our new populations. But the unprotected, the vulnerable, have a right and a reason to worry.

Here is the challenge for people in politics: The better you do, the higher you go, the more detached you become from real life. You use words like "perception" a lot. But perception is not as important as reality.

The great thing in politics, the needed thing, is for those who are raised high in terms of responsibility and authority to be yet still, in their heads and hearts, of the people, experiencing life as a common person on an average street. The challenge is to carry the average street inside you. Only then, when the street is wrong, can you persuade it to see what is right.

The biggest thing leaders don't do now is listen. They no longer hear the voices of common people. Or they imitate what they think it is and it sounds backward and embarrassing. In this age we will see political leaders, and institutions, rock, shatter and fall due to that deafness.
25 Oct 2014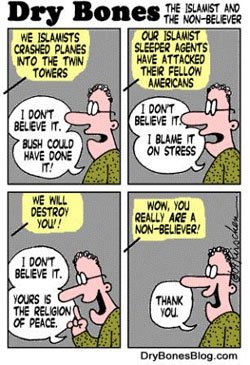 Dan Greenfield (very amusingly) compares the Western elites determination to believe in "the Religion of Peace" with Nigerian email investment opportunities, and finds that the root of those elites' delusion lies in their determination to pretend that the world we are all living in is the same as the world they desire.
Western elites, who fancy themselves more intelligent and more enlightened than the wise men and prophets of every religion, and who base their entire right to rule on that intelligence and enlightenment, are not in the habit of admitting that they have been played for fools. …

In 1993, Israel cut a land-for-peace deal with a greasy Egyptian bloke named Yasser Arafat. The Cairo-born Arafat would turn his gang of terrorists into a government and police force, and rule over an autonomous territory, in exchange for ending the violence. Clinton smiled beatifically as hands were shaken and a new era of peace was upon us.

The era, however, has yet to show up.

Over two decades of terrorism have not shaken the belief of the American or Israeli establishments in the "Two-State Solution", which has solved absolutely nothing, except perhaps the problem of how to make the Middle East into an even worse place. As the violence increased and the pathways to peace decreased, American Presidents and Israeli Prime Ministers redoubled their concession offers and their faith in the Two-State Solution—now an article of faith in most circles. Denial isn't just a river in Egypt; it also laps at the shores of Tel Aviv, flows out to the English coast and floods cities across Europe.

Ask a Eurocrat for the time of day and he'll calculate how much to charge you for the subsidies to the artisanal clock farmers that it will take to answer that question. Ask him about Islamic integration and he will instantly tell you that everything is going smoothly and the problems only exist in the minds of a few bigots and the pages of a few sensationalized tabloids.

Muslim integration into Europe is going swimmingly, much like the Israeli-Palestinian peace process and the Arab Spring. It's going like a house on fire, not to mention a bus, a lot of cars and two towers on fire—on the other side of the Atlantic. Whatever problems there are, as with the peace process and the spring process, are undoubtedly the fault of someone who isn't a Muslim. …

Most people project their own desires and motivations on to others. Americans assumed that Muslims just wanted democracy, free enterprise and apple pie. Muslims assume that Americans are conspiring to destroy them through a byzantine series of plots and conspiracies, because that is what they would do in our place… and that is what they are trying to do.
Good article, read the whole thing.
24 May 2014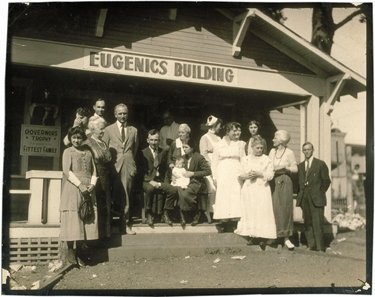 Noemie Emerie describes how the Progressive elite found the champion of their dreams, marched into power, but then wildly overreached.
They had a dream. For almost a hundred years now, the famed academic-artistic-and-punditry industrial complex has dreamed of a government run by their kind of people (i.e., nature's noblemen), whose intelligence, wit, and refined sensibilities would bring us a heaven on earth. Their keen intellects would cut through the clutter as mere mortals' couldn't. They would lift up the wretched, oppressed by cruel forces. Above all, they would counter the greed of the merchants, the limited views of the business community, and the ignorance of the conformist and dim middle class.

Out of sorts and out of office after 1828, when power passed from the Adamses to the children of burghers and immigrants, they had begun to strike back by the 1920s, led by the likes of George Bernard Shaw, H. G. Wells, H. L. Mencken, Herbert Croly, and Sinclair Lewis. Their stock in trade was their belief in themselves, and their contempt for the way the middle class thought, lived, and made and spent money: Commerce was crude, consumption was vulgar, and industry, which employed millions and improved the lives of many more people, too gross and/or grubby for words. "For the American critics of mass culture, it was the good times of the 1920s, not the depression of the 1930s, that proved terrifying," says Fred Siegel, whose book The Revolt Against the Masses describes and eviscerates this group and its aspirations. In their dream world, "intellectuals, as well as poet-leaders, experts, and social scientists such as themselves would lead the regime," as Siegel tells us. "It was thus a crucial imperative to constrain the conventional and often corrupt politics of middle-class capitalists so that these far-seeing leaders might obtain the recognition and power that was only their due." …

[T]he elites had to wait for the man of their dreams.

When they found him, he was a rare breed: a genuine African American (his father was Kenyan) who thought and talked like the academics on both sides of his family, a product of the faculty lounge who dabbled in urban/race politics, a man who could speak to both ends of the liberals' up-and-down coalition, and a would-be transformer of our public life whose quiet voice and low-key demeanor conveyed "moderation" in all that he spoke and did. Best of all, he was the person whom the two branches of the liberal kingdom—the academics and journalists—wanted to be, a man who shared their sensibilities and their views of the good and the beautiful. This was the chance of a lifetime to shape the world to their measure. He and they were the ones they were waiting for, and with him, they longed for transcendent achievements. But in the event they were undone by the three things Siegel had pegged as their signature weaknesses: They had too much belief in the brilliance of experts, they were completely dismissive of public opinion, and they had a contempt for the great middle class.

From the beginning, they made it clear that the Obama regime would be different from all others that had come before. The damaged economy was the critical issue, but the creation of jobs took a back seat to boutique left-wing causes. The stimulus, costing more than a trillion dollars, came and went leaving nothing behind it, unlike the spending of FDR's era, which at least for a while gave jobs to real people, and left behind things like bridges and dams and parks. "Climate change" had become an obsession, symbolized by the refusal to act on the Keystone pipeline proposal, which would have created jobs in Middle America, but which Obama's Hollywood backers denounced as unclean.

But nothing did so much as the historic, transcendent health care proposal to contradict David Brooks's contention, in the summer of 2009, that the president "sees himself as a Burkean" and "understands complexity and the organic nature of change." Social Security had been large, but made no change in the structure of government, and the Welfare Reform Act of 1996 (signed by Bill Clinton at the Republicans' urging) was based on successful experiments at the state level conducted by governors of both parties. The Affordable Care Act looked for advice to academics, not governors, and proposed the state takeover of an industrial complex responsible for one-sixth of the gross national product based not on what had been proved to work through experience, but on what some intellectuals had guessed might work. If a camel is a horse designed by a committee, this camel was a 2,801-page non-bestseller filled with labyrinthine riddles that nobody seemed to know how to solve. To insure approximately 18 million out of 300-plus million Americans (they confessed the plan would still leave 20 million uninsured), they proposed to spend trillions on a reengineering of the entire system that would in time cause 80 to 100 million of the currently insured to lose and to seek new insurance.
Read the whole thing.
31 Jan 2011

Tom Smith is worried that all that overachieving may lead to a sense of entitlement encompassing rather more than a lot of Americans might like.
[I]f some parents want to push their children, even to an extent that seems crazy to me, so that they will end up wonderful musicians or inventive scientists, this is much to my advantage. Who knows, little tiger girl may end up playing Mahler in a new way, and add some new meaning to my life. I may download that mp3, listen to it on my iPod or whatever we have 25 years from now, and the world will be a little better place. Or some Tiger dad will make his kitten memorize the periodical table at age three and when he grows up he will invent donuts that make one lose weight. You never know. It could happen. These would be good things for the world, maybe not so much for the kid, or maybe it would. I am happy leaving that one for the psychologists.

But here's the thing. And here the point has been made easier to make by the curious fact that Tiger Mom is a Yale Law School professor and as Professor Bainbridge has pointed out, it seems almost an epidemic among faculty parents in New Haven. My fear is that little tiger kittens are not being groomed to make things that you and I can buy if we feel like it. I'm afraid, call me paranoid if you like, that those little achievers will want to grow up to, well, rule. Not in the imperial Chinese way, though I take it that is the ultimate inspiration for this model of child rearing. If my high school understanding of Chinese history is correct, that Empire used to be ruled by a giant bureaucracy into which one got by passing extraordinarily difficult exams, competing against other fanatically hopeful parents who saw it as one of the few ways to get the young persons out of a life of horrible drudgery. But rather in something more like the imperial Chinese way than my ideal, which is more like Thomas Jefferson's, without the antique and misguided dislike of commerce. So, if I'm sitting in the middle of my Jeffersonian space, able to order whatever I want, within my budget of course, from Amazon, working at something I like, not taxed to death or harassed by officious officials; if I can provide for my family and hope to provide a similarly independent life for my offspring, then what's it to me if some mom somewhere wants to drive her children so that someday they will produce a recording or a pill I might want to buy? Only good. But if we are sliding toward a world like the one that is, to exaggerate only a little, like that I was taught we should be sliding toward when I restlessly roamed the hallowed halls the The Yale Law School many years ago, then I am not so sanguine. Then I worry that all this fierce intelligence, all this ambition, all this work are going toward the building of world in which my children will be mere, well, what do you call the people who support those who so intelligently manage things from on top. Not to mention the unbelievably well educated 35 year old who will tell me someday I didn't score well enough in some algorithm I can't even understand to get my arteries bypassed or my prostate cancer treated. I want to live in a world, and I want my children to as well, where we are free individuals, and geniuses can sell us stuff if we want to buy it. When I suspect the little elites of tomorrow are just being made more formidable still, it excites not my admiration as much as my anxiety.
Hat tip to Glenn Reynolds.
09 Sep 2010

Eric Erickson wonders what the elites would do if radical Muslims started demanding prayer in US schools.