Category Archive 'Utopianism'
22 May 2017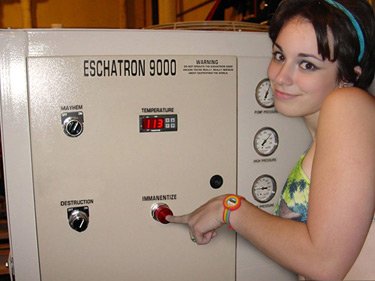 Explanation here.
Hat tip to Vanderleun.
11 Aug 2014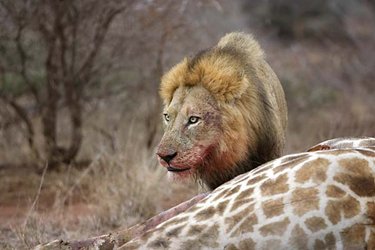 Nicholas James Pell, in Taki's Magazine, deplores the radical Utopian Left's desire to re-make predatory animals into vegetarians and remodel all of Nature into a "pan species welfare state."
[O]ne of the curious things about leftist egalitarianism: it tends to eat everything in its path. The second you start believing that all men must be re-created equal, under penalty of law, the road to reasonable accommodations for people who think they're elves or those who prefer to see multiple personality disorder as a lifestyle choice isn't too long. And so we live in a world where grown men (or at least Ronan Farrow) get paid beaucoup bucks to go on television and bemoan the lack of ethnic diversity in cartoon smileys used by teenage girls for whom typing out whole words is too much of a bother.

Nor, when you accept the secular postmillennialist argument that humans need to wipe out every trace of injustice on Earth, is it that big of a leap to argue in favor of changing the genetic code of wild animals to make them stop eating meat—though it's still not clear why the plan to eliminate suffering from the world doesn't include anything about rescuing plants from consumption. Carnivorous animals, specifically lions, are singled out as "sociopathic killing machines." David Pearce, the "independent philosopher" and transhumanist vegan who cooked up the Hedonistic Imperative, seems somewhat less interested in reprogramming carnivorous animals than he is in eliminating them.

To wit: "To judge that lions should exist is to affirm that it is better, in some sense, that sociopathic killing machines prowl the Earth rather than alternative herbivores."

I'm somewhat sympathetic to the argument that people who have never field dressed an animal don't get to to grouse about animal welfare.
Read the whole thing.
13 May 2013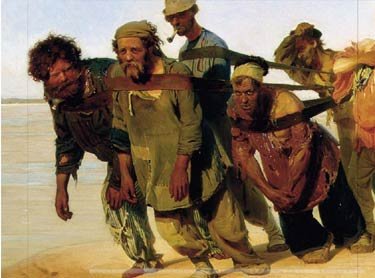 Ilya Repnin, Detail, Бурлаки на Волге [Burlaks on the Volga], 1873, State Russian Museum, St. Petersburg
"The problem with utopia is that it can only ever by approached across a sea of blood and you never arrive."
— Peter Hitchens
Via Insidewarp.
18 May 2012

Hugh Kingsmill, "The Genealogy of Hitler", section 1, The Poisoned Crown (1944):
Most of the avoidable suffering in life springs from our attempts to escape the unavoidable suffering inherent in the fragmentary nature of our present existence. We expect immortal satisfactions from mortal conditions, and lasting and perfect happiness in the midst of universal change. To encourage this expectation, to persuade mankind that the ideal is realizable in this world, after a few preliminary changes in external conditions, is the distinguishing mark of all charlatans, whether in thought or action.
04 Jun 2010

Jonah Goldberg argues that the hedonic consumerism nightmare of Aldous Huxley's Brave New World (1932) has proven more accurately prophetic of the dystopian direction of Modernity than the brutal collectivism of George Orwell's 1984 (1949).
[P]olitics is increasingly a vehicle for delivering prepackaged joy. America's political system used to be about the pursuit of happiness. Now more and more of us want to stop chasing it and have it delivered. And though it has been the subject of high school English essay questions for generations, we have not gotten much closer to answering the question, what exactly was so bad about the Brave New World?

Simply this: it is fool's gold. The idea that we can create a heaven on earth through pharmacology and neuroscience is as utopian as the Marxist hope that we could create a perfect world by rearranging the means of production. The history of totalitarianism is the history of the quest to transcend the human condition and create a society where our deepest meaning and destiny are realized simply by virtue of the fact that we live in it. It cannot be done, and even if, as often in the case of liberal fascism, the effort is very careful to be humane and decent, it will still result in a kind of benign tyranny where some people get to impose their ideas of goodness and happiness on those who may not share them.
"Homer was wrong in saying: 'Would that strife might perish from among gods and men!' He did not see that he was praying for the destruction of the universe; for, if his prayer were heard, all things would pass away."
—Heraclitus of Ephesus