Category Archive 'Woke Insanity'
04 Feb 2022

19 Oct 2021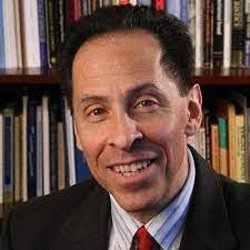 Andrew Koppelman, John Paul Stevens Professor of Law and professor of political science at Northwestern University.
Professor Koppelman wrote a generally extremely sound essay in the Chronicle of Higher Education (mostly a red rag, full of left-wing stupidity) commenting on some Yale Law School students' and its Administration's hysterical response to a student's Constitution Day Party invitation.
However, the good professor opens the piece with a conspicuous bit of assurance that his head is in the Left Place ideologically. Catch this! (Use Outline link, because of paywall.)
The movement for diversity and inclusion has improved people's lives in many tangible ways. A few days ago at Northwestern Law School, where I'm a professor, I went into the men's restroom and saw that the school had provided tampons and sanitary pads on a shelf there. It made me happy. There are people here who menstruate and identify as male. Their needs matter, and the school now recognizes that.

But in other respects…
Jesus, Mary, and Freddie! Obviously hanging out with the loonies and wet ends teaching at contemporary elite universities addles the brain and assimilates even normal, well-educated people into group insanity.
Let me break it to you, Professor Koppelman: "People ..who menstruate and identify as male" need their heads examined a lot more than they need special accommodation in lavatories intended for men who pee standing up.
Where does the group insanity that makes the Modern University a hive of totalitarian crackpottery and the enemy of America, Western Civilization, and even the Liberal Ideal of Free Speech originate? It starts with the moral cowardice that declines to stand up in opposition to any complaint or demand, however absurd, irrational, or insolent, from anyone or any group bullying with the moral jiu jitsu of Victimhood.
But, as I've acknowledged, if you excerpt that paragraph of Woke Wankery, its a good essay that hits Yale Law's nail solidly in the head.
13 Oct 2021

The Washington Free Beacon has absolutely appalling news from Yale.
Administrators at Yale Law School spent weeks pressuring a student to apologize for a "triggering" email in which he referred to his apartment as a "trap house," a slang term for a place where people buy drugs. Part of what made the email "triggering," the administrators told the student, was his membership in a conservative organization.

The second-year law student, a member of both the Native American Law Students Association and the conservative Federalist Society, had invited classmates to an event cohosted by the two groups. "We will be christening our very own (soon to be) world-renowned NALSA Trap House … by throwing a Constitution Day Bash in collaboration with FedSoc," he wrote in a Sept. 15 email to the Native American listserv. In keeping with the theme, he said, the mixer would serve "American-themed snacks" like "Popeye's chicken" and "apple pie."…

Within minutes, the lighthearted invite had been screenshotted and shared to an online forum for all second-year law students, several of whom alleged that the term "trap house" indicated a blackface party.

"I guess celebrating whiteness wasn't enough," the president of the Black Law Students Association wrote in the forum. "Y'all had to upgrade to cosplay/black face." She also objected to the mixer's affiliation with the Federalist Society, which she said "has historically supported anti-Black rhetoric."

"Trap house" has been a term used in progressive pop culture since at least 2016, when the socialist podcast "Chapo Trap House" burst onto the scene. Hosted by three white men, the podcast has received sympathetic profiles in the New York Times, the New Yorker, and the Guardian, none of which suggest that there is anything racial about its name. Once associated with inner city crack dens, "trap house" has also become generic slang for any place where young people can score beer. …

Just 12 hours after the email went out, the student was summoned to the law school's Office of Student Affairs, which administrators said had received nine discrimination and harassment complaints about his message.

At a Sept. 16 meeting, which the student recorded and shared with the Washington Free Beacon, associate dean Ellen Cosgrove and diversity director Yaseen Eldik told the student that the word "trap" connotes crack use, hip hop, and blackface. Those "triggering associations," Eldik said, were "compounded by the fried chicken reference," which "is often used to undermine arguments that structural and systemic racism has contributed to racial health disparities in the U.S."

Eldik, a former Obama White House official, went on to say that the student's membership in the Federalist Society had "triggered" his peers.

"The email's association with FedSoc was very triggering for students who already feel like FedSoc belongs to political affiliations that are oppressive to certain communities," Eldik said. "That of course obviously includes the LGBTQIA community and black communities and immigrant communities."

The statement signals that administrators at the country's top-ranked law school now regard membership in mainstream conservative circles as a legitimate object of offense—and as potential grounds for discipline. The Federalist Society, founded by Yale Law students in 1982, has spread nationwide over the past four decades and become one of most influential legal groups in the country. Members include all six conservative justices on the Supreme Court, as well as the late Antonin Scalia, who spoke at the society's inaugural conference.
HT: Glenn Reynolds.
The Civil Rights Movement of the last century has metastasized into an aggressive form of totalitarianism bent on eliminating freedom of association, freedom of speech, and freedom of thought. The current Woke regime makes Jim Crow look positively benign.
03 Jun 2021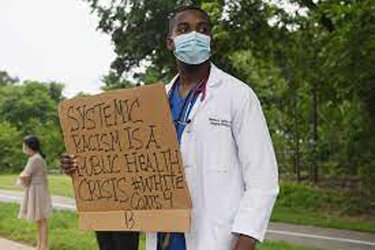 Bari Weiss finds that a number of doctors are speaking out about the problem.
I've heard from doctors who've been reported to their departments for criticizing residents for being late. (It was seen by their trainees as an act of racism.) I've heard from doctors who've stopped giving trainees honest feedback for fear of retaliation. I've spoken to those who have seen clinicians and residents refuse to treat patients based on their race or their perceived conservative politics.

Some of these doctors say that there is a "purge" underway in the world of American medicine: question the current orthodoxy and you will be pushed out. They are so worried about the dangers of speaking out about their concerns that they will not let me identify them except by the region of the country where they work.

"People are afraid to speak honestly," said a doctor who immigrated to the U.S. from the Soviet Union. "It's like back to the USSR, where you could only speak to the ones you trust." If the authorities found out, you could lose your job, your status, you could go to jail or worse. The fear here is not dissimilar.

When doctors do speak out, shared another, "the reaction is savage. And you better be tenured and you better have very thick skin."

"We're afraid of what's happening to other people happening to us," a doctor on the West Coast told me. "We are seeing people being fired. We are seeing people's reputations being sullied. There are members of our group who say, 'I will be asked to leave a board. I will endanger the work of the nonprofit that I lead if this comes out.' People are at risk of being totally marginalized and having to leave their institutions."

While the hyper focus on identity is seen by many proponents of social justice ideology as a necessary corrective to America's past sins, some people working in medicine are deeply concerned by what "justice" and "equity" actually look like in practice.

"The intellectual foundation for this movement is the Marxist view of the world, but stripped of economics and replaced with race determinism," one psychologist explained. "Because you have a huge group of people, mostly people of color, who have been underserved, it was inevitable that this model was going to be applied to the world of medicine. And it has been."

"Wokeness feels like an existential threat," a doctor from the Northwest said. "In health care, innovation depends on open, objective inquiry into complex problems, but that's now undermined by this simplistic and racialized worldview where racism is seen as the cause of all disparities, despite robust data showing it's not that simple."

"Whole research areas are off-limits," he said, adding that some of what is being published in the nation's top journals is "shoddy as hell."
———————-
And here's an example of what she's talking about:
The editor-in-chief of the prestigious medical journal JAMA will step down June 30 following backlash after an editor at the publication made controversial comments about racism in medicine, the Chicago-based American Medical Association (AMA) announced Tuesday.

Dr. Howard Bauchner has been editor-in-chief of JAMA and JAMA Network since 2011, but he's been on administrative leave since March when comments about structural racism made by another editor on the publication's podcast, and a tweet promoting the podcast, sparked outrage.

"I remain profoundly disappointed in myself for the lapses that led to the publishing of the tweet and podcast," Dr. Bauchner said in the announcement. "Although I did not write or even see the tweet, or create the podcast, as editor-in-chief, I am ultimately responsible for them."

Dr. Edward Livingston, a deputy editor at JAMA — who is white — said structural racism no longer existed in the U.S. during a Feb. 24 podcast, The New York Times reported.

"Structural racism is an unfortunate term," Dr. Livingston, said during the podcast, according to The Times. "Personally, I think taking racism out of the conversation will help. Many people like myself are offended by the implication that we are somehow racist."

In a now-deleted tweet promoting the podcast, The New York Times said the journal wrote, "No physician is racist, so how can there be structural racism in health care?"

Livingston later resigned, the Times reported.

Over 9,000 individuals have signed a change.org petition following the podcast and accompanying tweet calling for a review of Bauchner's leadership as well as changes in the editorial process to ensure a more inclusive publication.

"The podcast and associated promotional message are extremely problematic for minoritized members of our medical community," the petition, created by the Institute for Antiracism in Medicine, says. "Racism was created with intention and must therefore be undone with intention. Structural racism has deeply permeated the field of medicine and must be actively dissolved through proper antiracist education and purposeful equitable policy creation."

In place of the now-deleted podcast is an apology from Bauchner.

"Comments made in the podcast were inaccurate, offensive, hurtful, and inconsistent with the standards of JAMA," Bauchner said in the minute-long audio clip. "Racism and structural racism exist in the U.S. and in health care."
03 May 2021

About one-third of employees at software company Basecamp quit days after bosses told them to keep ideology out of the workplace and focus on the company's actual business.

"We make project management, team communication, and email software," CEO Jason Fried wrote April 26. We don't have to solve deep social problems, chime in publicly whenever the world requests our opinion on the major issues of the day, or get behind one movement or another with time or treasure. These are all important topics, but they're not our topics at work."

Tech journalist Casey Newton said about one-third of the company's roughly 60 employees took buyouts shortly after, with one fuming: "Basically the company has said, 'well, your opinions don't really matter — unless it's directly related to business…' A lot of people are gonna have a tough time living with that."

Newton reported at Platformer that woke tensions boiled over after, in December, a new hire "volunteered to help the company work on diversity issues."

This included criticizing the fact that for years, many employees had contributed to a list called "Best Names Ever" in which they placed funny customer names — of "the sorts of names Bart Simpson used to use when prank calling Moe the Bartender: Amanda Hugginkiss, Seymour Butz, Mike Rotch."

A third of the company joined a diversity initiative behind the volunteer, and two employees who had contributed to the list of funny names asked why there had never been an "internal reckoning" over it. They apologized for their involvement and included a link to something called the "pyramid of hate" from the Anti-Defamation League.

The pyramid lists "non-inclusive language, microaggressions" at the bottom and "genocide" at the top, saying, "If people or institutions treat behaviors on the lower levels as being acceptable or 'normal,' it results in the behaviors at the next level becoming more accepted."

Basecamp chief technology officer and co-founder David Heinemeier Hansson, the father of the popular web development framework Ruby on Rails, condemned the list of funny names but found the invocation of genocide to be an example of "catastrophizing" that had the effect of shutting down rational conversation.

When one employee continued to push this line of logic, Hansson pointed out that that employee, himself, had participated in discussions making fun of customers' names. "You are the person you are complaining about," he thought, Newton reported.

Soon after, Fried, who along with Hansson has long been recognized as an expert on cultivating productive workplace culture, said the company was making changes to make sure there was "no forgetting what we do here."

There would be "no more societal and political discussions" on official company channels, he said, calling it "a major distraction. It saps our energy, and redirects our dialog towards dark places."

On Twitter, John Breen, whose bio describes him as "He/Him. ADHD. Software developer. Queer. High Maintenance," tallied the exodus in a thread that began:

Let's keep track of the folks who are leaving @Basecamp and do what we can to find them a new home where they're allowed to exist without being told they're divisive:

— John Breen (@_breeeeen_) April 30, 2021

"Ex-basecampers: we need people like you at Mozilla!" one Mozilla employee responded.
27 Feb 2021

The British Spectator recorded the latest triumph of Woke-ism in commercial culture.
Another pillar of the patriarchy has fallen. His name is Mr Potato Head – or rather, it was Mr Potato Head. US toy giant Hasbro has decided to make the branding for this nearly 70-year-old range gender-neutral, so it will just be Potato Head from now on. According to Hasbro, this is all part of an effort to ensure that 'all feel welcome in the Potato Head world' and to 'promote gender equality and inclusion'.

Neither Mr Potato Head nor his wife, Mrs Potato Head, are being shelved entirely as characters, Hasbro was later forced to clarify. But the overall brand will change, and a new family set will allow kids to create their own Potato Head families without being bound by the old range's apparently outdated assumptions about gender and sexuality. Or something. It seems all those outraged letters from genderfluid three-year-olds forced Hasbro's hand.
UPDATE, March 1st:
Stung by widespread mockery, Hasbro announced on Twitter several days ago cancellation of its decision to rename Mr. Potato Head in gender neutral form.
Hold that Tot – your main spud, MR. POTATO HEAD isn't going anywhere! While it was announced today that the POTATO HEAD brand name & logo are dropping the 'MR.' I yam proud to confirm that MR. & MRS. POTATO HEAD aren't going anywhere and will remain MR. & MRS. POTATO HEAD pic.twitter.com/6I84KrxOLQ

— Hasbro (@Hasbro) February 25, 2021
13 Feb 2021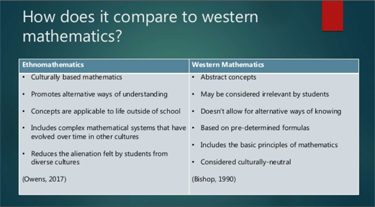 The Oregon Department of Education (ODE) recently encouraged teachers to register for training that encourages "ethnomathematics" and argues, among other things, that White supremacy manifests itself in the focus on finding the right answer.

An ODE newsletter sent last week advertises a Feb. 21 "Pathway to Math Equity Micro-Course," which is designed for middle school teachers to make use of a toolkit for "dismantling racism in mathematics." The event website identifies the event as a partnership between California's San Mateo County Office of Education, The Education Trust-West and others.

Part of the toolkit includes a list of ways "white supremacy culture" allegedly "infiltrates math classrooms." Those include "the focus is on getting the 'right' answer," students being "required to 'show their work,'" and other alleged manifestations.

"The concept of mathematics being purely objective is unequivocally false, and teaching it is even much less so," the document for the "Equitable Math" toolkit reads. "Upholding the idea that there are always right and wrong answers perpetuate objectivity as well as fear of open conflict."

The ODE, led by Colt Gill, confirmed the letter to Fox News. ODE Communications Director Marc Siegel also defended the "Equitable Math" educational program, saying it "helps educators learn key tools for engagement, develop strategies to improve equitable outcomes for Black, Latinx, and multilingual students, and join communities of practice."
Presumably, kiddies will get to learn "one, two, many" as the new ethnomath.
04 Aug 2020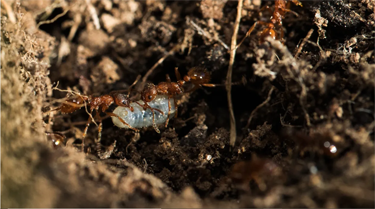 Red ants: step on them before they get out of control.
The College Fix:
Slavemaker ant. Gypsy moth. Rape bug.

These are just three common English names listed in a spreadsheet of 60 plants and animals that have been recently deemed by some academics to have "problematic" monikers.

Herpetologist and University of Arizona Ph.D. candidate Earyn McGee, a science communicator and lizard enthusiast who runs a popular Twitter profile on her reptile expeditions, told The College Fix when asked about the spreadsheet that "There is no room for racism in science."

There needs to be honesty about the history of natural resources management and environmentalism in the country, she said, adding there "is no reason to honor racist people or racial slurs by naming animals after them."

As the American Association for the Advancement of Science reports, the list was inspired "amid protests against racism," and notes graduate students from around the world contributed to the spreadsheet. It currently lists 60 organisms. (See here and here).

Contributors to the spreadsheet list the organism's scientific and common names, as well as its kingdom, phylum, class, and order, along with comments in some cases meant to explain why either the common name, or in some cases the scientific name, is offensive or problematic.

Three species in the spreadsheet have the word "Hottentot" in their common names and the Latinized form hottentatus in their scientific names. According to one contributor, "Hottentot is a racial slur used by white people, directed towards indigenous Africans, during apartheid."

Setophaga townsendi, a species of bird commonly known as Townsend's Warbler, also appears on the list. The commenter notes only, "John Townsend was terrible."

John Kirk Townsend was an ornithologist who studied bird species in Oregon. He would often rely on Native Americans to capture his specimens. During his studies, he would describe cultural differences and steal skulls from Indian graves.

The Immigrant Acacia Weevil is also on the list. The note reads, "Related to pest species; can occasionally be a pest. Not really comfortable exterminating something with the word 'immigrant' in the name."

Other offensive animal names include the Large Faggotworm, although the f-word in this case refers to its definition as a bundle of sticks or twigs bound together as fuel.

Also on the list is a type of shield bug called the Rape Bug, as well as the Oriental Rat Flea, a vector for the bubonic plague, which infects rodents. None of these contributors offer additional notes.

While some could arguably be the result of over-thinking or over-sensitivity, others contain serious racial slurs. For example, Maihueniopsis clavarioides is also called the "N***** Finger." Another, Orsotriaena medus, a dark-colored butterfly, is commonly known as just "the N*****," according to one student. …

McGee told The College Fix that she hopes to see a change to the name of Yarrow's Spiny Lizard, which she studies in her field. H. C. Yarrow was a herpetologist who served in the Union Army during the Civil War. But McGee said he was also a eugenicist.

"There is no amount of scientific contributions that can make unabashed racism and bigotry ok," she said. …

Another graduate student who has undertaken a similar campaign is Taylor Tai of the University of Wisconsin-Madison. Tai successfully petitioned the Entomological Society of America to change the name of its annual Linnaean Games, a quiz-bowl-style trivia competition named after Carl Linnaeus.

Known as the Father of Taxonomy, Linnaeus paved the way for the current system of scientific classification. At the same time, the American Association for the Advancement of Science reports he also classified humans (Homo sapiens) based on race, assigning "negative aspects" to people of color.

Tai refused to make a direct comment "[b]ecause The College Fix's conservative perspective is incompatible with racial justice at its foundation."

She did, however, refer to a letter which she and other UW students sent to Entomological Society of America. The letter catalogs Linnaeus' system of racial classification.

"Linnaeus characterized the white Homo sapiens europaeus as wise, lawful, and gentle, while dehumanizing Indigenous (red Homo sapiens americanus), African (black Homo sapiens afer), and Asian (yellow Homo sapiens asiaticus) people with degrading descriptors like 'obstinate,' 'haughty,' 'covetous,' 'crafty,' 'indolent,' 'lazy,' 'lusty,' and 'careless,'" Tai writes.

Tai also mentions that Linnaeus described disabled people as "Homo sapiens monstrosus."