Category Archive 'Babylon Bee'
28 Mar 2020

27 Mar 2020

Babylon Bee (the new paper of record):
WASHINGTON, D.C.—Congress has asked all non-essential businesses to limit their hours or close entirely for an undetermined amount of time.

But this shutdown mistakenly shut down the most non-essential entity of all: the government. For a brief period of time, all government in the United States was illegal, since it is completely non-essential to everything.
Floreat Anarchia! Ewige Bumenkraft!
25 Feb 2020

Imagine there's no bread
It's easy if you try
No tacos or hot sauce,
Nothing cold or fried,
Imagine all the people living in the gulags
Imagine there's no money
It isn't hard to do
Nothing to eat or drink
And no bacon too
Imagine all the people living short life spans ooooh
You may say I'm a commie
But I'm not the only one
And someday you will join us
Or we'll shoot you in the face
Imagine no possessions
Because all your stuff was redistributed
Lots of greed and hunger
A brotherhood of man
Imagine all the people sharing all your stuff, yeah
You may say I'm a commie
But I'm not the only one
Did you say you don't like that?
Then it's the gulag for you, son
HT: The Babylon Bee via Vanderleun.
13 Feb 2020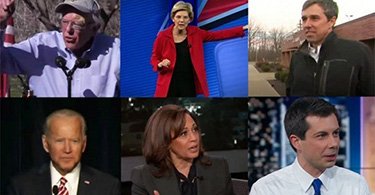 The new paper of record has the story:
U.S.—The recent U.N. conference on climate change and especially the words of 16-year-old activist Greta Thunberg have had a profound impact on the Democratic presidential candidates, so much so that they are now turning words into action and dropping out of the presidential race since they now think there's no point to it.

"We're all going to die, so why am I wasting my time on this?!" cried Cory Booker as he collapsed to his knees. "There's nothing we can do!"

"Why am I fighting for abortion on demand at 39 weeks when we're all going to die anyway?!" screamed Elizabeth Warren. "It's all pointless! All my plans are pointless!"

"Here I was worrying about billionaires when it's the sun that's my enemy!" yelled Bernie Sanders as he shook his fist at the sun. "I should have taxed the sun!"
12 Sep 2019

13 Aug 2019

The staff at the Babylon Bee clearly wants to live.
Above all, we want to make sure Hillary does not question our loyalty to her and the whole Clinton family. We have nothing bad to say about her. Also, just to be clear, we have no dirt or inside information on her whatsoever and nothing would be gained by our untimely deaths.

So, Hillary, we love you! Please do not hurt us.
21 Mar 2019

A number of Democrats have proposed changes to the structure of government that they think would help them win, such as lowering the voting age to 16, abolishing the Electoral College, packing the Supreme Court, and changing how Senate seats are allocated. Now, though, some of the Democratic presidential hopefuls are attacking the heart of the matter: what they call an "outdated Constitution" that sometimes "allows Republicans to be elected."

"The election of Trump exposed a fundamental flaw in the Constitution," Senator Elizabeth Warren said at a campaign rally. "Everyone said Hillary was supposed to win, but she didn't. And we're afraid that in the future, maybe Democrats won't win again. We can't allow that."

Warren and numerous other Democrats have proposed an amendment to the Constitution that will state that only Democrats are allowed to win elections, a proposal they say will increase election "fairness."

"When I think about someone other than a Democrat being elected," said Senator Cory Booker, "it makes me so mad." He then raised his fists and shook them, a gesture indicating he was mad. Candidate Beto O'Rourke also spoke out for the proposed amendment, though all he got out was, "It's a great–" before skateboarding into a tree and quickly fleeing the scene of the incident.
28 Nov 2018

WASHINGTON, D.C.—Melania Trump is causing controversy yet again, this time for decorating the White House with the skulls of her decapitated enemies.

While past first ladies have decorated the White House with traditional Christmas wreaths, trees, holly, and lights, Trump opted to mount the heads of her slain foes throughout the executive residence "as a warning."

"Did she go too far?" one pundit on CNN pondered. "I gotta say, these heads don't exactly say 'peace' and 'love' like a good, old-fashioned wreath would, you know?"

Speaking to reporters, the First Lady commented, "The skulls bring out the festive joy of the holiday season in our decor. We're reminded to treasure what we have when we see the skulls of our conquered foes every time we walk through these sacred halls."

"It's all to point us to the reason for the season," she added.

When asked what the "reason for the season" is, she stated, "To crush your enemies, to see them driven before you, and to hear the lamentations of their women."
——————
This satire piece was occasioned by all this.