Category Archive 'Planned Parenthood'
28 Mar 2018


(Planned Parenthood pulled the original for some reason.)
17 Mar 2018

02 Aug 2015

31 Jul 2015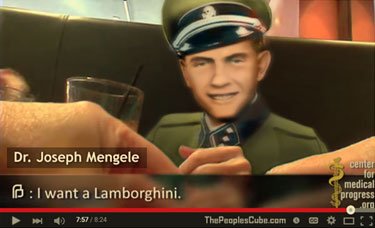 The People's Cube makes a pretty apt comparison.
Rudolph Hoess, family man and commandant of the Auschwitz-Birkenau concentration camp, has been desperately trying to restore the camp's reputation after some damaging remarks by one of its doctors, Joseph Mengele, were caught on tape and posted online. …

To Hoess, such behavior is unacceptable. "I want to be clear," said Hoess, "that I find the tone of Dr. Mengele's remarks inappropriate, and that he has been properly reprimanded. Furthermore, I wish to emphasize that nobody on the staff at this concentration camp in any way profits from the clothing, valuables, cash, and gold fillings that are reallocated from our guests. While some evidence, which was tragically burned, may have indicated an occasional impropriety, we nevertheless pride ourselves in offering compassionate care at this facility, no matter what."
Read the whole thing.
21 Jun 2013

Chelsea Clinton recently lamented her great grandmother having no opportunity to terminate the unplanned pregnancy leading to her grandmother's birth.
From the stage at the recent Women Deliver conference, former US Secretary of State Hillary Clinton's daughter Chelsea revealed that her much-admired maternal grandmother was the child of unwed teenage parents who "did not have access to services that are so crucial that Planned Parenthood helps provide."

Chelsea's grandmother was born of an unintended pregnancy. And new research shows that her family is not alone in treasuring a person who – if Planned Parenthood had been successful – would not have been born.
Hat tip to Don Surber.