11 Jan 2015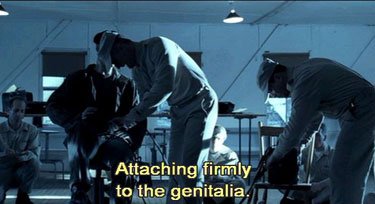 Our friends at Mossad's mouthpiece, DEBKAfile, report:
In the three days since the Charlie Hebdo massacre in Paris, the French authorities have rounded up 900 individuals across France on suspicion of involvement in Islamic terror. The detentions on an unprecedented scale for France continues.
"If there was a distinctive modern style in torture, it was French modern: the field telephone magneto adapted with alligator clips, usually conjoined with water torture…"
The security forces of the French Republic have been historically unconstrained by the kind of sentimental humanitarianism which has so conspicuously afflicted counter-terrorist interrogation efforts by US Intelligence. The French have traditionally wired up the interrogation subject to a field telephone and happily turned the crank until he talked.

One wonder if they have 900 field phones available these days.