Category Archive 'Portland'
13 May 2017

Unfortunately, the store apologized and suspended its employees.
27 Dec 2012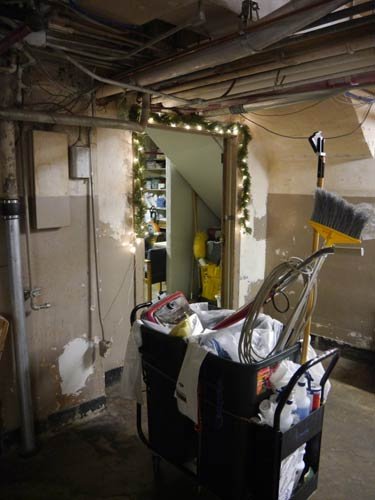 Somewhere in Portland, there's a very old building, and that very old building has a very, very old basement.
25 Feb 2012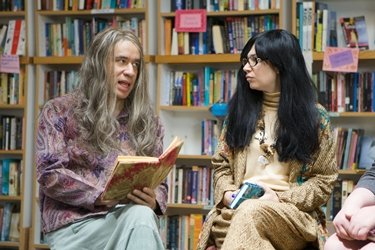 Principal characters in Portlandia
Mark Hemingway discusses the unbearable television program, the absolutely appalling left coast city that inspired it, and the pathological politics infesting places on the Pacific coast.
Portlandia instantly struck a chord as a Garrison Keillor-type takeoff on the edgy urban set. Instead of idyllic Lake Wobegon, where "all the women are strong, all the men are good looking, and all the children are above average," Portlandia is where "the tattoo ink never runs dry" and "all the hot women wear glasses." The show is now in its second season and has even spawned a live comedy tour that's bringing Portland to a venue near you.

But while Portlandia is more acerbic than Prairie Home Companion, it too can come off as a twee, chiaroscuro character study that spends as much time burnishing the city's reputation for "West Coast urban cool" as it does mocking it. And there's nothing necessarily wrong with that. I'm just afraid that the real-life absurdities of Portland merit a more cutting critique.

Case in point: One of the most commented-on sketches from the show is a scene from the first episode in which Armisen and Brownstein are sitting in a restaurant. After asking their waitress a series of absurd questions about whether the chicken they are about to eat is local​—​"the chicken is a heritage breed, woodland raised chicken that's been fed a diet of sheep's milk, soy, and hazelnuts. .  .  . His name was Colin, here are his papers"​—​the couple ends up leaving the restaurant and driving to the farm to see the environment where the chicken was raised in order to assuage their guilt about eating it.

As a comment on urban America's foodie culture, the sketch is funny and incisive. But it doesn't begin to show how insufferable Portland actually is in this regard. Portland's restaurants are incredibly good, provided you don't gag on their politics and pretension. It's common for restaurants to brag about keeping "food miles" to a minimum​—​a rough calculation on the menu informing you how far all the ingredients have traveled to your plate, as if this were a rational measure of the restaurant's environmental impact. One Portland ice cream parlor I visited recently was inviting patrons to swing by on Saturday afternoon for a meet and greet with the local producer of its "artisanal finishing salts."

And in 2010, the Oregonian actually ran a story with the headline "Portland pig cook-off followed by brawl over the provenance of pork." During a local culinary competition a fistfight broke out because one of the chefs​—​the horror!​—​wasn't using locally sourced pork. The mêlée ended with one of the chefs and the organizer in rough-looking mug shots and the latter in the hospital with a fractured tibia. When it comes to the city's food obsession, the truth far outstrips Portlandia.

Given the lack of critical attention to the city, I guess it falls to me to state the obvious: Portland is quietly closing in on San Francisco as the American city that has most conspicuously taken leave of its senses.
06 Apr 2010

You know that Spring is really here when young activist women march topless in Portland, Maine to protest discriminatory laws about exposing the upper body in public.
Tactically, the use of the sight of nubile female breasts with the object of punishing the phallocratic enemy might seem a bit ill-conceived and fundamentally ineffective, but the more sophisticated of us realize that demonstrations always have multiple and diverse goals and that, particularly in the Spring, some young women just enjoy flaunting their assets.
CBS:
Some people's jaws hit the ground, plenty of men showed up with cameras, and others – including parents with their children – were just plain offended, as almost two dozen topless women marched in Maine's largest city.

The women drew a crowd of over 500 onlookers when they shed their shirts and marched in downtown Portland on Saturday to promote what they call "equal-opportunity public toplessness."

Organizer Ty MacDowell said the point of the march was that a topless woman out in public shouldn't attract any more attention than a man who walks around without a shirt.

Good luck with that.

According to The Portland Press Herald, by the end of the march more than 500 people had amassed – a mix of marchers, young men snapping photos, oglers and people just out enjoying a warm sunny day.

"We should be able to walk down the street and not have this many men taking pictures of us," a participant shouted.
17 Jun 2008

CBS:
Most children growing up in the US memorize the Pledge of Allegiance. But, in one Oregon elementary school, the kids won't be allowed to recite it at an end of the year assembly.

The principal banned it that day so as not to offend Muslims.

One resident of Portland, Oregon was a little surprised when she received an e-mail from her stepson's school principal.

The e-mail said that the children would not be reciting the pledge because of its reference to God.
The principal was named Pam Wilson, and all this occurred at the Capitol Hill Elementary School in Portland.
The following is the full e-mail response that parent Briana Reese received from Principal Pam Wilson:

"The Pledge contains the words, 'under God' and we have many Muslim families here. So out of respect for the diversity of religious faiths practiced by our school community (parents and families) we decided that this year the students would memorize and sing the Preamble to the Constitution. At the rehearsal on Friday they did it from memory and to a wonderful song. It was very joyful and unique. I think you, and other parents, will really appreciate the creative and new way to open the program."
07 Apr 2008

I was arguing last night with one of my snobbish Yale friends who, though conservative, has imbibed enough of the toxic perspective of the elect to view the Religious Right as a major problem.
I contended that coercion, these days, was typically coming from intolerant secularists determined to drive religious symbols out of public spaces, and eager to punish private individuals or groups (like the Boy Scouts) who differ with them on moral issues. My friend countered by alluding to a legislative proposal in some retarditaire fly-over state which would compel Reproductive Health clinics to notify parents before supplying birth control items to persons under 18.
My own view is that children are expensive and a lot of trouble. Their parents, not the state or Planned Parenthood, brought them into the world, fed them, housed them, clothed them, and sat up with them when they were sick. Parents have a right to bring their children up with their own values. And parents' rights include, at least, the formal (even if only theoretical) right of deciding if Peggy Sue at age 17 can go on the pill. Practically, I expect lots of 17-year-old kids can, and do, go around their parents and make these kinds of decisions for themselves, but that's their business. These are matters for individuals and families to decide, not for teachers or school administrators, and not for government or public interest groups.
The notion that "we know better, kids are going to have sex, and we're going to give them the tools to have sex without consequences whether their parents like it or not" is arrogant, simplistic, and typical of the liberal elite which is universally ready, willing, and eager to intrude into everyone else's private sphere in order to tell everyone just what's best for him.
I'm not religious or particularly Puritanical, but even I find the story below, from Natural News (4/3/08), appalling.
A middle school in Portland, Maine is considering a proposal to provide birth control pills and patches to students as young as 11 years old. King Middle School launched a reproductive health program after five of the 135 students who visited the school's health center in 2006 reported being sexually active. The program already provides condoms to students, but the new proposal would expand this to include prescriptions for birth control pills and patches (which would then have to be purchased at a pharmacy).

The contraceptives could be dispensed without the knowledge of parents, although written permission would be required for children to receive (unspecified) services from the health center.

The proposed program has attracted controversy, with some people accusing the schools of taking away parental power and encouraging children to have sex too early. But school officials dispute these claims.

"We do certainly sit down and speak with them about why [being sexually active] is not a good choice," said Amanda Rowe, the school's nurse coordinator. "But there are some who persist… and they need to be protected."

Logan Levkoff, a sexologist and relationship expert, said that while the school may be stepping into a role that would better be filled by parents, many parents do not feel comfortable enough to do so. "Parents should be the sex educator for their children," Levkoff said. "The problem is not every parent feels empowered [to do so]."

Parents interviewed by ABC News were split on their feelings about the proposal.

"I don't think I would want my child in middle school to be getting birth control pills unless I had something to do with it," one woman said.

But another woman, a mother, disagreed: "I think that education at that age is appropriate because our culture is saturated with messages about sex," she said.
Natural News is running a story which really dates back to last Fall.
AP (10/18/07):
After an outbreak of pregnancies among middle school girls, education officials in this city have decided to allow a school health center to make birth control pills available to girls as young as 11.

Maine's King Middle School is the first in the state to offer full range of contraceptives to 6th-8th graders.

King Middle School will become the first middle school in Maine to make a full range of contraception available, including birth control pills and patches. Condoms have been available at King's health center since 2000.

Students need parental permission to access the school's health center. But treatment is confidential under state law, which allows the students to decide whether to inform their parents about the services they receive.

There are no national figures on how many middle schools provide such services. Most middle schoolers range in age from 11 to 13.

"It's very rare that middle schools do this," said Divya Mohan, a spokeswoman for the National Assembly on School-Based Health Care.

Portland's three middle schools reported 17 pregnancies during the last four years, not counting miscarriages or terminated pregnancies that weren't reported to the school nurse.

The Portland School Committee approved the plan, offered by city health officials, on a 7-2 vote Wednesday night. Whether the prescriptions would be offered this school year or next wasn't immediately clear.

King is the only one of the three schools with a health center, primarily because it has more students who get free or reduced-price lunch, said Lisa Belanger, who oversees Portland's student health centers.

Five of the 134 students who visited King's health center during the 2006-07 school year reported having sexual intercourse, said Amanda Rowe, lead nurse in Portland's school health centers.
23 Jan 2007

2:21 video of car crashes on an icy hill in Portland, OR. Jan 16, 2007.