11 Feb 2019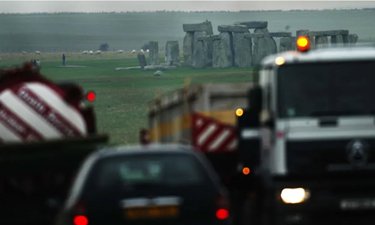 "the narrative that Stonehenge has been ruined by mass tourism goes back a long way. Even Samuel Pepys complained of being ripped off by shepherds and innkeepers."
Viewing Stonehenge is currently disrupted by the roar of traffic and the glare of headlights after dusk, but moving the road north or south has issues and putting it underneath the site in a tunnel has been found to be too expensive.
Even celebratory ceremonies always seem to go wrong.
The Guardian looks at the plethora of controversies currently raging round the landmark.
To celebrate the millennium, an ill-fated project, funded with £100,000 from the national lottery, attempted to re-enact the fetching of a single three-tonne dolerite bluestone from Wales to Wiltshire. The original plan was for volunteers, some 40 a day, to wear "'appropriate clothing' of skins and furs". But that had to be abandoned for safety reasons, according to Mike Pitts' book Hengeworld – and many of the volunteers drifted away, disenchanted by the awful task. After eventually loading the boulder on to a boat at Milford Haven, from where it was meant to travel up the Bristol channel, a frisky wind saw it tumble into the sea. At this point it was rescued, using the un-neolithic technology of a crane, and transported on a flatbed truck to the botanical gardens in Carmarthenshire, 140 miles from Stonehenge, where it remains. As a spokesman for Pembrokeshire council remarked at the time: "Stone-age man never had the health-and-safety people looking over his shoulder."